Trailmaster Mid XRX – Specs & Review (Worth it?)
Off-road go-karts are getting more and more popular by the day. with the rise of Chinese companies in the Off-road vehicle market, off-road Go-karts have become really cheap. Even if you try to make a go-kart from scratch, it's hard to beat go-karts from companies like Trailsmaster for their price.
Trailmaster Mid XRX is one of the most popular off-road go-karts in the market. It is designed for 6 to 12-year-olds. It uses a Honda clone engine (GX-200), a fully automatic CVT as a transmission system, and has an electric start.
Additionally, it also has a loud horn, uses a hydraulic brake, has adjustable seats, lights, and suspension. The top speed of these karts will depend on the driver and passenger's weight but can be roughly estimated to be 30 mph.
The top speed can be adjusted down to 8 mph. On the flip side, the engine can be easily modified for more speed.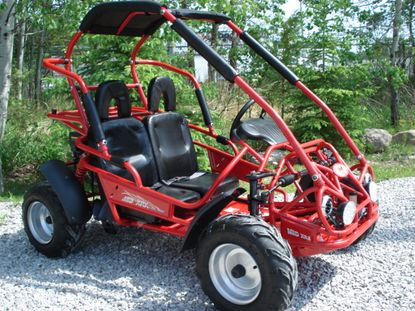 Specs & Features
Engine
As you would already know, bad engines cause all sorts of problems. No one likes a go-kart engine that will bog, misfire, and die out.
Since the Trailmaster Mid XRX uses a Honda clone engine, it won't be free of faults. I will share all the most common engine problems with this Go-kart later in the article. But first, here are the specs:
| | |
| --- | --- |
| Engine Type | 4-Stroke, Over Head Valve and Single Cylinder |
| Engine Cooling | Air cooling |
| Engine Fuel | Gasoline with an octane level of 87, < 10% ethanol, or < 5% methanol; E15/E20/E85 fuels are prohibited |
| Engine Oil | SAE 10W30 |
| Fuel Capacity | .82 Gallons |
| Bore x Stroke Ratio | 68×54 mm (2.68×2.13 in) |
| Compression Ratio | 8.5:1 |
| Displacement | 196cm³ / 11.96in³ |
| Horsepower | 6.5 hp |
| Rated Torque | 8.11 ft-lb @ 2,500 RPM |
Oil
10W30 oil is recommended for the engine for normal conditions, for warm regions 10W40 oil can be used, while in cold regions 5W30 oil can be used.
Make sure to properly break in the engine. Drain out all the oil that is sent from the factory, and at least do 2-3 oil changes during the break-in period while not going full throttle.
Synthetic Oil can be used once the engine is broken in. It is best practice to always check the oil before driving.
Transmission
Trailsmaster Mid XRX comes with a Torque Converter/CVT. Which automatically changes gear (no need for the gearbox) as opposed to a clutch which is a fixed gear system.
Torque Converters are very handy in off-road tracks where the roads are bumpy and the go-kart requires lots of torque for smooth driving.
Reverse Gear is not possible for Mid XRX, but the karts are small enough that they can be easily turned 360° in a small area.
A very common question asked is about their belt, which belt do they use? If you ever need a replacement, remember to get a 9.100.018-725 belt, you can find them on Amazon for as little as $10. Using a wrong-sized belt will end up ripping the belt apart and damaging the torque converter.
Tires & Brakes
Tires are 16″ in diameter for both front and back wheels. Rear tires are thicker in comparison to front tires. 7~9psi tire pressure is recommended for both front and back tires.
| | |
| --- | --- |
| Front Tire: | 16 x 6 – 8 |
| Rear Tire: | 16 x 7 – 8 |
Hydraulic Disc brakes are used in both the back tires.
Other Parts
An electric start to go along with hand pull means you won't have to get out of your kart every time it stops. Along with that, it has a loud horn, the chassis has suspensions on all the wheels.
| | |
| --- | --- |
| Front Suspension | Independent Dual A-Arm |
| Rear Suspension | Swing Arm / Double Oil Damped Shock |
Pricing
If you're lucky enough, you can find a second-hand version of Mid XRX from online marketplaces for a cheap price. But it won't be easy to find a second-hand XRX that is in good condition.
These are not available in offline stores, your only option is to buy them online. They cost on average $2200 depending on the supplier. You'll likely be able to get a discount price during the holiday season.
Assembly
Assembling can take a long time if you're doing this for the first time, which is definitely a downside. But you can easily find a tutorial on youtube on how to assemble them so it isn't that big of an issue.
Problems with Trailsmaster Mid XRX
Engine Surging is a very common issue with the engine that comes with almost every Trailsmaster go-kart. Surging is caused due to the engine running lean, i.e, the engine is not getting enough fuel.
This can be caused by several factors, such as a bad carburetor, vacuum leak, etc. To deal with the issue, you can test the engine for any vacuum leaks, clean your carburetor, or even get a new one. There are loads of youtube tutorials on how to deal with them so I won't go over the whole process.
Performance Parts
Even though these Go-Karts are made for kids, that doesn't stop adults from driving them and who doesn't like some extra power am I right?
Spark Plug & Sprockets
You can change the spark plug for better ignition and a sprocket that will reduce the gear ratio and increase the top speed. These are very mild modifications that won't cost a lot but will increase the performance.
Torque converter
A torque converter/CVT can be modified such that the go-kart will have more torque at low rpm. This will cost you very little to nothing. All you'll need to do is adjust the rear pulley of your torque converter, we have a complete guide on how to do that.
Engine Mods
Since the Trailmaster Mid XRX comes with a honda clone engine, you can make this engine wild! Believe me, you can almost double the current performance with the aftermarket performance parts for this engine.
The performance parts come in stages, for example, stage 1, stage 2, and so on. I highly recommend getting a better engine rather than modifying it since the internal parts of clone engines aren't the best for mods but if you want to take your chances, at least make sure that you have a billet flywheel and billet rod installed in the engine.
Stage 1 Kit
Stage 1 kit comes with a better air intake and exhaust which will allow better air circulation.
The kit also includes a larger main-jet (0.36 and 0.37), a bored-out emulsion tube that will help the carburetor to take in more fuel, an 8-degree advanced timing key, and an 18 lb Valve spring.
You can expect a 3-4 hp increase in power.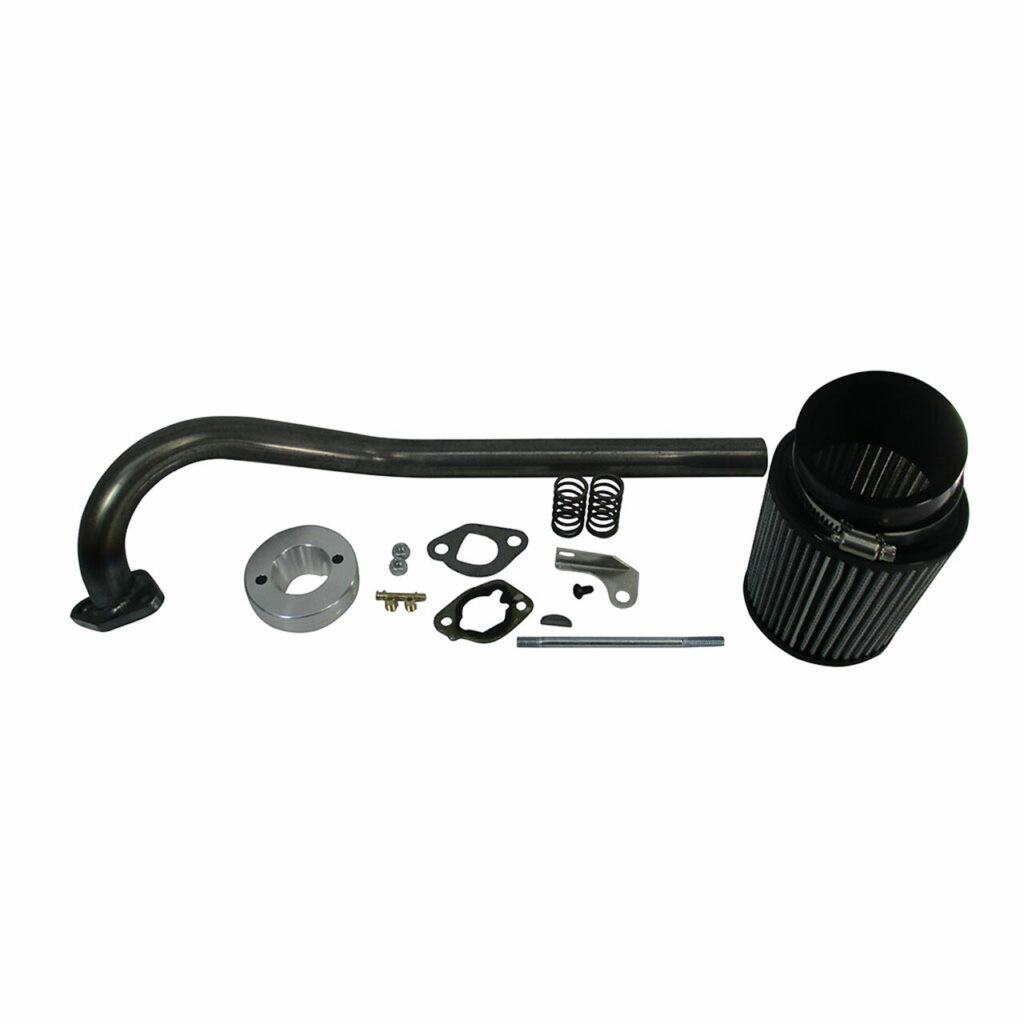 OMBWarehouse Stage 1 Kit
1 Exhaust Pipe
1 Air Filter
Larger Non-EPA main jet
Gaskets
8-degree advanced timing key
0.36 and 0.37 main jet
Bored out Emulsion tube
Stage 2 Kit
Stage 2 kit has everything from stage 1 + a Non-EPA style carburetor.
We recommend getting a Mikuni VM22 knock-off carburetor and the stage 1 kit instead of buying a stage 2.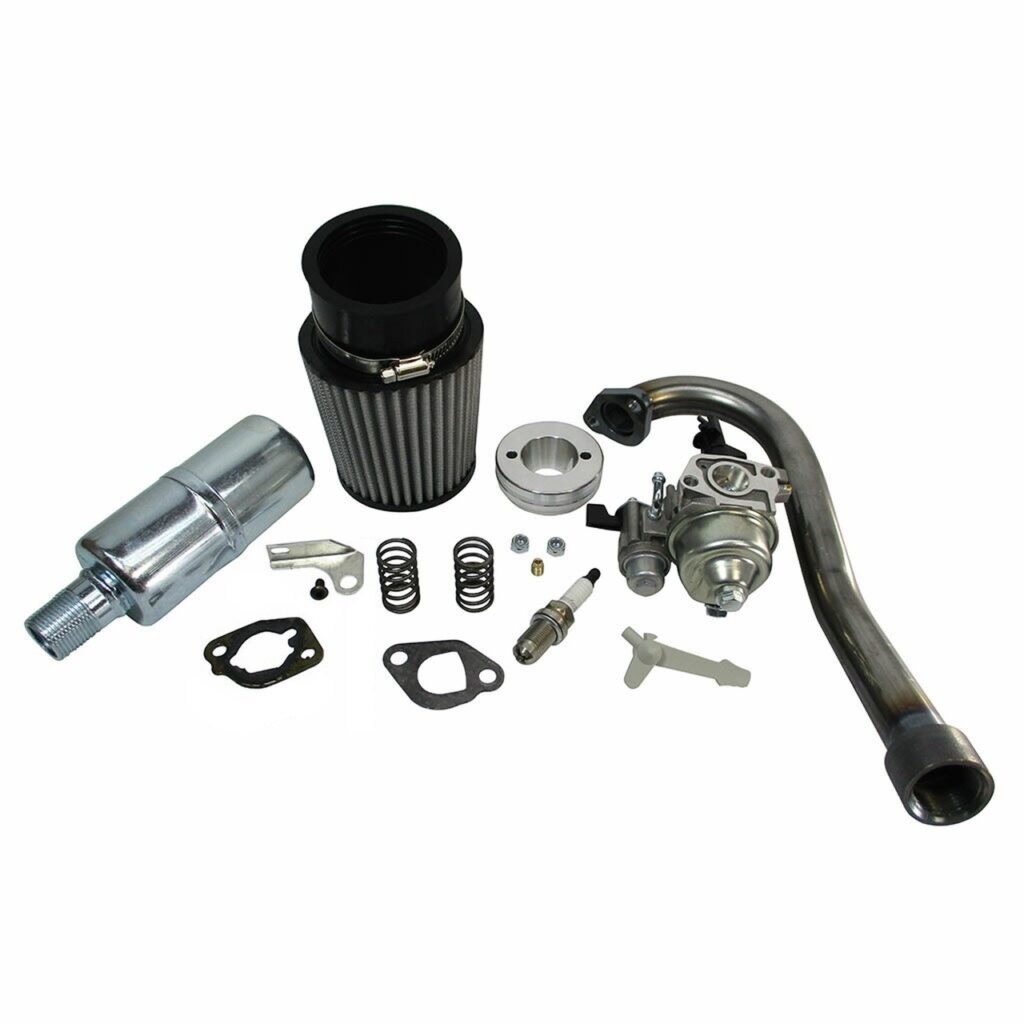 OMBWarehouse's Stage 2 Kit
Everything from Stage 1 Kit +
Non-EPA style Carb
There is so much more that you can do with the stock engine, we can't cover everything, but we do have a complete guide about performance mods that can be made on Predator 212, this engine is almost identical to the harbor freight engine, so you can refer to that guide for a detailed explanation.
Conclusion
Is this Go-kart worth its price? I would say so, the major problems are with the engine. Which you can simply replace it with a $100 Predator 212 engine and that combo will last till your kids are grown up. The chassis is good enough and will last a long time.
Try to get it in a Facebook marketplace or Craigslist, etc instead of buying a brand new one. If it was up to me, I would try and find the second-hand chassis and get a Predator 212.