Predator 212 Engine Performance Mods/Upgrade – Complete Guide
The cheap and ever-reliable Predator 212, probably the most popular Go-Kart and Mini Bike engine. It's a cheap Engine with widely available performance parts, it isn't surprising that they are so popular. They really are one of the best engines for go-karts/minibikes for their price.
But what modifications can you make? How to make these engines rev faster and make more torque and power?
In this guide, you can learn all the information you need about the performance parts. I'll go through all the different stages of the modifications of the Predator 212, the parts you'll need to buy, and how they'll affect the engine's performance.
There are tons of videos on youtube about installations of any performance part so I won't go over that, use this guide for the selection of the performance parts to get your desired result.
Enough talking, let's get into the mods!
Governor Removal (Stage 0)
Max-RPM : 4500-5000 rpm
Cost: $0
Power: Upto 7.5 hp
Predator 212 and other small engines come with a governor built into them that maintains the Engine's rpm to 3600, it will try to close the throttle if the engine starts to rev too fast.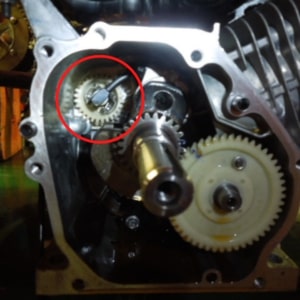 You can either remove them or bypass them to get past the 3600 rpm limit.
It's recommended that you completely remove the governor if you're going to maintain a speed higher than 3600 for long durations during driving.
A predator 212 with governor removed can go as fast as 5000 rpm but will most likely get limited at 4500-4700 rpm (depending on the altitude of your region and other factors), you can expect the power to be close to 7.5 hp.
It will cost you nothing to take the governor out and is the first modification that people make to their engine. Check our tutorial on how to remove the governor on Predator 212, the process is the same for other honda clone engines.
You may ask, If most people take them out then why do these even exist? These engines are primarily designed for Generators, pumps, etc, and these equipments run best at 3600 rpm, therefore the governor tries to maintain that 3600 rpm.
Will it damage your Engine?
While I cannot guarantee anything, the other stock components in the engine are usually good enough to handle up to 5000-5500 rpm and if you're using a stock valve spring, the engine won't pass 5500 rpm.
The valve springs that come in with the engine will limit the rpm to 5500, this is because of the valve float caused by the stock valve spring at high RPMs.
Governor removal with stock components will most likely not cause any engine failure. But, if you replace your springs, you'll need to replace other parts accordingly.
Having said that, if you are really concerned, you can get a billet flywheel and a connecting rod after governor removal but they are expensive.
Stage 1
Max-RPM : 5000-5500 RPM
Cost: $70-90 (air filter,  0.036 main jet, exhaust)
Power: 9-10 hp
If you want more power, you'll need more fresh air in and burned air out of the engine. This is exactly what Stage 1 is for, it comes in with an upgraded air filter, exhaust, and bigger jets for your carburetor. 
The top rotational speed you can expect from a Stage 1 Predator 212 is 5500 RPM. The speed is limited to 5500 due to valve float caused by the stock valve springs. The stock flywheel and rod that comes with Predator 212 will most likely be able to handle 5500 rpm.
The Predator 212 non-Hemi's Stage 1 from OMB Warehouse comes with an 18lb Valve Spring. You should only ever use the 18 lb springs with an upgraded billet flywheel and a billet rod, if you don't want to spend the extra money on the flywheel and rod, then it's better to not install the springs.
The advance timing key they send in the kit is used to advance the timing of ignition by 8 degrees from 24 degrees BTDC to 32 degrees BTDC. Many people do not install the key but it will give a boost.
GoPowerSport's Stage 1 Kit
As you might already know, GoPowerSports are the most popular for any aftermarket additions to go-karts and minibikes.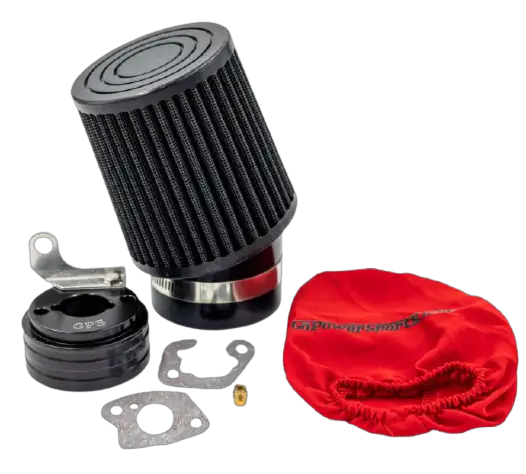 Their Stage 1 Kit just comes with an Air filter and main jet. However, they do recommend you to buy header pipe, silencer, and 18lb valve springs in addition to their stage 1 kit.
If you do buy their recommended parts along with the stage 1 kit, it's essentially the same kit as OMB's kit excluding the advanced timing key.
Please Note: Some Predator 212 comes with a non-adjustable stock carburetor, and it is necessary to have an adjustable air-fuel screw, if your engine comes with a non-adjustable carb then add $25 to the cost for getting one adjustable carb.
To understand how each of the parts of stage 1 kits are improving performance, check out our stage 1 guide.
Stage 2
Max-RPM : 7500 (GopowerSport's kit)
Cost : $110-150 (for the kit) + $220 (Billet flywheel and Billet rod) = $330-380
Power : Upto 13 hp
The stage 2 kit from OMBwarehouse is nearly the same as stage 1, in addition, you get a "Non-EPA stock style carburetor" and a valve spring.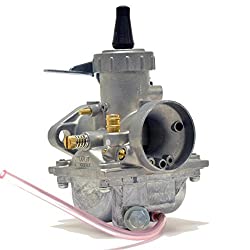 I recommend you to buy a Mikuni 212 carburetor's clone or Tillotson racing carburetors along with the stage 1 kit (+ 18lb spring if you have Hemi Engine) instead of stage 2 from OMBwarehouse's kit.
The Valve spring will also boost the performance, the heavier 18 lb Valve springs on a non-Hemi engine will stop the valve float that happens at 5500 rpm in the stock springs and allow the Engine to rev above 5500 rpm.
Once you've swapped the springs, it is absolutely necessary to buy the flywheel and rod alongside the stage 2 kit. Using a stock connecting rod can be dangerous for you and your engine.
Please note: Hemi Engines have separate 18 lb springs specially made for the Predator 212 Hemi.
To make a stage 2 Hemi, you'll need to get a stage 1 Hemi kit + a Mikuni VM22 type Carburetor + a special 18 lb Valve spring made separately for a Hemi 212 engine + Billet Flywheel and Billet Rod.
Even for a non-hemi, it might be better to get a stage 1 kit along with a Mikuni VM22 + Billet Flywheel and Billet Rod, instead of buying a stage 2 kit.
GoPowerSport's Stage 2 Kit
Now GPS's stage 2 kit is a little different in comparison to OMB's.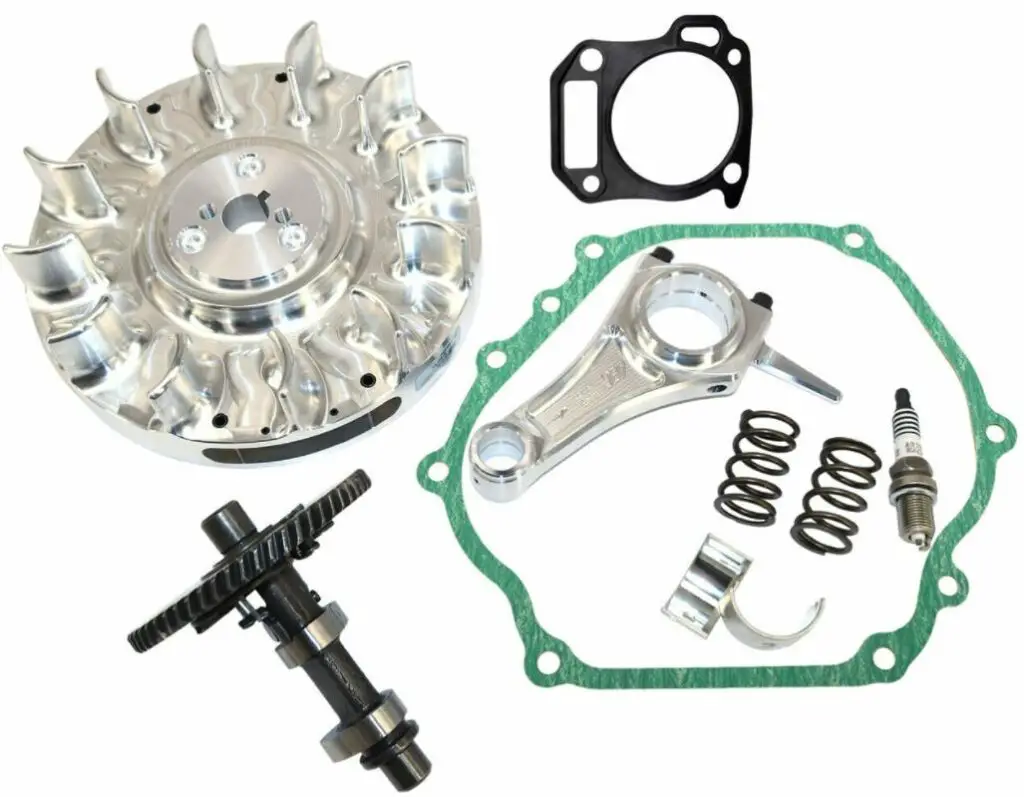 Kit Includes:
Billet Flywheel
Billet Rod
18lb Valve Springs
Head Gasket
Side Cover Gasket
Spark Plug
Mod2 Cams
The mod2 cams from this kit will give the engine a big boost. You can learn more about cam upgrades later in the article. Apart from that, the head gasket will increase compression by 0.010″.
The good thing about this kit is that you won't need to buy the billet rod and flywheel separately, however, you'll need to buy the air filter, exhaust and carburetor separately.
Stage 3
Max-RPM : 7000+
Cost : $520
Power : Upto 15 hp
The Stage 3 kit from OMB Warehouse is basically their stage 2 kit + Mod2 Cam. You can learn more about what cam upgrades will do, in the below section of this article.
A billet rod and Flywheel are required before installing this kit.
Stage 4 & 5
Max-RPM: 7500+
Power: Upto 15 hp
OMB's stage 4 kit includes a high compression cylinder head and a head gasket along with the other stage 3 parts. Both of which will increase compression.
Stage 5 kit has a cam with even more lift (0.265″ lift) than the mod2 cam, a spark plug, and stainless steel valves.
Further Modifications
If you understand what each of these components are doing, you might be better off buying parts separately instead of any "stage kits". I'll try to briefly explain each part and the upgrades that are available. If you're ready to make further mods then read on!
Well, first thing first, make sure you buy a non-hemi Engine instead of the Hemi Predator 212, they are much better when you're making extreme changes.
Secondly, make sure you have a big budget. Now, what else can you do to increase power?
Valve Springs Heavier than 18 lb
Cams with even higher lift and longer duration
Porting for better air flow
longer connecting rods for more compression
Bigger rocker ratio
You can even get a racing cylinder head with bigger intake and exhaust valve holes and save yourself from the machining work.
Racing Heads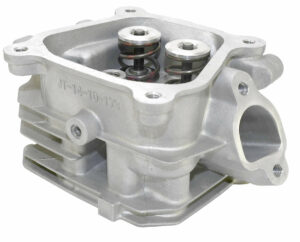 Racing heads are designed such that they make a lot of power but also make sure that the other internal parts are not eating away that power to make the engine run.
They have better porting and a bigger intake valve in comparison to the stock valve.
Valve Springs
When it comes to Valve Springs, the "heavier" springs will mean higher rpm before the valve float. You can actually go much higher than the 18 lb springs that come with stage 2.
| | | |
| --- | --- | --- |
| Spring Weight | Hemi | Non-Hemi |
| 18 Lb | Available (but different from the one's used in GX200 or Non-Hemi) | Available |
| 22 Lb | Available | Available |
| 26 Lb | Available | Available |
| 36 Lb | Not Available | Available |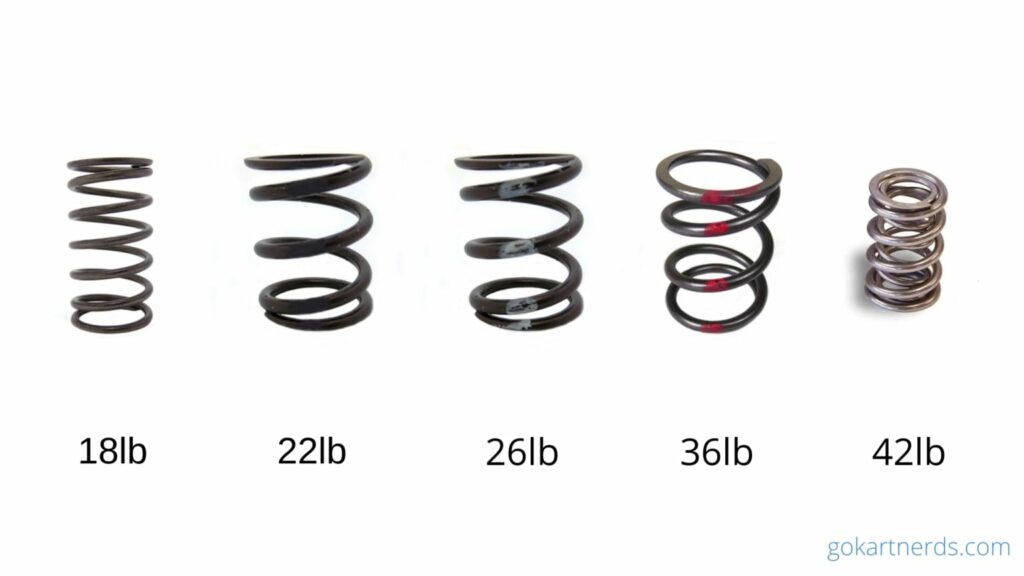 A heavier spring will push back the valves with more force and the valves will return to their position sooner, therefore, allowing you to have cams that open the valves for a longer duration resulting in more fuel to enter and burn.
Camshaft
Camshaft determines how long the engine valves are open for the fresh fuel to come into the engine combustion chamber and the burned fuel to move out of the exhaust.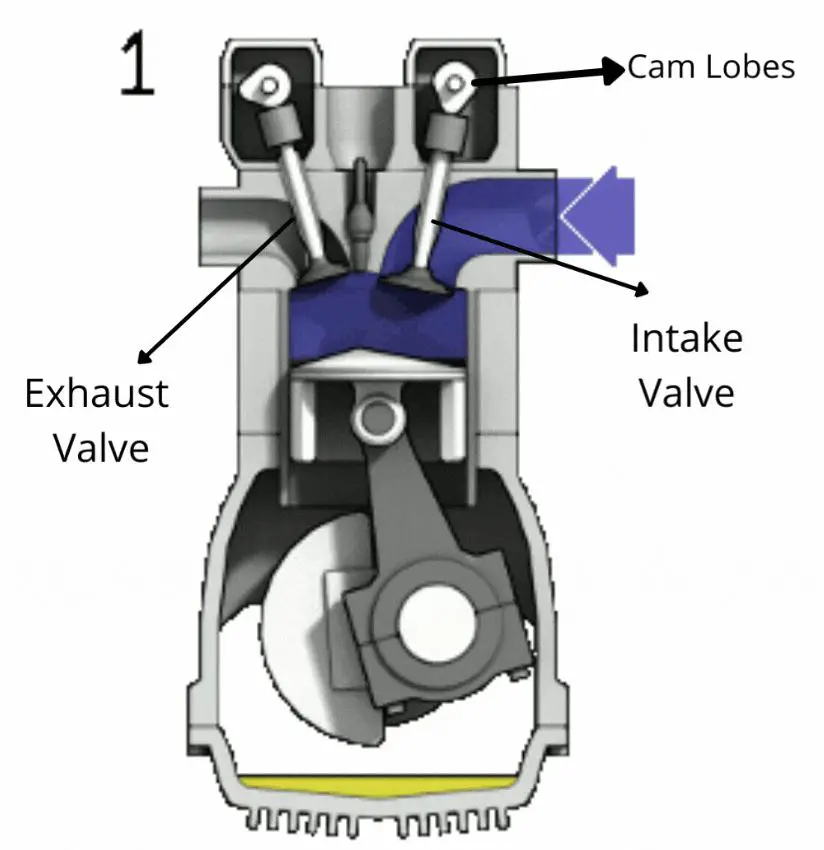 The cam shown isn't exactly how they are in small engines like predator 212, but the purpose is the same, i.e, to open and close the valves at a specific timing.
If more fuel comes into the chamber in the same amount of time, the engine will naturally produce more power. That is the basic idea behind getting a Camshaft with a bigger lift and duration.
There will be a physical limit on how long your valves can be open because if it is open for too long, the valves will hit the piston head.
This naturally means a non-hemi head will allow for a longer duration camshaft and as I mentioned before, get a non-hemi if you are going to make something wild!
Dynocams are the most famous manufacturers for Predator 212 camshafts. You can find a very wide variety of camshafts from their website.
Camshaft Specs
Lift
Duration
Lobe Seperation
Centerline
Lift and Duration are the most important specs to look for when you're choosing a Camshaft from Predator 212.
1. Lift
Valve lift is the maximum depth till which your valves will go with a given crankshaft. It can be measured as
Valve lift = lobe lift x rocker ratio
Every camshaft manufacturer will provide you with the data of "lobe lift". A cam with a higher lift will open the valves with more depth. If they are open with more depth, it will allow for more fuel to enter and the engine will burn more fuel to produce more power.
2. Duration
This basically determines, how long a cam will be open at different lifts.
So, for example, let's say your valves have a 0.255″ lift but during any cycle, it only stays above 0.127″ lift for 20% of the time, then it won't produce as much power as a cam that stays above 0.127″ lift for 50% time.
DynoCam will provide you with the data for DUR @ 50 and DUR @ 200. Which basically gives you the duration after which lift is above 0.050″ and 0.020″ respectively.
3. Lobe Seperation and Duration
These 2 specs will basically determine the nature of the power curve. You can learn more about them if you choose to, there is a lot more you can learn about Camshafts.
Best Camshafts
As mentioned before, Dyno is the most popular Camshaft manufacturer for Predator 212 and other Honda Clone Engines. Please Note: Hemi Engines and Non-Hemi Engines will use different Cams.
1. MOD2 Grind
MOD2 Cams are the most popular and the mildest cam upgrade that you can do, it will boost your performance up. You can expect a Predator 212 with MOD2 cam to make 7000 rpm. If you've made other upgrades.
2. DynoCams Super X 
A bigger lift and duration in comparison to MOD2. You can expect to go above 7500 rpm with this Cam and stage 2 kit.
There are other cams with longer duration and lift available on DynoCam's website. They can be a little too much, if you like to experiment then go for it. But please only do so if you know what you're doing.
Increase Compression
Out of the box, a Predator 212 has an 8.5:1 compression ratio. A higher compression ratio will compress the air-fuel mixture more inside the camber and will therefore increase the power.
There are a few ways to increase compression.
A longer Connecting rod
Thinner head gasket
Head shaving
You can increase compression by either of the 3 methods above, just make sure that you maintain a 0.030" clearance between the piston and the valve head.
Non-hemi will allow for more compression in comparison to hemi.
Turbocharge
Can you even turbocharge the predator 212? There are videos of people trying them successfully, but you'll need a really small turbocharger along with a fuel injector and will likely not get a big boost due to the small size of turbochargers.
Transmission System (Clutch vs Torque Converter)
A stock clutch will not survive anything other than governor removal and the comet-clone torque converters limit you to about 5500 rpm.
There is a trick common among people where they install a steel spacer bushing with thicker steel spacers and remove this limit, but a more common solution to this limit is to get a Juggernaut CVT from Gopowersport's website.
Clutches have their benefits when you need more speed because the power loss is low in comparison to the torque converter, you can get high speed if you have the correct gearing.
There are racing clutches available but can be expensive, or you can get an original max torque clutch along with a spring-weight assembly that engages at higher rpm.
Which Supplier is the Best?
Gopowersports and OMBwarehouse are both very trusted suppliers, their kits are almost identical with minor differences. The answer to the question will be, Buy from whichever one costs less.
You can also buy the parts individually, for example, camshaft from Dynocams, rods, and flywheels from ARC racing, etc.
Installation
There are loads and loads of videos for installing any part, and it is easier to understand the process from a video than an article. Just go on youtube and search for "How to install ___ on a predator 212", replace the "____" with the part's name and you can find at least 3-5 different videos about it.
Note: Harbor Freight warranty will end as soon as you remove or add any internal parts. Be careful while making any modifications and also Drive safe!
Safety
Although these small engines are not that complicated to work with, always keep safety your number 1 priority!
Do not leave any broken metal inside your engine.
Flywheel and rod upgrades are a must after a certain rpm threshold, the stock ones might not hold on for high rpm
For any machine work, always wear the proper equipment.
Lastly, the go-karts/minibikes with these moded engines can be too quick to handle, always wear your helmets while driving (and don't go too fast!)