Best Go Kart Tracks in Anaheim & Nearby
Go-kart tracks are sometimes really hard to find, especially the outdoor tracks that are open to the public and have rental karts. Luckily for you, the best outdoor track of SoCal is just 40-50 minutes away from Anaheim.
However, if you're looking for a track in the city then there is only one, K1 speed's indoor track. Indoor karting might not be as fast as outdoors but it has its own advantages. Here's our list of best go karting tracks near Anaheim:
K1 Speed – Indoor Track in Anaheim
CalSpeed – Outdoor Track in Fontana
Apex Racing Center – Outdoor track in Perris (For Kart Owners Only)
1. K1 Speed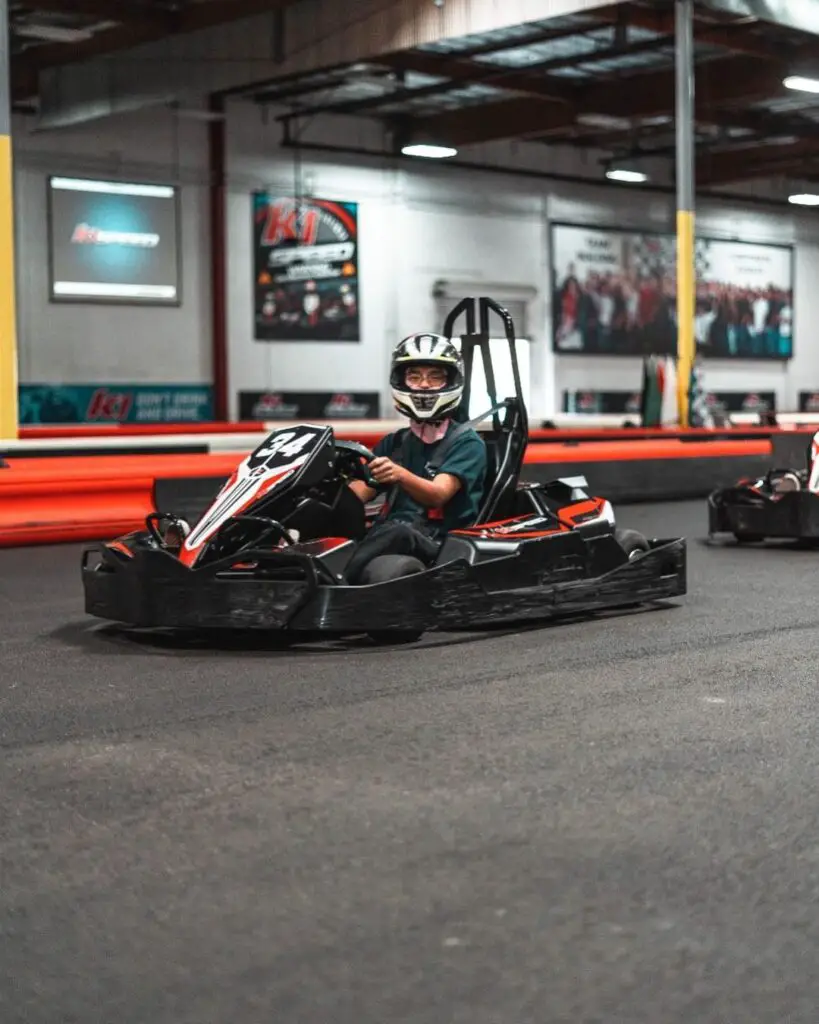 Min Requirement:
48″ (Juniors)
58″ (Adults)

Pricing (Rental):
1 Race – $25.95
2 Races – $46.95
3 Races – $59.95

Additional $8 membership is required to race

Races last 7-10 minutes each.

Check their Website for Up-to-date pricing, opening-hours, and Online Booking
K1 speed is the only go-karting track in Anaheim. They also have tracks in Irvine, Torrance, Ontario, Burbank.
Their tracks are indoor and karts are all-electric. The top speed of their Adult karts is advertised to be 45 mph, but they can control the speed limit and you'll probably not reach that speed.
Birthday parties, corporate events, etc can be booked in advance, they provide private rooms for such events along with their track.
Waiting time on weekends can be long in K1 speed due to their popularity. But they have other arcade games for passing the time.
All karts are rental, you cannot bring your own kart to the K1 tracks. However, you can bring your own helmet, gloves, and other safety equipment. They do provide all safety items for rental so it is not a necessity.
If your kids are interested in motorsports and this is the nearest place to you, then it is well worth the time and money to take a few laps in here before spending any money on buying a new go-kart.
Even though you won't become a pro racer by racing on K1 tracks, they are a good way of telling if you would enjoy motorsports or not.
Their league racings are regularly hosted across all their centers for both adult and junior classes.
2. CalSpeed Karting Center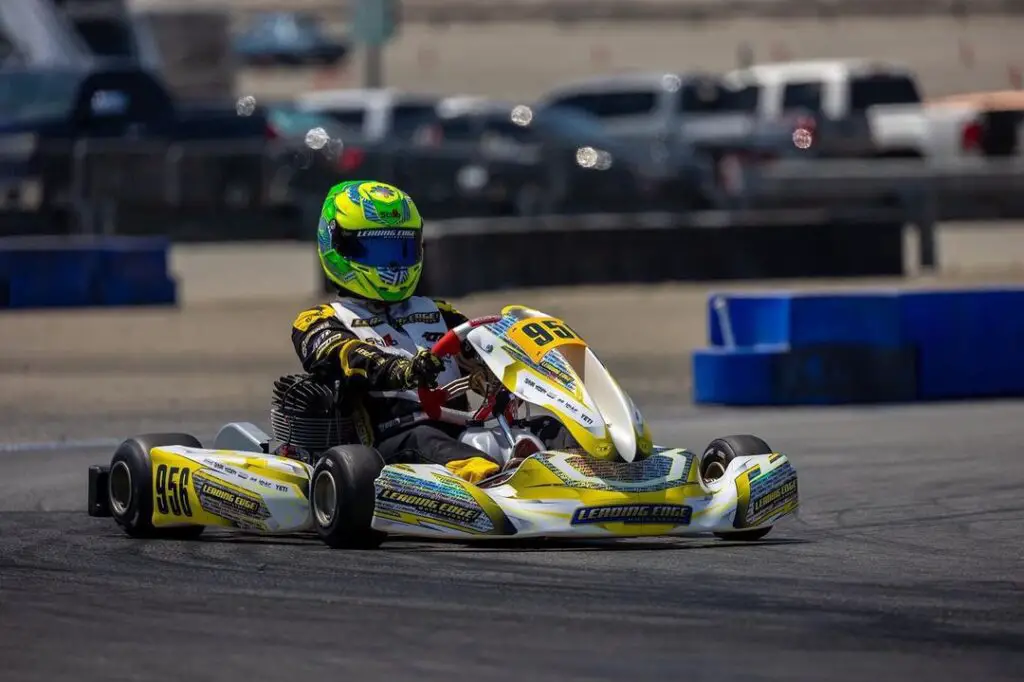 Min Requirement:
12 Years+ (for rental karts)
5 Year+ (for kart owners)

Pricing:
$45 for a 12-minute session (Helmet and gloves rental included with price)
$55 for a full-day pass if booked online (kart owners only)
$75 for a full-day pass onsite (kart owners only)



Check their Website for Up-to-date pricing, opening-hours, and Online Booking
CalSpeed Karting Center is the best go-Karting tracking in Southern California. Located in Fortana. It is nearly 40 miles away from downtown anaheim.
This place isn't just for the people looking for a fun race with friends and family but also for the people who are serious about racing as a career.
They have got multiple courses of configurations up to .75 miles with 15 corners that will test your driving abilities to the fullest. Check the satellite image of the track in the link below.
They allow the kart owners to practice with their own karts for a day pass. You can also book a private session with their trainers for a 1 on 1 coaching session.
Rental Karts of CalSpeed are some of the fastest in SoCal. You can hit 50 mph on the straight tracks with their rental karts.
They require you to wear full-face helmets, full coverage heavyweight clothing/racing suits, gloves, closed-toed shoes, and chest protectors (for drivers under 12). You can rent all the safety gear on the spot.
Their racing series are held throughout the year for different classes, for competitive racing this place is easily the best in SoCal and definitely worth a visit.
3. Apex Racing Center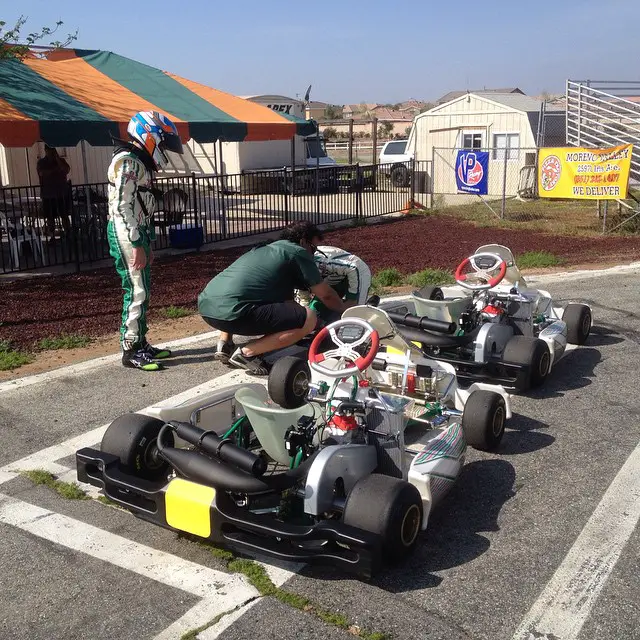 Pricing :
For Go-kart Varies between $20-45
Contact them for the exact pricing on the day

A racing track for kart owners, mini bikers and motorcyclists. It is located in Perris and is nearly 50 miles away from Anaheim.
Make sure to see the calendar on their website before you plan your visit, they do host private events from time to time and can stay closed on those days.
Their Kart circuit is 9/10 miles long and has multiple configurations. Check the satellite image of the track below.
These are the nearest 3 tracks for go-karting for you. These 3 tracks are good enough for almost all purposes like event hosting, competitive racing, Rental Karts or Kart Owners.
But if you do want to explore more, check our list of best tracks in LA and San Diego.