The Best Go-Kart Engines in 2022
Engine is the most important part of your Go-Kart and that is indisputable! Your go-karting experience is heavily influenced by the engine you're using, a good engine will grow your love for karting, and a bad engine will have you scratching your head trying to figure out ways to troubleshoot the problems.
But how do you choose which ones are the best? Most new kart builders only look for the ones that produce the most (max) power and the highest rpm, which is important if you're looking for the fastest engine but the fastest isn't always the best! I'd argue the most important thing to look for is the torque at the lower range of rpm. More torque at the low range will get you up to speed quickly and are much more fun to ride.
What about quality? There are so many engines being sold in the market that it isn't uncommon to end up with a poor-quality cheap clone engine that has a poor powerband, in fact, if you buy a ready-made off-road go-kart it will likely come with one of these cheap clone engines.
So we have put together a list of Engines that have been tried, tested, and manufactured by well-known brands. So that you can be sure that these engines will last you a good amount of time and give an amazing performance.
Our list can be divided into 2 parts, small block engines (no. 1-6 on the list) and big-block engines (no. 7-9 on the list). Small block engines are ideal for most go-karts (and safer for children). Big block engines are good for big, heavy go-karts for example a double seater off-road go-karts. Putting them on a small kart can lead to too much acceleration.
The 9 Best Go-Kart Engines
1. Tillotson 212
Tillotson 212 is the best small-block engine for go-karts. It is a direct replacement for Predator 212 and other honda clone engines, if your current setup has a Predator 212 or a GX200 clone, this engine will fit perfectly into your setup.
This engine blows away any other small block engine in terms of performance. It can produce more than 9 hp of power without any modifications and can create as much as 11.5 hp and 5400 rpm with very mild modifications.
With 5400 rpm you can expect to reach 40-50 mph. Due to the high torque that this engine produces, the engine can reach its top speed very quickly. The dyno curve of this engine speaks for itself. Your go-kart will feel very smooth to drive.
The parts that the engine comes with are of high quality and will last for a long time. It weighs about 38 pounds, has a Hemi head, and has similar dimensions as the Predator 212 or other small engines on this list.
Tillotson is a very well-known brand with most of its manufacturing done in the US, they are mostly famous for their high-quality racing carburetors but their engines are just as high quality as their carbs! You can expect the engine to last for a long period.
Pros:
Much better performance than a GX200 or it's clones for a cheaper price.
Aftermarket performance parts easily available with Installation tutorials on Youtube.
Internal Parts made from high quality materials, they won't fail even at 10,000 rpm.
Cons:
Limited Availbility.
Nearly double the price of Predator 212.
2. Predator 212
Predator 212 is our choice for the most value for money go-kart engine. They are unbelievably cheap for their quality and performance, especially if you buy them from a harbor freight store, you can get these for as low as $100-120.
In comparison to the Honda GX200, you get an almost identical engine in terms of performance, for almost 1/3rd of Honda's price. Its ease of availability and low price make it by far the most popular engine for Go-karts.
When we compare Predator 212 to Tillotson 212, you get better performance on the Tillotson engine, as you would expect since the Tillotson engine is nearly 2 times the price. But the Predator 212 can be modified to compete with the Tillotson.
The Predator 212 can create more than 6.5 hp power and 3600 rpm out of the box. You can expect your go-kart to reach 20-30 mph with the Predator 212 engine.
When it comes to performance parts, you can almost upgrade every single part of this engine. There are so many options that you can end up with an engine that produces more than 15hp power and 7500+ rpm. That is more than double the power and speed of the unmodified version.
Cons:
Internal parts can fail at very high rpm.
No electric start (you will need to buy electric start kit seperaely, if needed)
3. DuroMax XP7HPE
The Duromax XP7HPE is a Honda GX200 clone with an electric start. Its performance output and its design are very similar to the GX200 but just like other clones, it is cheaper than the original honda engine.
It comes with an electric start so you won't have to get out of the kart to pull start it every time it stops. In comparison to Predator 212, this engine makes a little more power and torque in its default state but the displacement is 4cc less than the Predator 212.
You can add an electric start kit to a Predator 212 engine too but that will bring its cost to the same price as Duromax XP7. Therefore, if getting an electric start is a must for you, then this is the engine to buy.
Most of the performance parts from GX200/ Predator 212 non-hemi will fit in this engine too. But some parts are a mismatch. If you're planning to do any modifications then it's best to stick with the Predator 212 or Tillotson 212.
Pros:
Best small block engine with an electric start
Easily available
Creates a lot of torque and power
Cons:
Internal parts can fail at very high rpm.
Some replacement parts can be hard to find
4. Honda GX200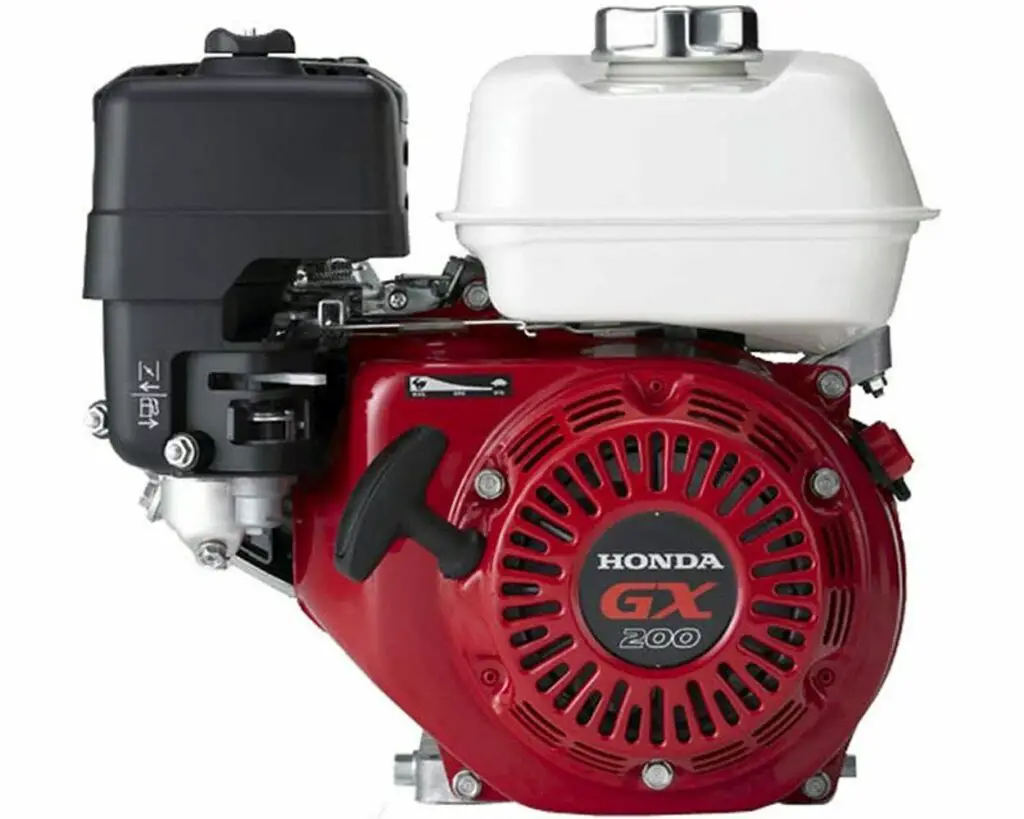 The original Honda GX200 makes our list for being the most reliable engine in the market. Most of the other Go-kart engines are either partial or complete clones of the GX200 and even though the clones are cheaper and in most cases deliver better performance, the original honda engine will outlast most if not all of them.
The engine has 196cc displacement which is 16cc less than the Predator 212. It also produces nearly 1 hp less than the Predator 212. The top speed however is around the same (3600 rpm, 20-30 mph). The replacement/performance parts are easily available for honda engines.
Pros:
Durable
Easily available
Replacement parts and performance parts easily available
Cons:
Very Expensive with no performance benifit in comparison to it's clones.
5. Briggs and Stratton 13R232
How can we make a list of "best Engines" and not include Briggs and Stratton? Their reputation speaks for itself just like Honda. The 13R232 model is a horizontal shaft engine and has a similar dimension to the GX200 or other small block engines and can be used to easily replace your already existing engine.
The specs of this engine are nearly the same as the 7 hp Duromax engine but just like honda, Briggs and Stratton's engines are expensive. They can make up for their price from their durability.
Pros:
Very Durable
Great Support
Cons:
Very Expensive
Replacement Parts can be hard to find
6. Tillotson 225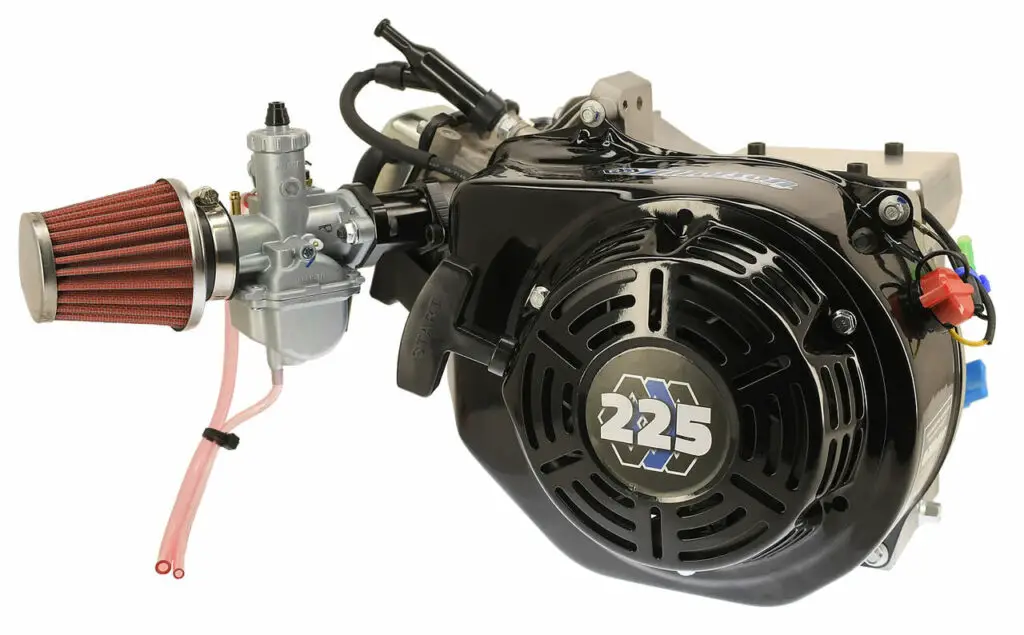 What fun will the list be if we don't include at least one racing engine? Now please note that if you're planning to race your go-kart on your local tracks, you'll have to make sure that using this engine isn't against the rules.
Tillotson 225 is a 4-stroke engine, unlike the other racing engines which are usually 2-stroke. In terms of performance, this engine is comparable to a stage 4 Predator 212 and if you compare the price of building up a stage 4 predator to this engine, the Tillotson 225 is cheaper.
It produces a whopping 17+ hp power and you can reach 7000+ rpm, which is enough to get you to 60-70 mph (depending on your gear ratio and other factors).
Note: This Engine is not for newbie drivers and especially not an engine to buy if you're building a go-kart for your children. This engine is ideal for racers with previous engine building experience.
Pros:
Extremely fast
Performance similar to a stage 4 Predator 212 for $100-150 less
Light weight
Cons:
Not for beginers and children
7. DuroMax XP18HPE
Our last 3 picks are all big-block engines that produce 13-16hp power and this engine is our pick for the best big-block engine. It produces a very high amount of power and torque and the best part about this engine is that you can get it for almost the same price as a GX200! Now that is impressive.
They are physically much bigger than the engines mentioned above, its shaft diameter is also bigger than the above-mentioned engines. Its displacement is more than double the displacement of Predator 212 and it can make more than 2 times the power of a stock Predator 212.
The speed of the engine is restricted to 3600 rpm from the factory, so you won't go faster with this engine in comparison to the small block engines (at least in their original state), speed governor can be removed and that will make your go-kart really fast. Remember, an engine that produces more power can always go faster than an engine with lower power.
Why and when to buy this engine? If you want to power a heavy go-kart or maybe even a mini buggy, then this engine is perfect. Its high torque will also take your go-kart to a high speed very quickly, i.e, the acceleration of your go-kart will be very high with this engine.
Pros:
Very Cheap
Largest displacement out of all the big block engines
Easily Available
Cons:
Internal parts can fail at very high rpm.
Some replacement parts can be hard to find
8. Predator 420
It's advertised to be a "great GX390 replacement" which is a perfect way to describe this engine, a cheaper and a better performing GX390. Note: This engine is cheaper if you buy it from your local Harbor Freight store, as opposed to buying it from an online store.
Just like the other big-block engines on our list, this engine produces a lot of power and torque making it ideal for heavier go-karts. The rpm is governor restricted to 3600.
The governor can be removed and just like the 212cc Predator, the 420 cc Predator can be heavily modified with easily available performance parts.
Pros:
Very Cheap
Engine is easily Available
Performance Parts are easily available
Cons:
Internal parts can fail at very high rpm.
9. Honda GX390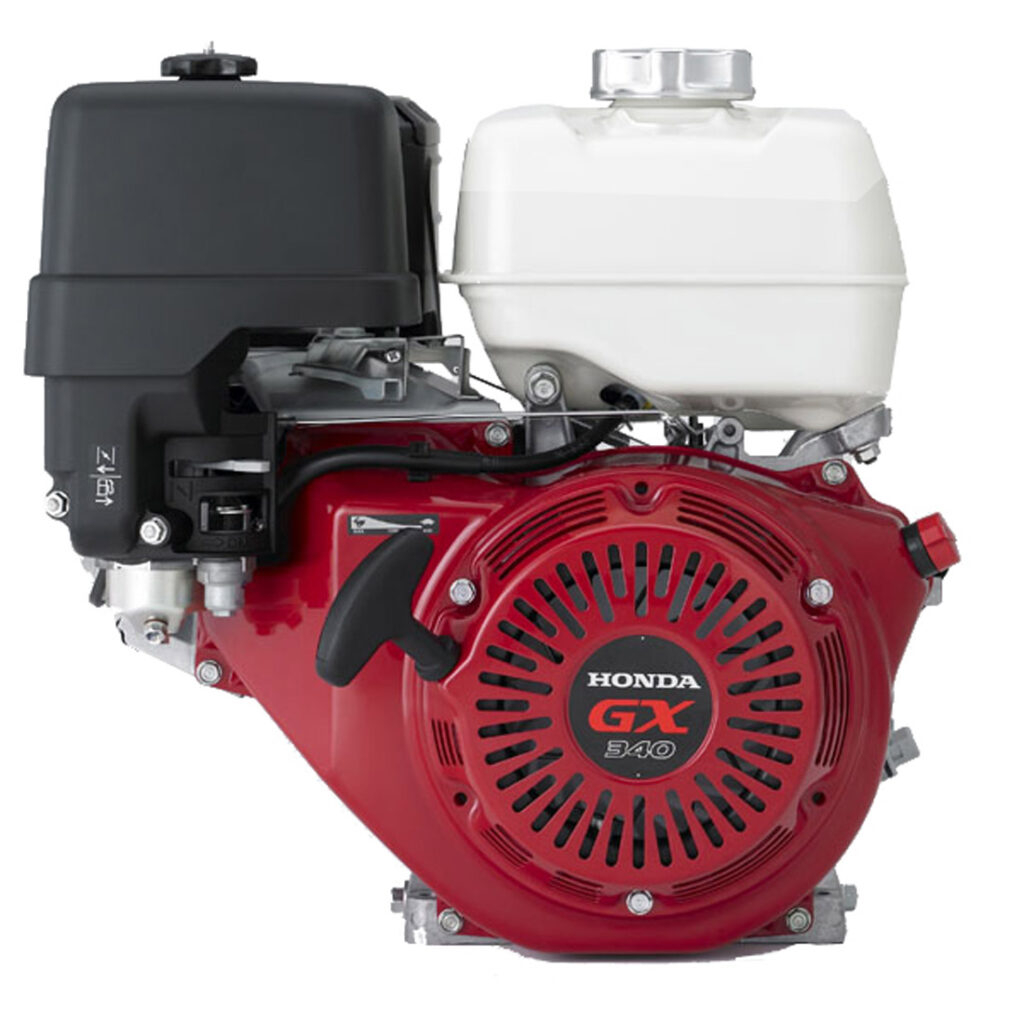 The original 390cc honda engine is again the best in terms of quality and just like honda's small block (GX200), the big block is also very expensive in comparison to its clones.
It has slightly less displacement in comparison to predator 420 and produces slightly less power. 3600 rpm is the restriction set on the engine from the factory. Replacement parts and performance parts can be easily found.
Pros:
Durable
Easily available
Replacement parts and performance parts easily available
Cons:
Very Expensive with no performance benifit in comparison to it's clones.
Understanding the Specs
Watching all those numbers in the "specs" section can be intimidating. But understanding them will make it easier for you to choose the right Engine, so here is a brief explanation of all the terms and what they mean.
RPM
RPM is a short form for rotations per minute, rpm of the engine means the number of times an engine's shaft rotates in a minute.
When you press on to the gas pedal of your vehicle, the engine's shaft rotates faster and your vehicle moves faster. The faster the crankshaft rotates the faster your go-kart will move.
The engines used in go-karts are usually multi-purpose engines and are limited to 3600 rpm. This is because most tasks require the engine to maintain 3600 rpm for best performance.  Since our purpose is only go-karts, we can remove these governors to achieve higher top speed. 
Please note that your warranty/guarantee is gone as soon as you make any modifications and some engine's interior parts can fail at high rpm. Tillotson engines and Predator engines are the best for any modifications.
Torque
"Torque is a rotating force produced by an engine's crankshaft". Without getting much into the physics/mechanical definition, more torque usually means more acceleration. It is also easier to climb uphill and drive on off-road tracks with an engine that produces more torque.
Power:
Power is simply RPM x Torque. The more power your engine produces the higher your engine's rpm can be. The more power that your engine produces, the more work it can do in less time.
FAQs
What kind of engine do you need for a go kart?
A go-kart engine is typically a 4 stroke engine that produces 5-16 hp power. The engine must be a horizontal shaft engine with a shaft diameter of 3/4″ to 1″.
What is a good size engine for a go-kart? (Small Block vs Big Block Engine)
Small block engines which produce 5-7 hp power are good enough for almost every go-kart. Especially if you are building a go-kart for kids. 
But that doesn't stop people from using engines that produce even more than 20 hp. 20 hp is extremely high and even an experienced go-karter can struggle to handle such go-karts.
Therefore 13-16 hp engines are popular among people seeking more powerful engines. Check out our comparison between predator 212 and Predator 420 for a more detailed comparison between the small block and big block engines.
How fast can you go-kart go with these engines? (Top Speed Calculator)
Most of the engines are restricted to 3600 rpm from the factory, which means your go-kart can reach 20-30 mph (the exact top speed is dependent on your setup).
To calculate the top speed of your engine, you need to know the maximum rpm of the engine, the diameter of your back wheel, and your gear ratio. Use our Calculator to find the top speed of your go-kart.