Torque Converter vs Clutch – For Predator 212 Go-Karts
Torque converter and Centrifugal clutches are the 2 popular power transmissions used in Go-karts and mini bikes.
Small engines such as the predator 212 produce 6.5 hp power and use 30 series Troque converters, therefore we will be comparing the 30 series torque converter with a centrifugal clutch (40 series Torque converters are designed for 8 hp or higher).
Which one is better for your Go-kart?
Torque converter/CVT is ideal for off-road go-karts with frequent start-stop situations, If you're using a heavy kart with big tires or if you're going to climb hills then get a Torque converter.
The Centrifugal clutch is ideal for high-speed Go-karts with small wheels on flat tracks.
Or to put it more technically, Torque converters are useful when you require more torque (for example: driving uphill) and will give a better take-off. Whereas, the clutch will give a higher power transmission efficiency at higher rpm.
| | | |
| --- | --- | --- |
| | Torque Converter | Centrifugal Clutch |
| Gear Ratios | Infinite | Fixed |
| Power loss | High | Low in comparison |
| Launch | Very Good | Poor |
| Transmission system | Belt type | Chain type |
How they work:
Torque Converter
The torque converter consists of 2 pulleys, a driver pulley, and a driven pulley. Apart from the pulleys, there is a belt that connects the 2 pulleys.
The driver pulley is in contact with the engine crankshaft and the driven pulley is in contact with a jackshaft, the jackshaft has a sprocket along with the pulley, and that sprocket is connected to the axle sprocket with a chain.
When the engine is idling, the belt in contact with the driven pulley has a much higher diameter than the belt in contact with the driver pulley.
When you start opening the throttle and the rpm of the engine increases, the diameter of the belt in contact with the driver pulley will start to increase and consequently, the diameter of the belt in driven will decrease.
So, as your engine rpm is increasing, the gear ratio will also increase therefore known as automatic transmission. Making it ideal for any off-road purpose, where you need higher torque to start off.
One major downside of using a torque converter is power loss, this is common in all belt drive systems, you'll end up losing 20% power due to belt slippage, the power loss is even more for the 30 series CVT due to its belt being asymmetric.
Not only will that limit your speed, but the belts end up wearing over time due to the heat produced, so you'll have to keep changing the belts from time to time.
If you want to understand the internal workings of the torque converter then read this article.
Centrifugal Clutch:
Centrifugal clutches have a very basic design, they have one drum and a clutch.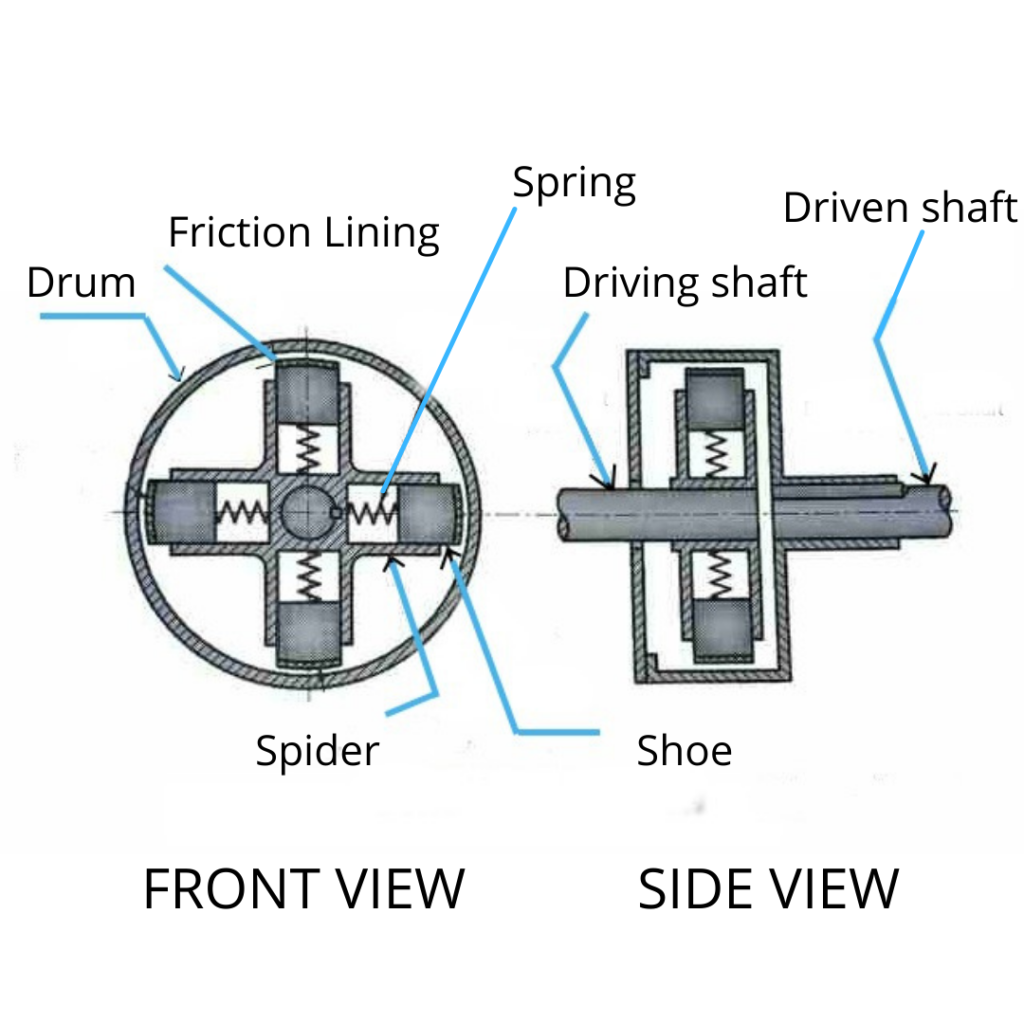 When the engine starts to rotate, the shoes will experience a centrifugal force and engage with the drum, the drum has a sprocket that connects with the axle sprocket.
These systems only have one gear ratio. You can set the gear ratio beforehand, and it is important to set it correctly otherwise you'll burn your clutch real quick.
The correct ratio depends on your tire and the weight on the kart, as a general rule, a 6:1 gear ratio for 13″ tires is ideal, if you are planning on the bigger tire or want a better take off then lower the ratio. Most problems in the clutch are due to an incorrect gear ratio.
The biggest advantage the clutch has on torque converters is the power transmission efficiency is high due to chain transmission and is therefore much better for racing purposes.
More power will get you farther in a longer duration whereas more torque will help you accelerate better, therefore a clutch will be faster and the torque converter will give a better take-off.
Racing Karts:
If your purpose is to race on flat tracks and you have an engine like stage 1 predator or the Tillotson 212, that produces a high amount of power, then go for a racing clutch like a Norman GE Ultimate.
Note that these racing clutches are expensive, only get one if you've got a high-performing engine. A stock Predator 212 engine will have no use of such clutches.
For a stock predator 212, a stock clutch is good enough for racing purposes and is much cheaper than a racing clutch.
The major downside of using a torque converter for racing is that it limits the high-end rpm and there is a lot of power loss due to belt slippage in CVT(or any belt drive in general).
The rev limit is not going to be a problem for a stock predator 212, even with the governor removed you'll not have to worry about rev limits. But the power loss will affect the speed. Higher Max power = More top Speed
The rev limit problem is also solvable if you have an engine that produces higher rpm, you can get Juggernaut 30 series, it will work well at high rpm. But the power loss will still remain a problem and therefore you'll find people using racing clutches for racing Go-karts.
Off Road:
For off-road purposes, you have to use a Toque converter, a clutch should not even be considered in such situations.
Why? Torque converters are variable transmissions, so when you start your engine, the gear ratio will be very low, meaning that the wheels will get high torque from the engine even when the engine is producing less power.
A centrifugal clutch on the other hand clutch will have a fixed gear ratio (teeth in axle sprocket: teeth in clutch sprocket), so unless you make your gear ratio very low, you will end burning through your clutches very quickly, and if you do decide to lower the gear ratio, the top speed will be very low.
Durability:
With regular maintenance and correct setup, both the clutch and the torque converter can last for a long time, an original comet torque converter can last for 5-10 years, even the comet clones can last for 2-3 years or more on proper maintenance.
Having said that, it's not uncommon for belts to wear out quickly on torque converters especially if you get the wrong belt. The belts usually wear down if you have the wrong sized belt. Always keep a spare belt with yourself if you have a torque converter.
In comparison, Clutches will also work for a year or 2 if you can maintain them properly and they are cheaper than the torque converter.
The problem in clutches is usually due to incorrect gear ratio, heavy karts/driver, usage in tracks that require more torque to get going, or low-speed driving (using a clutch at low speed for too long will increase heating)
Pricings:
There are tons of different options for you in the market. A stock clutch from Max-Torque (American Manufacturers) will cost around $40 while its Chinese clones on amazon are available for only $20-25. Check our best clutches list. for comparison between clone vs original.
Similarly, the 30 series Torque converter is also available from Comet (original) and the Chinese clones. These are much more expensive than the stock clutches, the clones are available for $60-70 on Amazon and the Original comet will cost nearly $200.
The Original (Comet) is obviously better in terms of quality and manufacturing, but is it worth it to spend 2-3 times more? I don't think so, if you have a bigger budget and plan on using them for a long time then go for it, otherwise, the clones are good enough. Check our list for the best Torque converters.
The Juggernaut Super 30 Series clutches and their clones that are made for higher rpm are fairly cheap in comparison to other performance parts. Definitely a recommended product for anyone using a stage 2 or higher predator 212.
The racing clutches are very expensive, they can cost you well above $100 and are not worth getting unless you have an engine that is also made for racing. You don't need it for a stock predator 212 unless you're planning on a very high gearing,