TrailMaster Cheetah 8 – Specs & Upgrades (Review)
A new Go-Kart for your kids can be a lovely present! But let's be honest, "buying a Go-Kart for the kids" is just an excuse. Most of us want to drive these Go-karts. They look extremely fun, why should kids have all the fun?
Trailmaster Cheetah 8 is a go-kart designed for kids under 5'8″. But, that doesn't mean that adults cannot drive them, their seats are adjustable and even if you're a little over 6′, you'll be able to fit in. Getting in or out of the Go-kart won't be the most comfortable for anyone above 5'8″ since the go-kart is designed for kids, but for occasional driving, you'll be fine.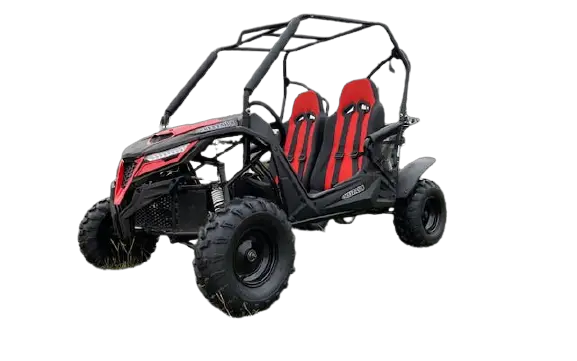 It comes with a 4-stroke, 7.5 hp engine and a CVT/Torque Converter which allows automatic transmission (including reverse gear). The max speed of these karts is 32 mph but will depend on the driver's weight.
Other important features include, electric start along with a pull start (as backup) and a foldable top cover, just like Trailmaster 150 XRX.
TrailsMaster go-karts are all made in China and are therefore very affordable. The brand has been around for a long time and is one of the most popular in the off-road Go-karts and UTV market. The Engine can give problems from time to time, but their body will last for a long time.
Specs & Features
Engine
Cheetah 8 uses a 4-stroke, 7.5 hp, 208cc engine. Unlike Cheetah 150 which uses a gy6 clone engine, these engines are clones of honda GX200.
GX200 and its clones are extremely popular. If you ever run into any kind of issue, you'll be able to find replacement parts and fixing tutorials very easily.
The other benefit of honda clones is that they have tons of upgrades available, just in case you want a more powerful and faster go-kart. You can even swap these engines very easily for a better-performing engine for as little as $100 (Predator 212).
Here are the specs of the stock engine:
| | |
| --- | --- |
| Engine Type | 4-Stroke, Over Head Valve and Single Cylinder |
| Engine Cooling | Air cooling |
| Engine Fuel | Gasoline with an octane level of 87, < 10% ethanol, or < 5% methanol; E15/E20/E85 fuels are prohibited |
| Engine Oil | SAE 15W-40 |
| Fuel Capacity | 1 Gallon |
| Bore x Stroke Ratio | 68×54 mm (2.68×2.13 in) |
| Displacement | 208cm³ |
| Horsepower | 7.5 HP @ 3600rpm |
| Rated Torque | 8 lb-ft @ 2800rpm |
Oil
15W40 is the recommended oil for the engine. However, if you live in a warm region then you can use 20W50 for better performance, and 10W40 in winter.
It is recommended to properly break in the engine and to not go full throttle for the first few hours of use. Drain out the oil that is sent from the factory (if any), and at least do 2-3 oil changes during the break-in period.
Synthetic Oil can be used for better performance, once the engine is broken in. It is best practice to always check the oil before driving.
Transmission
Trailsmaster Mid XRX comes with a Torque Converter/CVT. Which has multiple gearings that automatically change as opposed to a clutch which is a fixed gear system. They also have reverse gear unlike other kids' go-karts such as Mid XRX.
A very common question asked is about their belt, "Which belt does Cheetah 8 use?" You will most likely run into this problem when your belt breaks, remember to get part number: 203589 / 5959. Using a wrong-sized belt will be a waste of money since it will break in a few uses.
Tires & Brakes
The tires used are the same for both back and front, 18″ in diameter for both.
| | |
| --- | --- |
| Front Tire: | 18 X 7-8 |
| Rear Tire: | 18 X 7-8 |
No brakes in front and Hydraulic Disc brakes in the rear.
Other Parts
You get an electric start to go along with a hand pull-start, you won't have to get out of your kart every time it stops. There is an LED front headlight and turn signals. No mirrors.
The chassis has suspensions on both the front and rear.
| | |
| --- | --- |
| Front Suspension | Independent Dual A-Arm |
| Rear Suspension | Swing Arm / Double Oil Damped Shock |
Pricing
If you're lucky enough, you can find a second-hand version of Cheetah 8 from online marketplaces for a cheap price. But it won't be easy to find a second-hand XRX that is in good condition.
They cost for a new Cheetah 8 is between $2500-3100 depending on the supplier and the time of purchase. You'll likely be able to get a discount price on black Friday.
Assembly
Assembling can take up to 6 hours. The go-kart will come with an assembly manual, if not you can find a pdf of the assembly manual online. Make sure to properly tighten all the bolts before you drive.
It's best to let a certified mechanic assemble it for you, however, the assembly manual comes with a step-by-step installation guide, it will take some time but you can do it yourself!
Problems with Trailsmaster Mid XRX
Engine Problems are very common on Trailmaster Go-karts, they use honda clone engines which can cause trouble from time to time. Not all engines are faulty but some might be problematic.
It is usually the carburetor that is the culprit and sometimes it can be the air filter. Luckily for you, honda clones are very common and these problems too are very common, you will be easily able to find parts and solution on the internet.
My advice is to completely swap the engine with a better Go-kart engine. It usually only costs $100-200 and will give you a nice performance boost.
Performance Parts
If you think the stock engine isn't powerful enough, don't worry, you can make some upgrades and increase both the low-end and top-end performance.
Torque converter
The springs of the torque converter/CVT can be changed so that the go-kart will produce more torque at low rpm. The price of this modification is very cheap. We have a complete guide on adjusting the 30 series torque converter that you can check.
Engine Mods
Since this go-kart comes with a honda GX200 clone, you can make this engine perform nearly double the hp and rpm to its stock condition!
The performance parts come in stages, for example, stage 1, stage 2, and so on. Some parts might not be compatible, because each clone is a little different.
You can contact someone from GoPowerSports or OMBwarehouse to know the exact size of the parts for your engine. But the parts and the reasoning behind each upgrade remain the same regardless of the engine.
Make sure that you have a billet flywheel and billet rod installed in the engine if you remove the governor.
Stage 1 Kit
Stage 1 kit comes with a better air intake and exhaust which will allow better air circulation.
The kit also includes a larger main-jet (0.36 and 0.37), a bored-out emulsion tube that will help the carburetor to take in more fuel, an 8-degree advanced timing key, and an 18 lb Valve spring.
You can expect a 2-3 hp increase in power.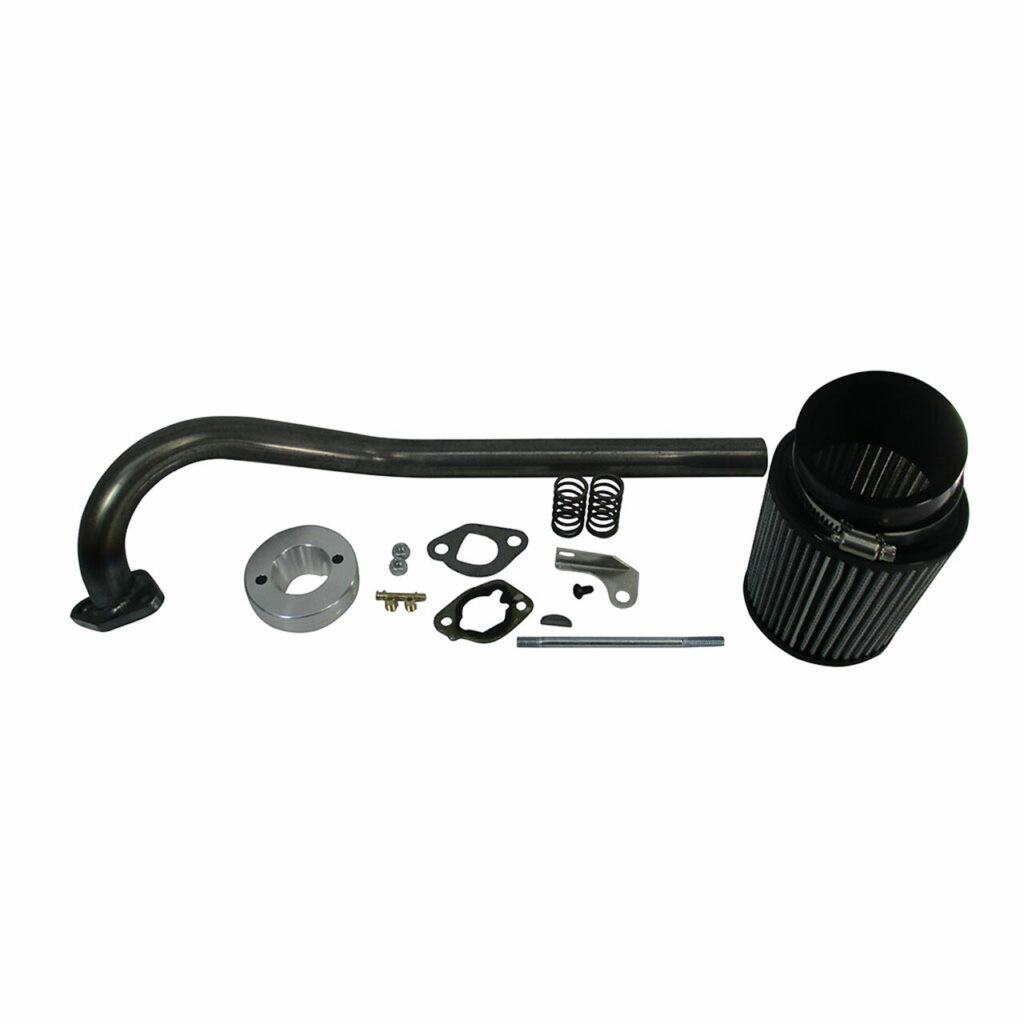 OMBWarehouse Stage 1 Kit
1 Exhaust Pipe
1 Air Filter
Larger Non-EPA main jet
Gaskets
8-degree advanced timing key
0.36 and 0.37 main jet
Bored out Emulsion tube
Stage 2 Kit
Stage 2 kit has everything from stage 1 + a Non-EPA style carburetor. The carburetor allows for a slight increase in performance.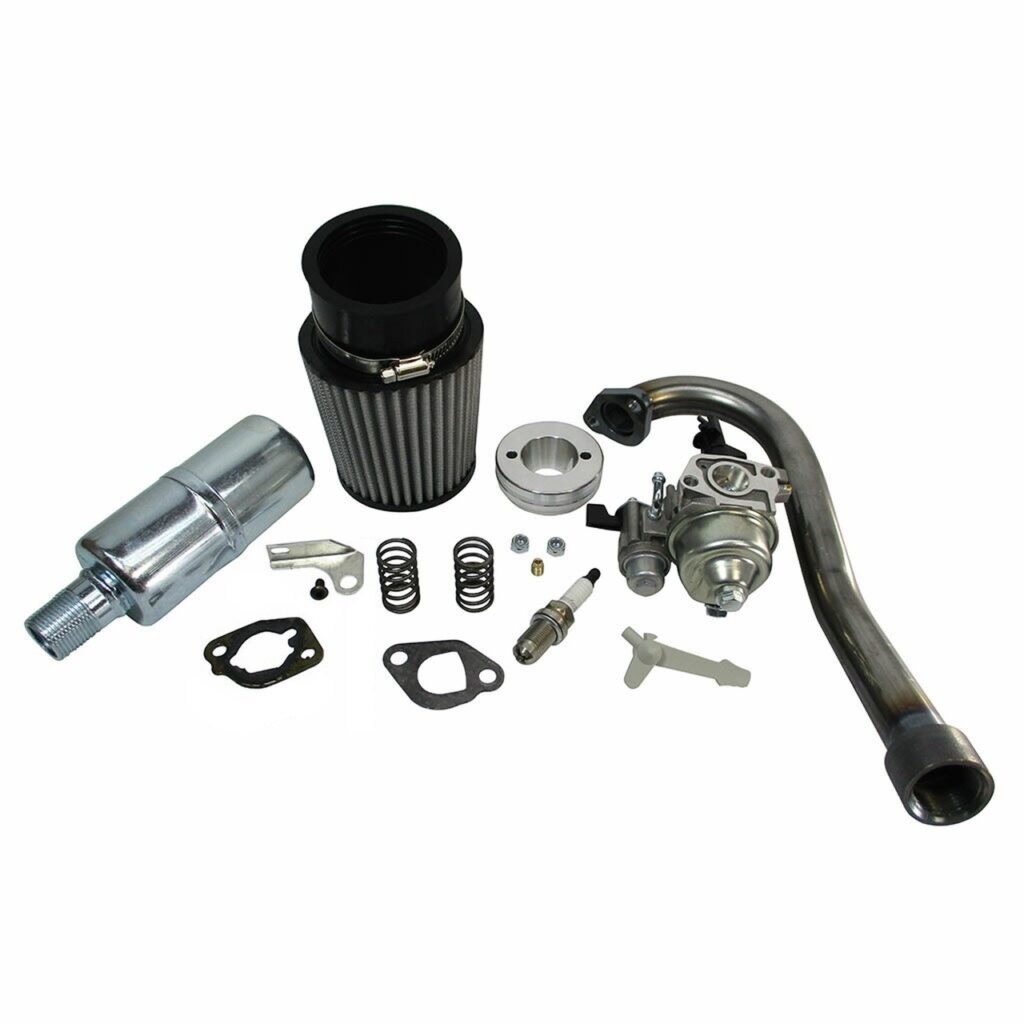 OMBWarehouse's Stage 2 Kit
Everything from Stage 1 Kit +
Non-EPA style Carb
We won't cover all the mods in here, but we do have a complete guide about performance mods that can be made on Predator 212, honda clone engines are almost identical to the harbor freight 212cc engine, so that guide will help your case as well.
Conclusion
Cheetah 8 can be described as a mini version of cheetah 150, with less space and a different engine but for a significantly lower price. If you're looking for a go-kart for your kids, then this is an ideal go-kart to buy.
Adults can fit too, but it might be uncomfortable to get in and out of the go-kart if you're taller than 5'8″. If you're looking for a go-kart for people above 5'8″, check out 150 XRX from TrailsMaster.