TrailMaster 150 XRX – Specs & Upgrades
TrailMaster Go-karts have increasingly become more popular in the off-road go-karting space. 150 XRX model is a family go-kart anyone above 5 feet and below 7 feet can comfortably drive these without any problems, this is due to them having adjustable seats.
The 150XRX model is almost the same go-kart as Trailmaster 150 XRS, slightly better, and costs $200 extra. In comparison to the XRS model, XRX has a better steering wheel, a soft top, better wheels, turn signal, mirrors, extra lights, and a digital speedometer. Apart from that, they are pretty much the same go-kart.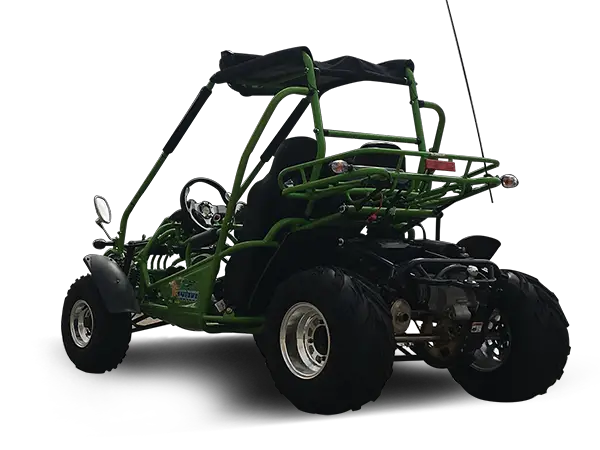 Engine
It uses a clone of the famous GY6 150cc motor. Specs are as follows:
| | |
| --- | --- |
| Engine Type | 4-Stroke, Single Cylinder |
| Engine Cooling | Air cooling |
| Engine Mount | 4-15/16 inches clear between mounts |
| Engine Oil | SAE 15W-40, 20W50 (In Hot Regions) |
| Bore x Stroke Ratio | 57.4×57.8 mm |
| Compression Ratio | 9.5:1 |
| Displacement | 150 cc |
| Horsepower | 8.5 hp @ 7500 rpm |
| Rated Torque | 7 ft-lb @ 6000 RPM |
GY6 and its clones are very popular horizontal engines for scooters, off-road go-karts, and UTV. Since it is very popular, their normal parts and performance parts are easily available.
You can expect a top speed of 35-40 mph with the stock engine depending on the weight that the go-kart has to carry.
Oil & Break In
SAE 15W-40 is the recommended oil to be used with this engine. If you live in a warm region then you can use 20W50 for better performance, and you can use 10W40 in winter.
The engine will break in after a few hours of usage. How to break in is a very controversial subject, most people do not bother with it and just drive normally out of the box. I recommend you to change oil 2-3 times during the first few hours of usage and to not go full throttle for too long during this period.
But as I said, it is a controversial subject, if you feel like your method is better to break in then go for that instead.
Transmission System
Trailmaster 150 XRX and XRS both use CVT transmission. It is completely automatic, i.e, no gearbox is required. You can also go reverse direction with these CVT. CVTs are a really interesting device, you can play around with them and modify them for significant performance upgrades. Especially, the low-end torque can be increased with a very little cost which will boost the acceleration.
Tires
Tires are 20″ in diameter for both front and back wheels. Rear tires are thicker in comparison to front tires. 55 kPa tire pressure is recommended for both front and back tires.
| | |
| --- | --- |
| Front Tire: | 22X7-8 |
| Rear Tire: | 22X10-10 |
Hydraulic Disc brakes are used in both the back tires.
Appearance
It looks kind of like a dune buggy, additionally, it has a soft top, headlights, fog light, and two mirrors. It looks pretty cool but you can check for yourself on some youtube videos to see if you like them or not.
Pricing
Depending on the model and the year of manufacture, these go-karts can cost between $2500-$3500. The latest models will cost more than older models. If you're lucky enough, you might be able to find a second-hand version in good condition on the FB marketplace for cheap (maybe even free if someone just wants to get rid)
Common Problems
By far the most common problem with these Go-karts is their engine, and this isn't just unique to 150 XRX, many other Trailmaster go-karts/buggy experience the same problems. Infact most clone engine will cause trouble atleast once in their lifetime.
Engine Starts But doesn't move:
A very common problem! It starts but as soon as you give gas, the engine stalls.
The problem can be due to, fuel delivery issues, spark plug issues or on rare cases compression issues. Most commonly, it's just a faulty carburetor that is not providing the combustion chamber with a proper air-fuel mix.
To solve the issue, you will need to check whether the spark plug is in good condition and that your fuel isn't faulty. If both of them check out, the culprit is the carburetor. You should first clean the carburetor and if it still doesn't work out the best thing to do is to replace the carburetor.
If you can afford to spend some extra money, you might be better off getting a new engine and swapping the Chinese-made engine that comes with the go-kart.
Performance Upgrades
GY6 motors and it's clones have been around for a long time and are extremely popular, which naturally means that the performance parts for these motors are easily available. You can really make these go-karts go wild (which you might not want to do if your kids are going to drive them, infact check out Mid XRX version if you want to get one for your kids)
Note: All the parts discussed are for GY6 QMJ157 engine, if your model comes with a different engine then you'll have to search for parts that are compatible with your model. But the basic idea behind the upgrades are the same.
Carburetor
Carburetors are the first upgrade that we suggest. As discussed earlier, the carburetor that comes from the factory can cause issues. Upgrading to a new carburetor will not only remove the problems, but the performance will increase significantly.
This carburetors have biggers intake and exhaust holes, along with a better throttle response. They will improve performance, just make sure to rejet it for to maintain a proper air-fuel mixture ratio.
Intake and Exhaust
Once you have a better carburetor, you'll need a better air filter and exhaust to make full use of the better carburetor. Upgraded Air-filter and exhaust will help the engine breath better and increase power.
Exhausts can get really large and expensive due to the silencer.
CVT
Modifying the CVT is the most bang for the buck upgrade. All you need to do is replace the weights of the sliders with a lighter weight. This will increase the low end torque and therefore the take off acceleration of the go-kart.
If you want to increase the top end speed of the go-kart then you will need to get a new gear kit for the CVT. Can be found on Ebay.
Other Mild Modifications
An upgrade in CDI box will also help the performance for a relatively low price. The stock spark plug isn't the best either so it will definitely help.
Apart from that, you can do some really extensive mods, like changing the cylinder head, using bigger valves and different camshafts. They will all improve performance. Just keep in mind to check your model number of gy6 engine, it is most probably going to be QMJ157. If not then you'll need to find parts according to your model.
You can also swap the engine completely and use a bigger displacement. As the saying goes, there is no replacement for displacement!
Conclusion
Trailmaster 150 XRX has been around for a long time at this point, it is a proven go-kart which is loved by several of it's users. However, It is not free of faults. Their stock engine can cause some issues from time to time, but their is nothing that you cannot fix yourself. Most likely they won't even cause any issues and will last a long time.
Performance parts are very easily available and their installation can be looked up on Youtube, you can extensively modify this engine if that's what you're looking for.