Best Tracks for Go-Karting in Tampa
Tampa has some amazing Go-kart tracks to satisfy your speed hunger and the best part is that you don't need to have your own Go-Kart to experience the thrill.
It is a completely newbie-friendly experience, but it is not just limited to a fun day-out activity. Go-karting is widely considered a beginning step for you to become a competitive driver. Tampa region has both indoor and outdoor tracks, here is the list of the best of them!
1. Pro Karting Experience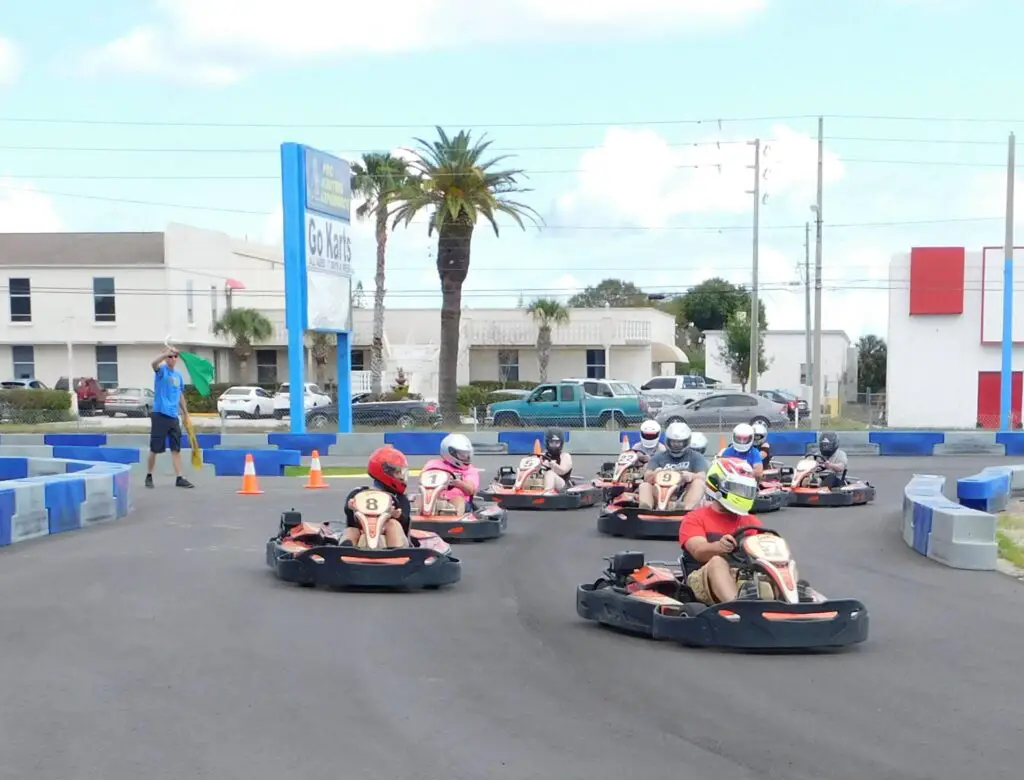 Description:
Minimum Age: None
Type: Indoor
Minimum Height:
48″ (Juniors)
58″ (Adults)
Karts: Electric
Top Speed of rental karts:
45 mph
Pricing:
Rental Karts
1 Race – $24.95
2 Races – $44.95
3 Races – $59.95
(More options available, check their website)

(pricing may change, check their website for up to date pricing)
Contact
Address:
8600 NW SOUTH RIVER DR MEDLEY, FL 331665
Website (For Booking and Open Hours)
This is the best outdoor kart racing option in Tampa, located in St. Petersburg, this place has several road course configurations for different levels of drivers, from newbie to experienced drivers, they have a track for everyone.
Their long-length tracks make it possible to reach speeds as high as 50 mph on adult karts. Their Karts are Gas-powered, single-seat karts that are built for racing.
You won't be required to take anything along with you, they will provide you with a helmet along with the kart, all you need is to wear closed-toed shoes and sign a waiver form.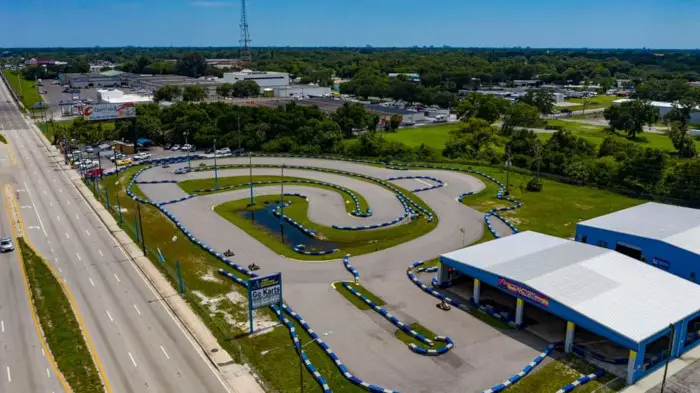 Note: you'll need to get a signature from your guardian if you're under 18.
Whether you're looking to test out your own kart or get the karting experience with their rental karts, this is your best option for a very reasonable price.
2. Tampa Bay GP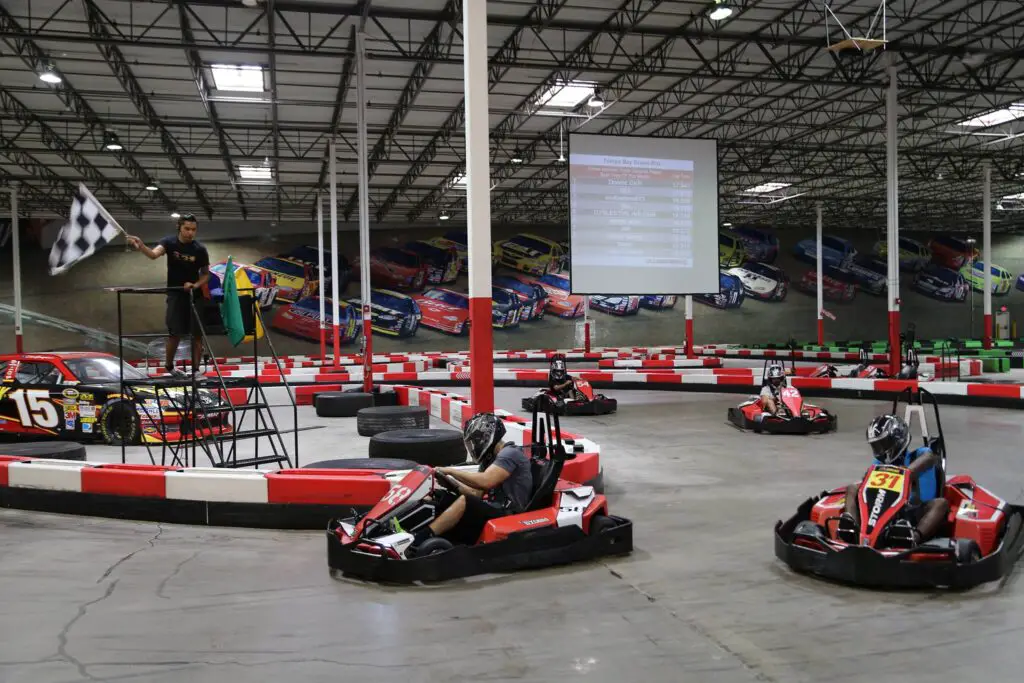 Description:
Type: Indoor
Minimum Height:
48″ (Junior Karts)
56″ (Adult Kart)
Karts: Electric
Top Speed:
50 mph (Adult karts)
20 mph (Junior karts)
Pricing(Adults):
1 Race: $16/Person
3 Races: $39/Person
Pricing(Juniors):
1 Race: $12/Person
3 Races: $29/Person

(annual racing licence is required ($6), pricing may also change, check their website for up to date pricing)
Contact:
Address (Clearwater):
12350 Automobile Blvd Clearwater, FL 33762
Address (Tampa):
3404 Cragmont Drive Tampa, FL 33619
Website (For Booking and Open Hour)
Situated in both Clearwater and Tampa, Tampa Bay GP is the best indoor go-kart racing in and around the Tempa Bay region. For birthday parties, graduation parties, or just having a fun day out with your friends/family, this place is the one to visit.
The track in the Clearwater location is perfect for high speed with each race being 16 laps, while the Tampa location has 2 tracks, one track good for high speed with 16 laps per race and the other track for testing out your driving skills with challenging curves with 14 laps per race.
Their Go-karts are all-electric, called "OTL-ITALIA Karts", these karts can go as fast as 50 mph but can be remotely controlled to slow you down or stop you completely to ensure everyone's safety. The Junior karts are also available for anyone over 48″, these karts can reach 20 mph and these too are remotely controlled for safety.
They even have their own cafe! Overall, this place is amazing to celebrate any special occasion and experiencing some indoor electric go-karting.
3. Grand Prix Tampa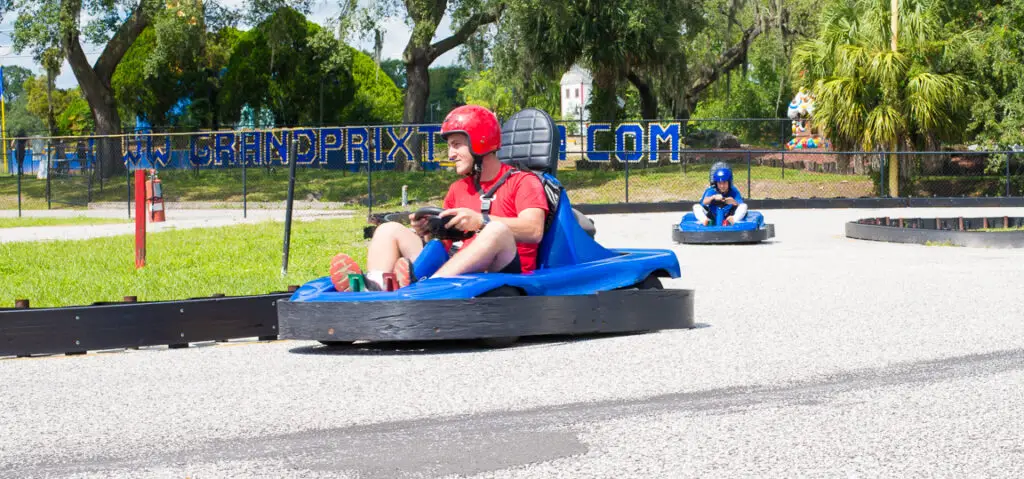 Description:
Type: Outdoor
Go-Karts: Gas-Powered
Minimum Height:
54″ (Family Tracks)
58″ (Big Tracks)
Tracks:
3/4 miles (Big Track)
Pricing(Family Track):
$6.5 + tax /person (4 1/2 min race)
Pricing (Big Track):
$6.5 + tax/person (2 x 3/4 miles laps)
Contact:
Address :
14320 N Nebraska Ave, Tampa, FL 33613, United States
Website (For Booking and Open Hour)
A fun place to bring your kids to! It has much more than just Go-karts, they have a lot of other activities with mini golfing being the favorite among visitors. Apart from that, you can also have some fun playing arcade games, or practice your batting skills in the batting cage.
They have 2 tracks for go-karting, one is called "family track" which is available for both solo drivers and 2 seaters, and the big track is 3/4 miles long is only for solo drivers.
Overall, it's a good place to take your kids to have a fun day out for a very reasonable price, but if you're looking just for the best kart driving experience, then the other 2 places on the list are better options.