The 5 Best Go-Karting Tracks Near Dallas
There are some amazing Go-kart tracks in the Dallas–Fort Worth–Arlington metropolitan. Some of Texas's best tracks are in this region.
Both, indoor and outdoor tracks are available in the region, some of the tracks allow kart-owners to bring their own karts to the track or you can get the kart on rent from the center. An amazing way to get into a new hobby or even start a career in racing!
All the centers will provide you with the required safety equipment such as a helmet, if you want to carry your own helmet that would also be allowed in most of the centers.
Here are a few of the best places to go Go-karting near you!
K1 Speed – Indoor Karting in Arlington and Richardson
Dallas Karting Complex – Outdoor Track in Caddo Mills
Andretti Indoor Karting – Indoor Track in The Colony
North Texas Karters – Outdoor Track for Kart Owners (Membership Only)
Route 377 go-karts – Outdoor Track in Haltom City
1. K1 Speed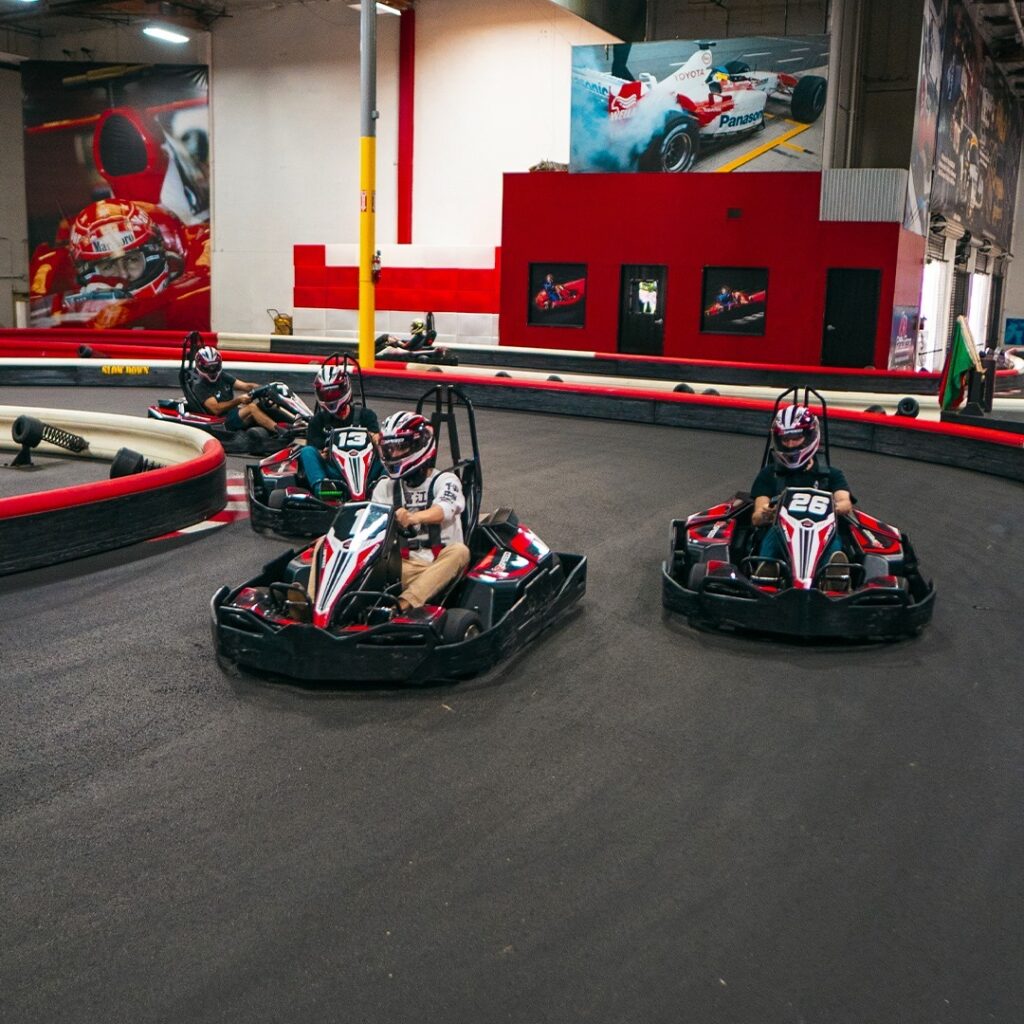 Min Requirement:
48″ (Juniors)
58″ (Adults)
Pricing (Rental Karts):
1 Race – $23.95
2 Races – $42.95
3 Races – $54.95

Visit their Website for Up-to-date pricing, opening-hours, and Online Booking
This is your best choice for an indoor track in the region. Popular among people looking for a venue to celebrate any special occasion such as a birthday.
The karts are all-electric and their electric motors make up to 20 hp power, so can expect some serious pace in ideal conditions. Their Karts are advertised to be able to hit 45 mph!
But the speeds can also be remotely controlled by their staff for safety purposes and you'll likely not hit the top speeds.
Group Events require prior booking, while you can arrive and drive at any time, no booking is required for that.
For competitive racers, leagues are held at every K1 Speed center for both adults and juniors, a nice way to get into racing without having to spend 1000s on Karts.
You can check out their tracks on their website (tracks in Arlington, tracks in Richardson)
Overall an amazing place if you want to ride an electric go-kart and experience the nice take-off acceleration offered on electric vehicles.
"Fantastic!! – Manager Bryan Williams is amazing- he was SO Helpful, and experienced – he was able to answer all our questions. For the food it was lacking. Would be nice to have a selection of burgers, fries etc to eat while we are waiting. The track seems a longer run."

– Sam Cathey (Google Review)
2. Dallas Karting Complex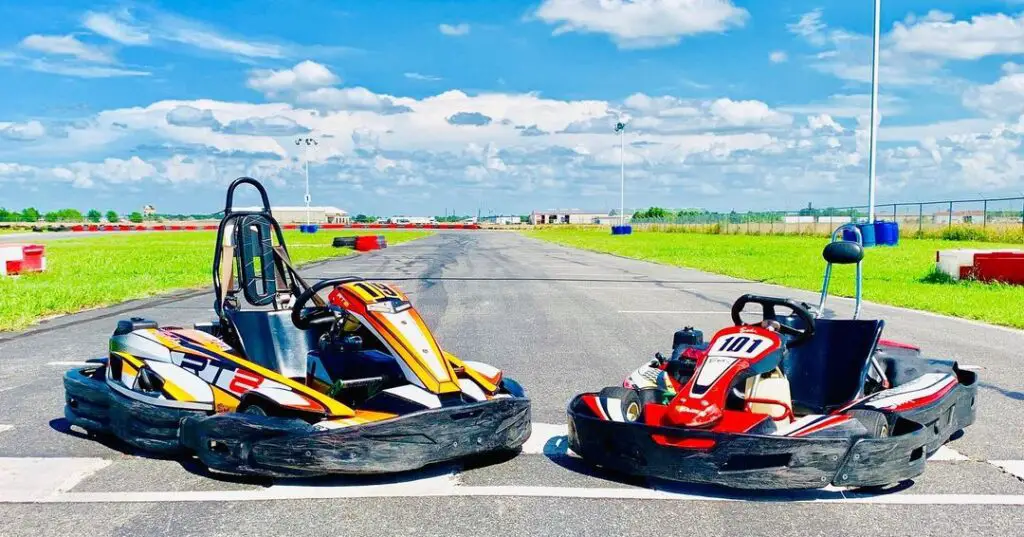 Min Requirement:
50″ (Juniors)
55″ (Adults)
Pricing (Rental Karts):
$25/race (Juniors)
$25-125/race (Adults) Price depends on the kart you choose

Each race is 10 min long

Pricing(Kart Owners):
$99 for a day pass

Visit their Website for Up-to-date pricing, opening-hours, and Online Booking
If you want to experience true speed then this is the place to go, they have few of the fastest go-karts in Texas, if you're good at karting and can complete their laps under 75 seconds on their normal karts, you can get some seriously fast kart.
Their tracks are 0.8 miles long and have 17 turns. You can bring your own kart to their tracks for $99/day of driving in between their rental races or you can arrive and drive with everything being provided by them.
League racings are held very often and you can expect some of the best racers in the region to be present for the race. Newbie/First-time go-karters can also enjoy their speedy go-karts. You don't need to be a pro to race in here.
"Tool my son for his first real karting experience and we both LOVED it. The facilities are a bit older but they have every kind of kart and the inside is clean and more modernist. The staff was great, the locals/regulars very friendly and the track fun yet challenging. We'll definitely be back soon!"

Google Review
3. Andretti Indoor Karting Dallas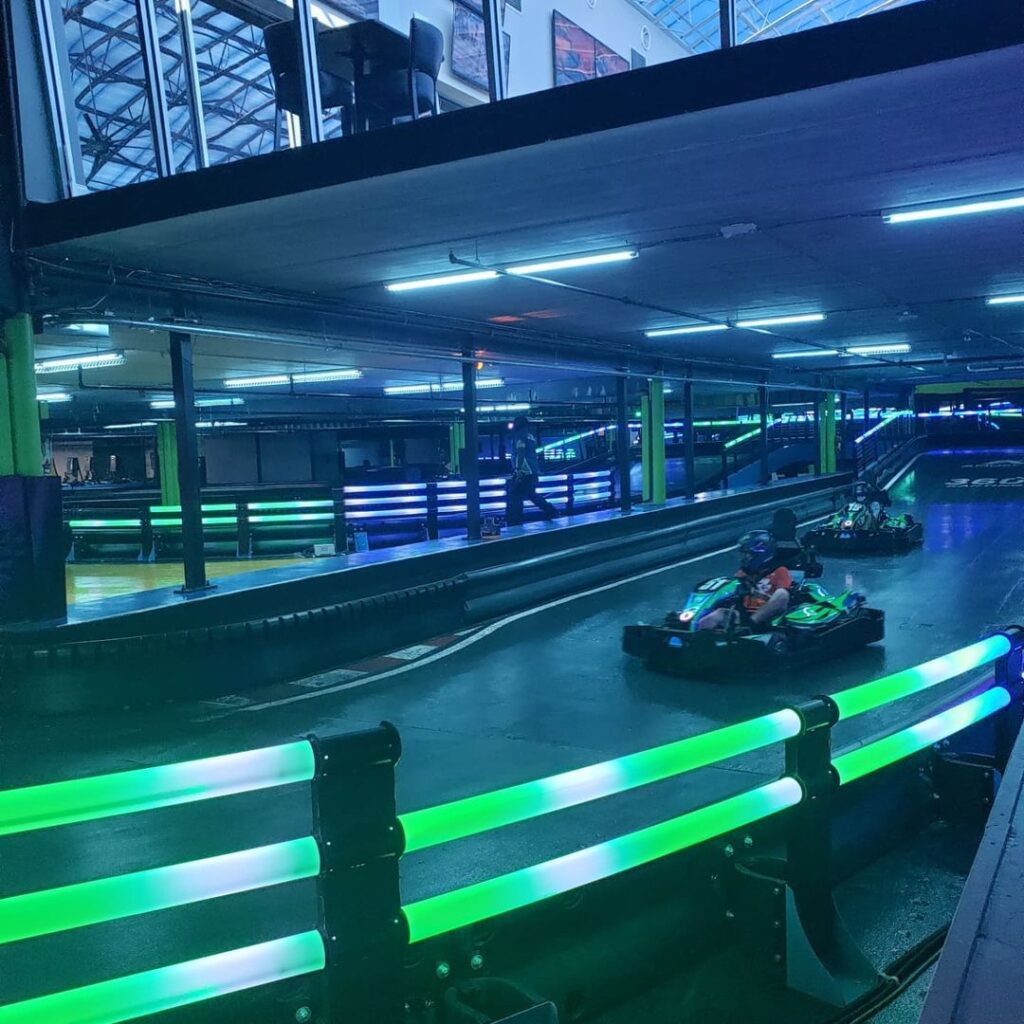 Min Requirement:
48″ (Juniors)
58″ (Adults)
Pricing (Rental Karts):
$23-25/race (Adults)
$18-20/race (Juniors)

Visit their Website for Up-to-date pricing, opening-hours, and Online Booking
Situated in Grandscape at The Colony, they offer much more than just go-karting. From VR, bowling to laser tag, this place has a lot of options. You can have a fun day out with the young ones, or celebrate a special event.
The tracks are indoors and the karts are electric which has a good acceleration due to being electric. But the karts can be controlled remotely to lower your speed.
It's recommended to visit this place on weekdays, otherwise, you'll have to sometimes wait in a long line to be able to race. Also, the prices are cheaper on weekdays.
"Cool place. Friendly staff. Cool location for a vendor event if you have customers that you think would be interested in competitive racing. Typical food fare for joints like this – nothing amazing. Spacious venue. Clean. All the games were in good working order. Cart track is fun."

– Jonathan Peyton
4. North Texas Karters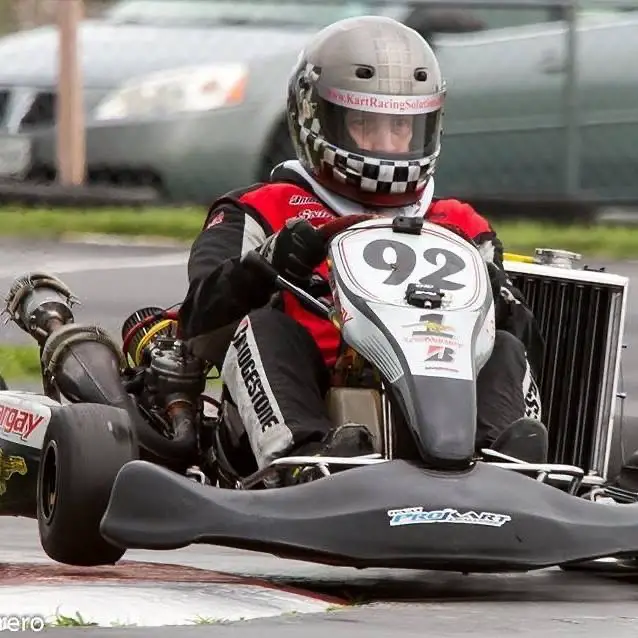 Pricing (Membership Only):
1 month: $100
Annual Membership:
$395 
$280 (for Out of town members)

Visit their Website for Up-to-date pricing, opening-hours, and Online Booking
Exclusively for Kart owners, this is probably the best option for kart owners when you consider how cheap their memberships are. NTK is a member-owned racing facility in Denton. They have a class for nearly every age group starting from 5 years old and host 18 club kart races every year!
It all comes down to how far away you are from the location. The other option for Kart owners in the region is DKC.
Tracks are 0.5-mile long with 9 turns (check the satellite image from the link below)
"If you're looking for a local karting club that is super friendly, this is the place. Just show up and start asking around if you're interested in getting into the sport. There are more people racing this year than when I started nearly 20 years ago"

– Tyler Campbell (Google Review)
5. Route 377 Go-Karts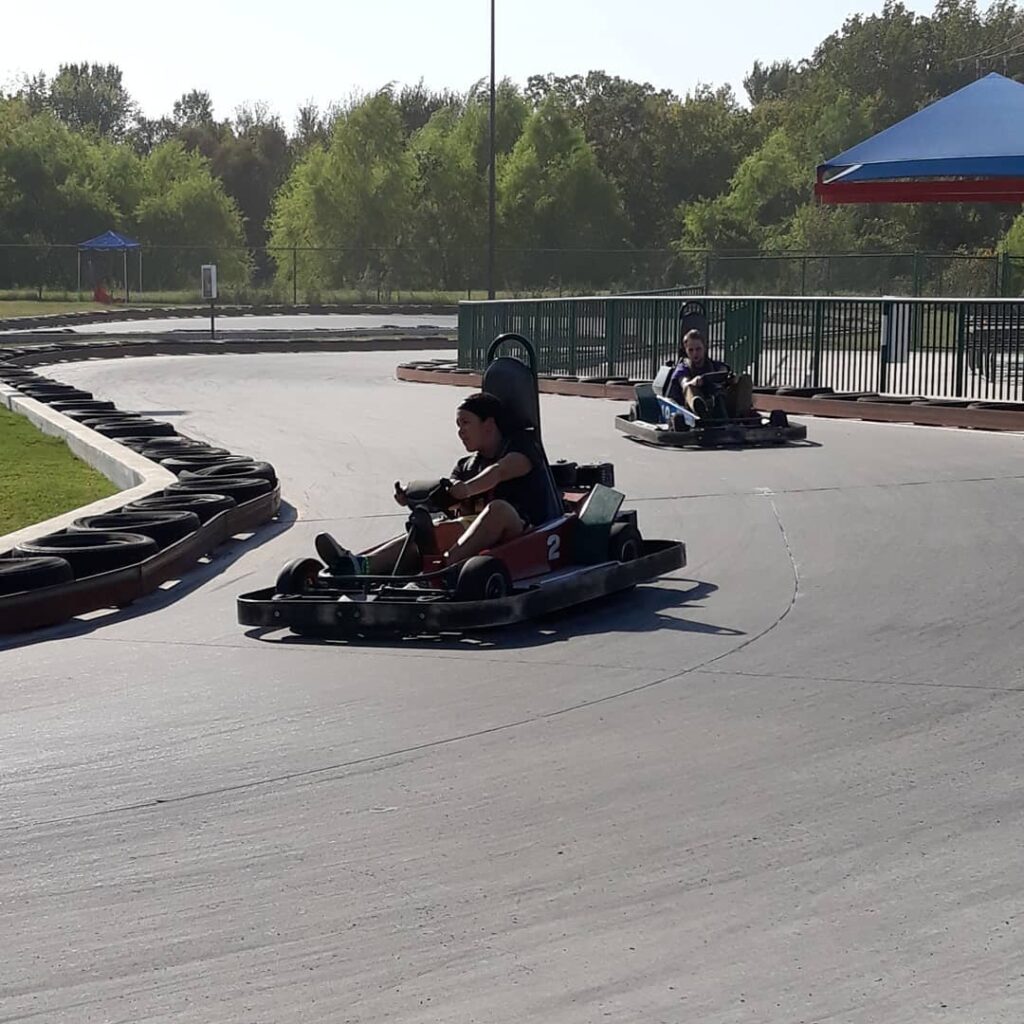 Min Requirement:
58″ to drive
36″ to ride
Pricing (Rental Karts):
$8/race
$40 for 1 hour unlimited

Visit their Website for Up-to-date pricing, opening-hours, and Online Booking
Situated in Haltom city, this place can be a fun trip with your kids for a relatively cheaper price in comparison to other options on our list.
They also have double seaters with only a 36″ height requirement, they also have their own arcade for you to enjoy in between games.
Overall, it's another fun place to go go-karting with your kids but for a much cheaper price if you're in and around the area or don't mind traveling a bit.
"Really nice staff. Very kid friendly. Nice go karts as well. I've tried every single go kart place in and around DFW with my daughter and this one by far is literally the best."

– Chris Latham
Looking for more? The fort worth region has an amazing outdoor track with rental karts, check out our list for the best tracks in fort worth.