The 4 Best Go-Kart Tracks in San Diego & Nearby
San Diego offers 2 Indoor Go-Kart tracks and an amusement park that has 1 outdoor track for kids but If you want to experience outdoor racing go-karts, then there are 2 amazing outdoor tracks in the SoCal region (we have included one of them on this list).
All these facilities allow you to just arrive and drive! Everything can be rented from the centers. This includes the Go-kart, helmet, head sock, other safety equipment.
Here are the 4 best Go-Kart Centers to visit if you're in San Diego!
Speed Circuit – Indoor Track withGas Powered Karts
K1 Speed – 2 Indoor Tracks with Electric Karts
Calspeed Karting Center – Best Outdoor Track in SoCal
Boomer's Vista – Amusement Park with Go-Karts
1. Speed Circuit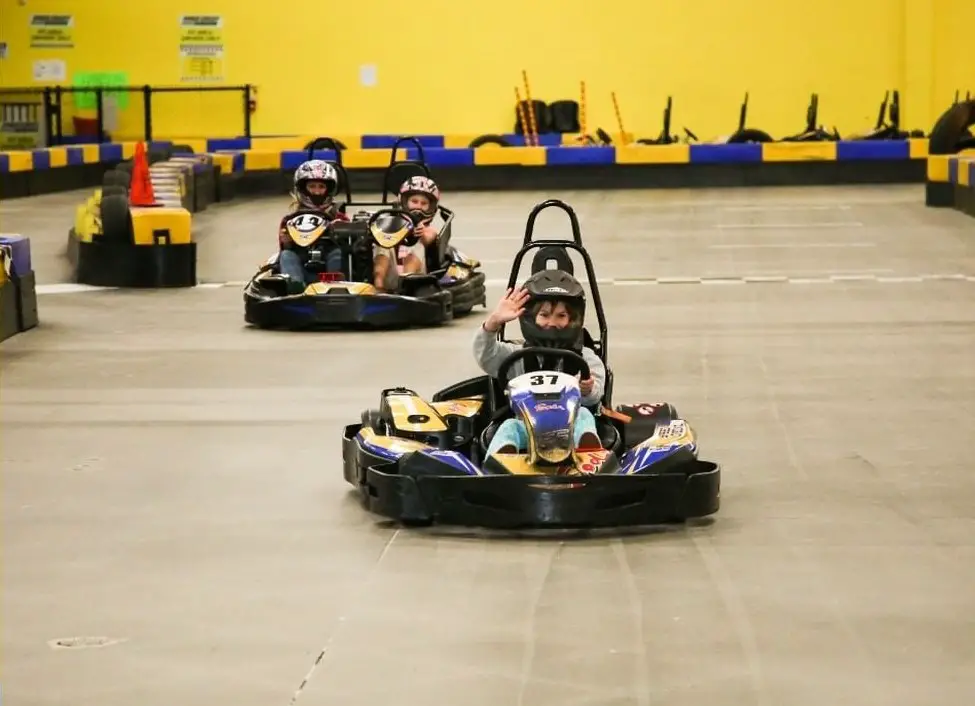 Min Requirement:
48″ (Juniors)
60″ (Adults)
42″ (Passenger)
Pricing (Rental):
1 Race – $20
3 Races – $48
5 Races – $75

An annual $7 membership is required for anyone to enter the race


Check their Website for Up-to-date pricing, opening-hours, and Online Booking
As opposed to the usual Electric Indoor Go-kart centers, this place has Gas-powered 6.5hp Honda engines in their Adult karts that can go up to 40 mph.
They also offer 2-seater Karts where anyone over 42″ is allowed to be a passenger (but the driver needs to be 18+ to drive 2-seater karts).
The tracks are full of turns and will test out your ability to the fullest.
You can either arrive and drive with a group of up to 7 people or you can book an event if your group has more than 8 people.
Booking an event will help you to skip the waiting process and will give you a chance to race against each other.
If you're looking for places to celebrate your kid's/teen's birthday then booking an event here can be an option for you to look into. Kids and teens generally love this place and the karts that they offer.
For arrive and drive option, it is a first-come, first-served system, so it can sometimes be a long wait on a busy day therefore you might be better off visiting on a week-day.
Apart from their Go-Karts, they also offer a thrill Park with wipeout trampolines, etc.
League racings aren't very often hosted by them, but keep an eye on their social and contact them if you're more into competitive racing.
2. K1 Speed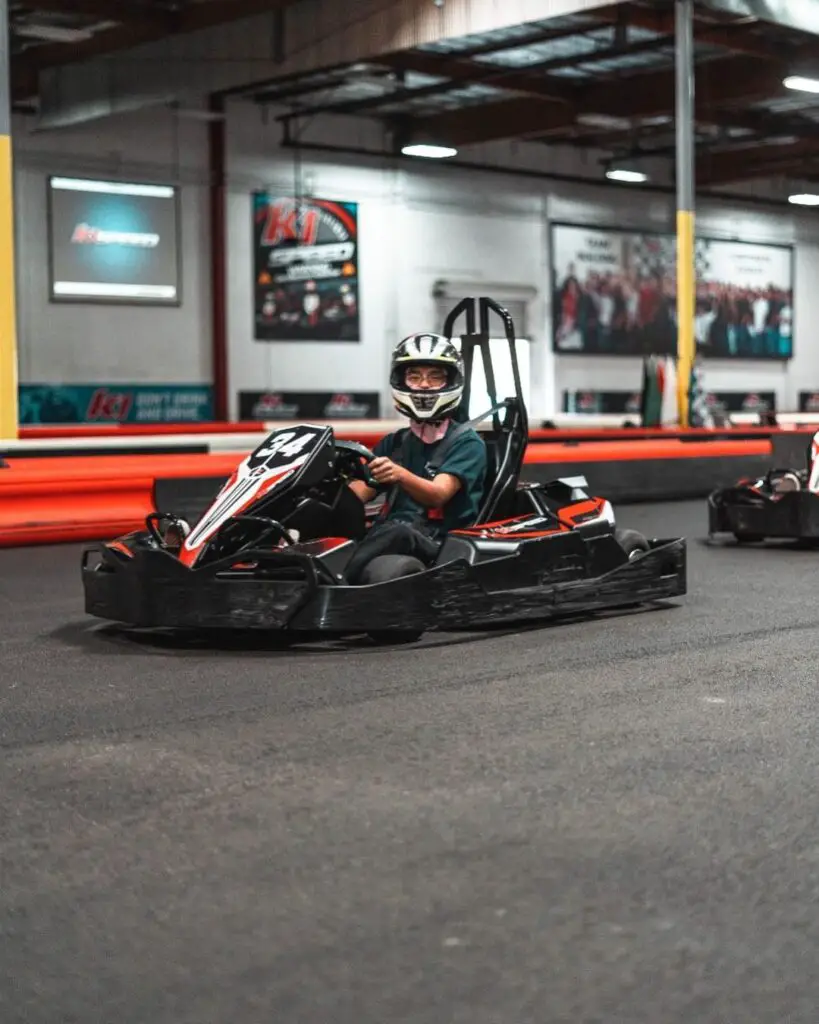 Min Requirement:
48″ (Juniors)
58″ (Adults)

Pricing (Rental):
1 Race – $24.95
2 Races – $44.95
3 Races – $59.95

Additional $7 membership is required to race

Check their Website for Up-to-date pricing, opening-hours, and Online Booking
This is your other option for Indoor Karting, k1 speed has 2 centers in the region, one in San Diego and the other in Carlsbad.
The major difference here in comparison to the speed circuit center are the karts, K1 speed has Electric Karts, these can accelerate really quickly, i.e, you can get to the top speed really quickly.
Pool tables, a small arcade, and a restaurant are available onsite for you to wait for your turn to race.
They record your lap time and you can get your rank at the end of the race. It is fun to compare yourself to the best kart racers of last week, month, etc.
If you're planning on arranging a Party here, you can make a reservation. That will allow you to race against your group in a reserved time and therefore no waiting time, they also have rental rooms available with different catering options for parties.
The major difference between the 2 locations are their tracks, you can check their tracks on their website (Carlsbad Track, San Diego Track), the go-karts across all k1 speed centers are pretty similar, the adult karts can reach 45 mph and the junior's karts can reach 30 mph.
They regularly host league racings for both adult and junior classes. If you're near one of their centers, it can be a good way to get into kart racing without spending a lot.
3. CalSpeed Karting Center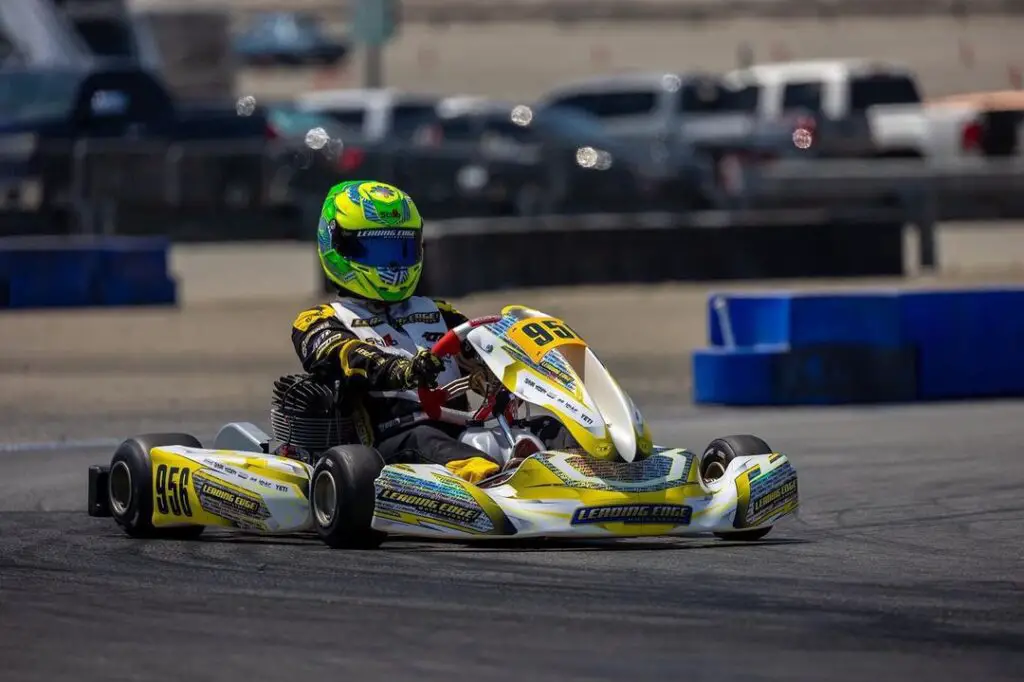 Min Requirement:
12 Years+ (for rental karts)
5 Year+ (for kart owners)

Pricing:
$45 for a 12-minute session (Helmet and gloves rental included with price)
$55 for a full-day pass if booked online (kart owners only)
$75 for a full-day pass onsite (kart owners only)


Check their website for up-to-date pricing and opening hours.
Located in Fortana, CalSpeed Karting Center is the best Outdoor Karting Center in Southern California. It will be a 2-hour long trip to get to Calspeed from San Diego but it will be worth the journey!
This place isn't just for the people looking for a fun race with friends and family but also for the people who are serious about racing as a career.
They have got multiple courses of configurations up to .75 miles with 15 corners that will test your driving abilities to the fullest and multiple straightways for you to test the top speed of your kart.
You can take your own Go-Kart to the center for practice or rent one from the center, their rental Karts are seriously fast! You can hit 50 mph on the straight tracks.
They will require you to wear full-face helmets, full coverage heavyweight clothing/racing suits, gloves, closed-toed shoes, and chest protectors (for drivers under 12). You can rent all the safety gear on the spot.
4. Boomers Vista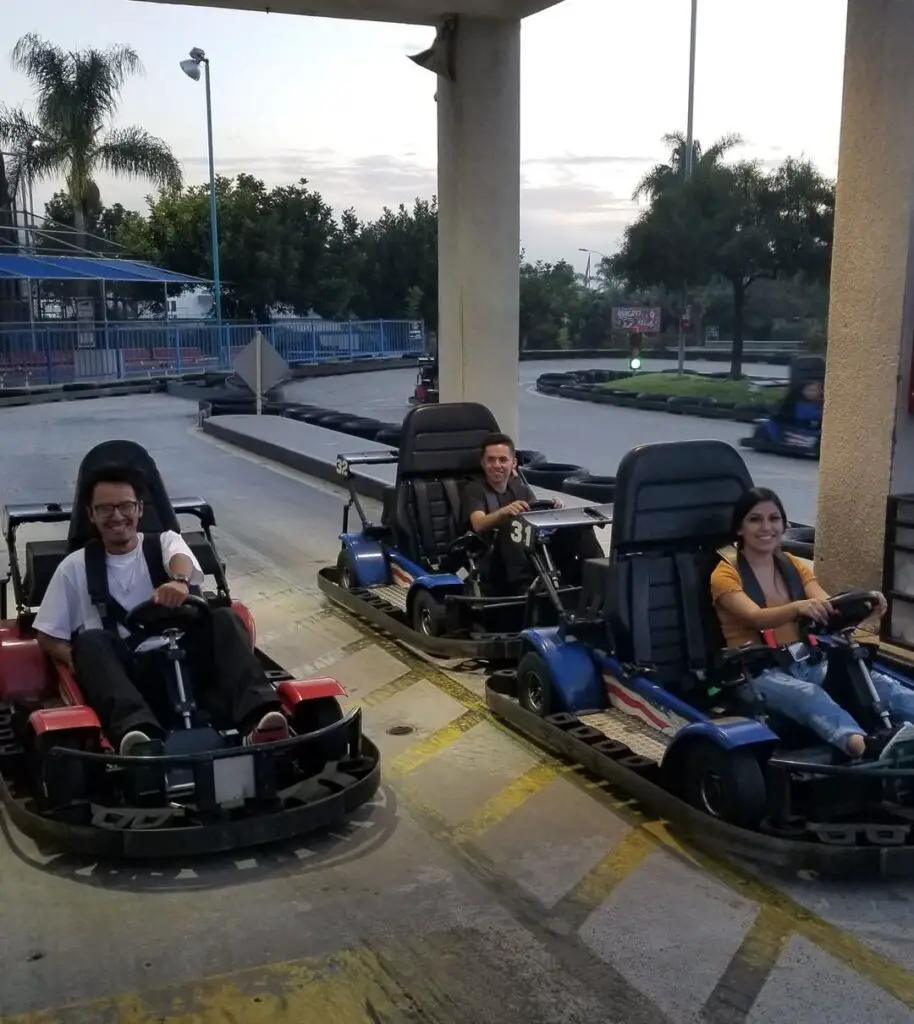 Min Requirement:
58″ (Drivers)
40″ (Passenger)
Pricing (Rental):
$12.99 per person (5 min session)
$21.99 (2 hour pass)
$36.99 (All day pass)


Check their Website for Up-to-date pricing, opening-hours, and Online Booking
Even though this place doesn't have the fastest Go-Karts, this place is awesome if you're planning to have a fun day out with your kids.
They offer Mini Golf, Laser Tag, Batting cage, Bumper Boats, and a Game room to go along with their Go-kart track. They also offer 2-seater go-karts and the karts are all gas-powered.
Pricing is fairly low as compared to the other 2 options, you can get an all-day-long pass for only $37. For food, you've got a Johnny Rockets restraunt available.
Overall, this place isn't a racing track. If you're looking for outdoor racing rental go-kart centers, you'll have to travel a long long way from San Diego to be able to drive those really fast outdoor karts.
This place is great for parents to take their kids out if you're in and around the region.
If this is your first time Karting? If so, then there are some requirements that are common across all the Karting centers:
You need to sign a waiver or get it signed by your guardian if you're below 18
Wear or carry a closed-toe shoes for driving
Long hair must be pulled back in a pony tail or bun