Best Engines for Minibikes in 2022
Choosing the right motor to Power your Minibike can make a huge difference in your experience. A minibike with a powerful engine with good low-end torque is a joy to drive!
There are so many options available on the market, most of them being a clone of the famous Honda GX200. It can be a difficult decision to pick one.
We have made this list of what we consider to be the best motor to power a minibike for both kids and adults based on multiple factors like durability, build quality, and performance.
Kids should ideally have a less powerful engine while Adults can go a little faster. We also know that many like to modify their Engines so we have taken that into consideration.
The Best Engines for Minibikes
1. Predator 212
Predator 212 is our choice for the most value-for-money engine for a minibike. They are really cheap for their quality and performance.
The Predator 212 can create a little more than 6.5 hp power and 3600 rpm out of the box. That won't be an upgrade in power in comparison to your minibike's stock engine. The only major upgrade from a minibike's stock engine is in displacement (212cc instead of 196cc).
We didn't choose this engine because it was an upgrade to your stock engine, we picked this because they are a cheap replacement to your stock engine with an option to upgrade in the future.
If you ever decide to make your mini bike go faster, there are always upgrade parts available online.
Let's still talk a little about performance, when we compare Predator 212 to Tillotson 212, the Tillotson Engines produce more torque and power out of the box.
The Predator 212 can be modified to compete with the Tillotson 212 with parts that do not cost too much.
You can almost upgrade every single part of this engine and there are so many options that you can end up with an engine that produces more than 15hp power and 7500+ rpm.
There is no other small engine with more parts available than the Predator 212 because of its popularity.
Cons:
Internal parts can fail at very high rpm.
No electric start.
2. Tillotson 212
Tillotson 212 is a well-built, powerful engine that will be an instant upgrade to your minibike's stock engine (without any mods).
This engine blows away the Predator 212 and other honda clones in terms of performance. It can produce more than 9 hp of power without any modifications and can create 11.5 hp and 5400 rpm with a stage 1 kit. It can be further upgraded to produce more power with stage 2 kits.
The dyno curve of this engine speaks for itself. Your minibike will feel very smooth to drive due to high torque at low rpm.
The parts that the engine comes with are of high quality and will last for a long time. It weighs about 38 pounds, has a hemi head. It will fit right into your minibike if your current setup is using a Predator 212 or other Honda GX200 clones.
This is the best engine for anyone who's looking for a more powerful engine and is going to make upgrades in the future due to their high-quality internal parts in comparison to Predator 212.
Pros:
Better specs than a Predator 212 or Honda clones for a cheap price.
Aftermarket performance parts easily available.
Flywheel and Connecting Rod won't fail even at 10,000 rpm.
Cons:
Limited Availbility.
Nearly double the price of Predator 212.
3. Ducar 212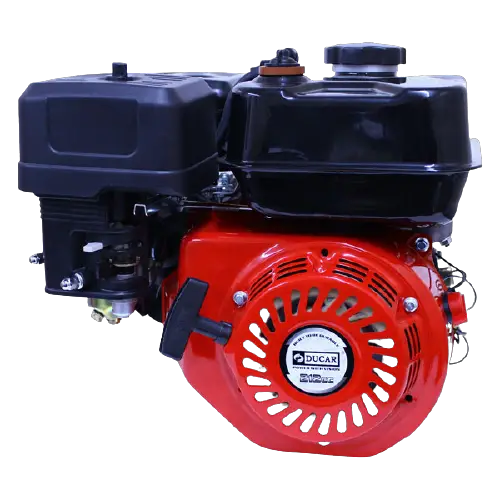 You might never have heard of this one before. Ducar 212 engines are not as popular as Predator or Tillotson Engines but they are right up there in terms of performance.
Ducar 212 is made specifically for kart racing unlike Predator 212 which is made primarily for generators etc.
Ducar's piston head is a flat top and has a hemi head. Very similar to the Predator 212 hemi but the parts are not interchangeable. Dynocam and OMBwarehouse sell performance parts for Ducar separate from Predator.
The Flywheel used in the engine won't fail at even 17000 RPM!
Overall, Ducar 212 is a solid competitor of Tillotson 212 and is slightly cheaper than the tilly. Worth trying out if you've had a Tillotson before and want to try something new.
Pros:
Better Performance than a Predator 212 or Honda clones for a cheap price.
Aftermarket performance parts available on Dynocam's site.
Cast aluminum PVL Flywheel that won't fail untill 17,000 rpm.
Cons:
More expensive than Predator 212.
4. Lifan LF152F
Lifan's 3 hp engine is the perfect engine for kids' minibikes. It only produces 3 hp power and is limited to 3600 rpm. Enough power to carry a kid, the engine itself is very light.
This is a typical China-made clone of Honda, which means they are really cheap but also means it will have some problems with it, it can be sometimes hard to start, you might have to give choke while starting or get a new carburetor.
One other issue with this engine is that the shaft is 18 mm which when converted to inches is 0.70″. Most of the clutches and CVT fits the 0.75″ shaft perfectly. You can still run a 3/4″ clutch with this engine but you might run into some problems.
Your solution can be to either buy or make a 0.05″ sleeve or grind down to 5/8″. But most likely you won't run into any problems and won't need to do any of these things.
Overall, this is a very budget-friendly engine, ideal for a kid's mini bike or go-kart. We won't recommend this for adults' or teens' minibike.
Pros:
Low Power, ideal for kids
Cheap
Cons:
Might not start on one pull
Clutches/CVT for 18mm Keyway Shaft can be hard to find.
5. DuroMax XP7HPE
Fifth on our list is Duromax's 7 hp engine. Duromax XP7HPE is a Honda GX200 clone with an electric start. Their electric start is the reason why they are on this list, because who wouldn't like a little more ease in life?
Its performance output and its design are very similar to the GX200 but just like other clones, it is cheaper than the original honda engine.
If we compare this to Predator 212, Duromax is advertised to make a little more power and torque in its default state but the displacement is 4cc less than the Predator 212. In reality, they are both really similar out of the box. But Duromax is slightly more expensive.
You can add an electric start kit to a Predator 212 engine too but that will bring its cost to the same price as Duromax XP7.
Most of the performance parts from GX200/ Predator 212 non-hemi will fit in this engine too. But some parts are a mismatch.
If you're planning to do any modifications then it's best to stick with the Predator 212, Tillotson 212, or Ducar 212.
Pros:
Has an electric start
Easily available
Cons:
Internal parts can fail at very high rpm.
Some replacement parts can be hard to find
6. Honda GX200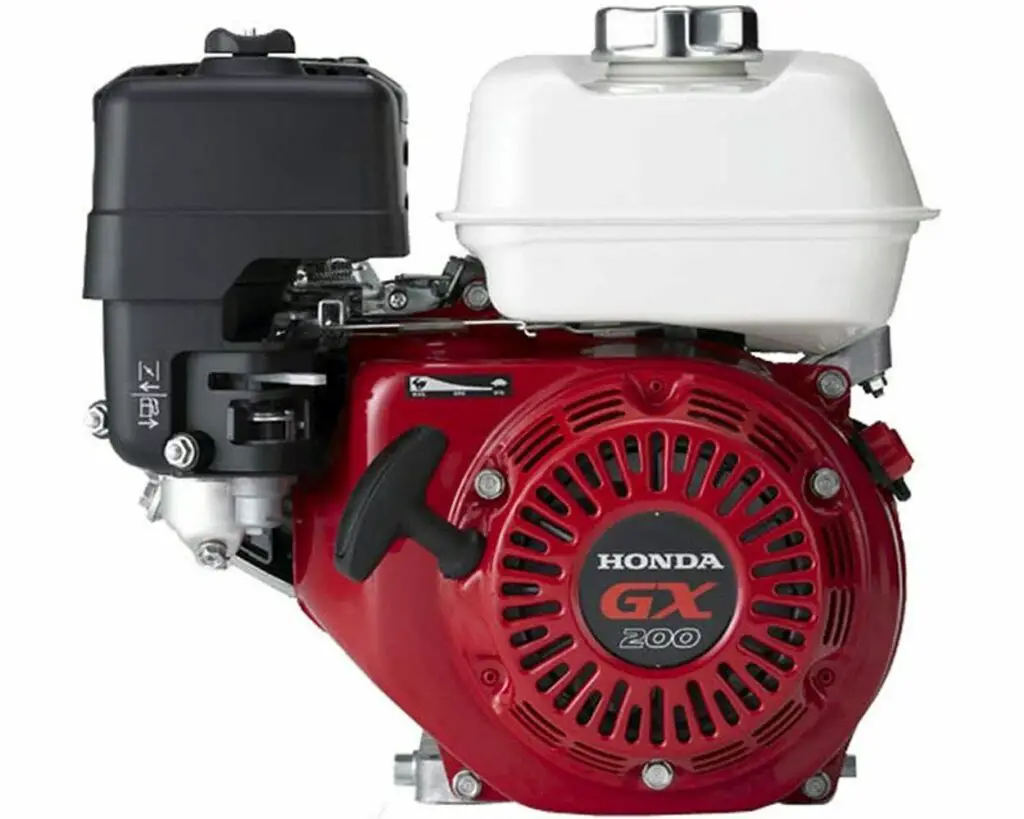 The original Honda GX200 makes our list for being the engine with the best build quality in the market. Almost every other Minibike engines are a partial or complete clone of the GX200.
Even though the clones are cheaper and in most cases deliver better performance, the original honda engine will outlast most if not all of them.
The engine has 196cc displacement which is 16cc less than the Predator 212. It also produces nearly 1 hp less than the Predator 212. That is a little disappointing considering it is nearly 4 times the price of Predator 212.
The top speed however is around the same (3600 rpm, 20-30 mph). The replacement/performance parts are easily available for honda engines.
Overall, it's cool to be using an actual honda while all your other friends are using a clone. But, if that's not your thing, it's better to get a Predator or Tillotson or a Ducar.
Pros:
Durable
Easily available
Replacement parts easily available
Cons:
Very Expensive with no performance benifit in comparison to it's clones.
7. Anbull 7.5 HP
To finish our list off, we have chosen a newish engine from Anbull. A 7.5 hp engine with slightly more displacement as compared to the Other engines on the list.
The build quality is very good for their price. this could be a nice alternative to the Predator engine.
Buyer's Guide
Choosing the right engine will depend a lot on your needs. There is no one engine best for everyone. There are a few things that you should consider before you buy an Engine.
Is it for Adults, Teens or Kids?
It's important to know if the minibike is going to be driven by Kids or Teens or an Adult. A kid's Minibike does not require to have a lot of power, on the other hand, a 3 hp motor with a full-grown adult won't go anywhere!
We recommend Adults and Teens to get at least a 5 hp motor and for kids to have a 3 hp motor.
Transmission System (Engine's Shaft Size)
Engines are expensive in themselves, getting a new Clutch or Torque Converter can be expensive and should be avoided (if it can be).
Minibike's stock engine comes with either a 5/8″ or a 3/4″ shaft and a clutch that accompanies the shaft with a 5/8″ or 3/4″ bore respectively.
If you're going to buy a new engine with a different shaft size, you'll have to get a new clutch or torque converter that will fit in with the new Engine.
Almost all the engines we have mentioned on the list have a 3/4″ shaft. It is easier to find clutches/CVT for a 3/4″ shaft.
Clutches can cost you between $20-40 and Torque Converters can cost around $70-100.
Modifications
Some people love to modify their engines, others do not want to ever open one up! If you're one of the latter, it's best to buy a high-quality engine, or at least get a cheap one like Predator so that you can replace it without feeling bad once its time is up.
If you're going to modify, we recommend choosing from any one of Predator, Ducar, or Tillotson. Easily Available parts and cheap to build it up.
Durability
Of course, you do not want the engine to be useless after a few use. Honda and Briggs motors will be the most durable, most other engines in the market are Honda Clones made of cheap quality materials. Some won't even start on 2-3 pulls.
But one can argue you can buy 4 Clones for the price of 1 Honda and the 4 Clones will outlast them quite easily.
Conclusion
That's our list for the best mini bike Engines, we have taken into consideration multiple factors such as durability, modifications, and the number of problems you're likely to run into with an engine.
We will keep the list updated if a new Engine comes on to the scene that excites us. Do you think any other Motor deserves to be on the list that we haven't included? Let us know in the comments.