The 5 Best Go Kart Tracks in San Bernardino
If you're looking for tracks near SB, you've loads of options! This includes an outdoor rental facility, indoor karting facilities, and outdoor tracks for kart owners, all within 20-30 miles.
Whether you're looking to host your kid's next birthday party or starting a career in motorsports, this part of Southern California has a Go-karting facility for everyone's needs. Here is our list of the 5 best Go-karting tracks near San Bernardino:
SB Raceway – Indoor Track in San Bernardino
Calspeed – Outdoor Track
Adams motorsports park – Outdoor Track (For Kart Owners Only)
K1 Speed – Indoor Karting in Ontario
Fiesta Village Family Fun Park – Amusement Park with Go-Karts
1. SB Raceway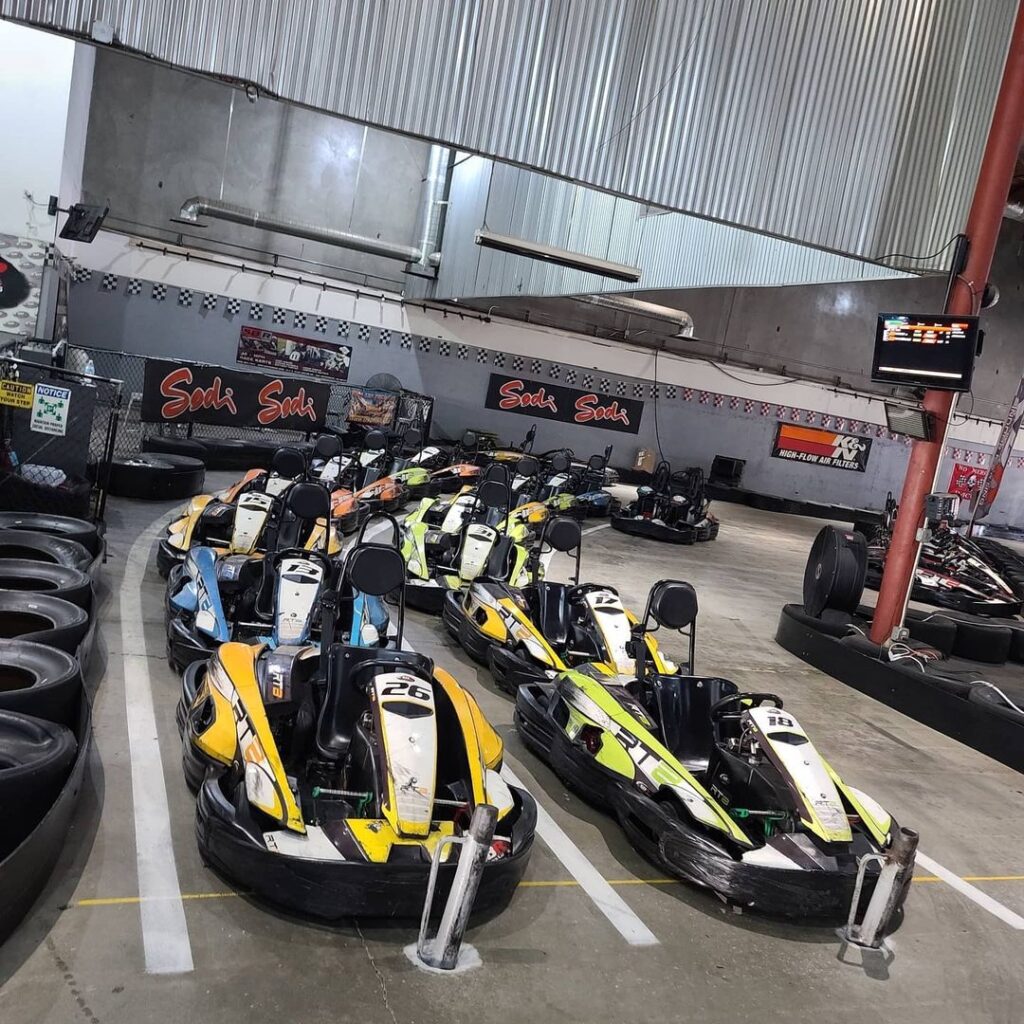 Min Requirement:
56″ and 10 year-olds
Pricing (Rental Karts):
$21 – 1 Race
$15-18 – 1 Race (For Members)
Membership Cost:
$49
Each Race 17-20 Laps
Check their Website for Birthday Party/Corporate Events Packages

Visit their Website for Up-to-date pricing, opening-hours, and Online Booking
SB Raceway is the only Karting facility within San Bernardino. They are an indoor karting center with karts that can be rented along with other safety equipment such as head sock, helmets, etc.
Their rental go-karts are all gas-powered and can go as fast as 40 mph. In comparison to Electric Karts, gas-powered karts have their upsides and downsides. Gas karts don't take off as quickly as electric but can be faster than electric.
I know, a lot of you reading this are looking for a place to host your kid's birthday party, imo, no better way to host one than a go-kart race with their friends!
SB Raceway's Party packages cost $55/guest and include 2 races and an hour in their lounge or their other package costs $70/guest for 3 races and 2 hours in the lounge.
Membership in SB raceway costs $49 and allows members to practice on faster go-karts (9.5 hp!). Additionally, they offer discounts on weekday races to members. If you're a regular racer, it can come in handy.
For regular racers, they also teach kart driving basics to juniors in their "Race School". You can also ask them to keep you updated on league racings.
However, if you're more serious about motorsports as a career, Calspeed in Fontana and Adams motorsports park in Riverside are better options.
2. CalSpeed Karting Center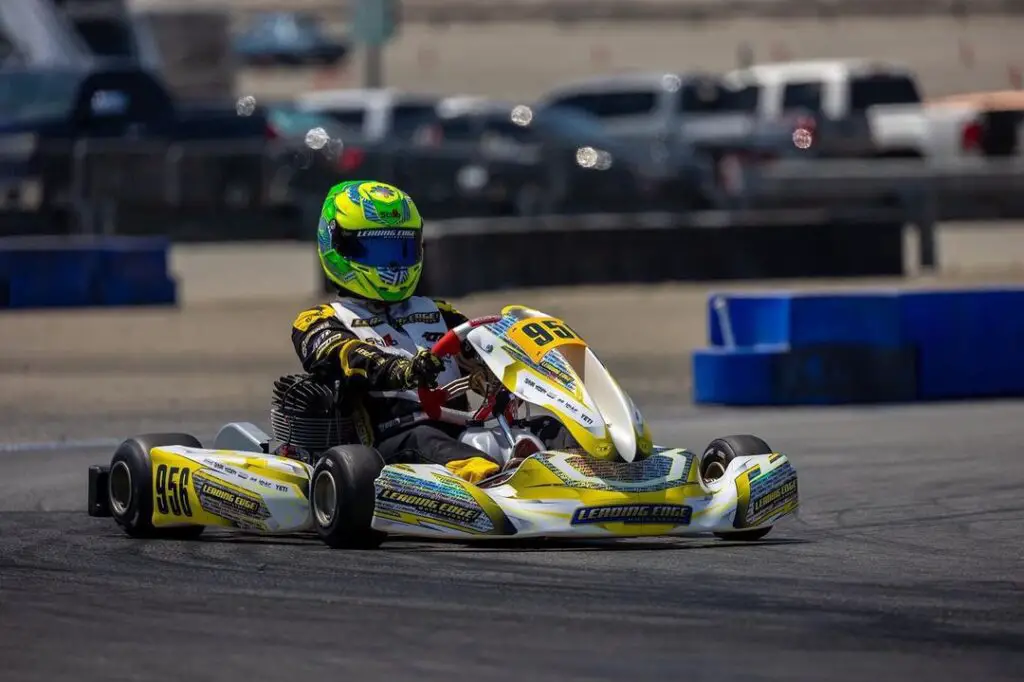 Min Requirement:
12 Years+ (for rental karts)
5 Year+ (for kart owners)

Pricing:
$45 for a 12-minute session (Helmet and gloves rental included with price)
$55 for a full-day pass if booked online (kart owners only)
$75 for a full-day pass onsite (kart owners only)



Check their Website for Up-to-date pricing, opening-hours, and Online Booking
CalSpeed Karting Center is the best go-Karting track in Southern California. It's located in Fortana, nearly 20 miles away from downtown San Bernardino.
As discussed earlier, this is an ideal place for anyone aspiring to be a professional in motorsports. Their rental karts are the fastest in southern California. Even their normal karts can hit 50 mph!
They also allow kart owners to practice on their own karts for a day pass. Note: They require you to wear full-face helmets, full coverage heavyweight clothing/racing suits, gloves, closed-toed shoes, and chest protectors (for drivers under 12).
All the safety gear can be rented on the spot.
Their racing series are held throughout the year for different classes. They are very popular among racers so you can expect the very best in the region to participate.
The track has got multiple courses of configurations up to .75 miles with 15 corners. Check the satellite image of the track in the link below.
3. Adams motorsports park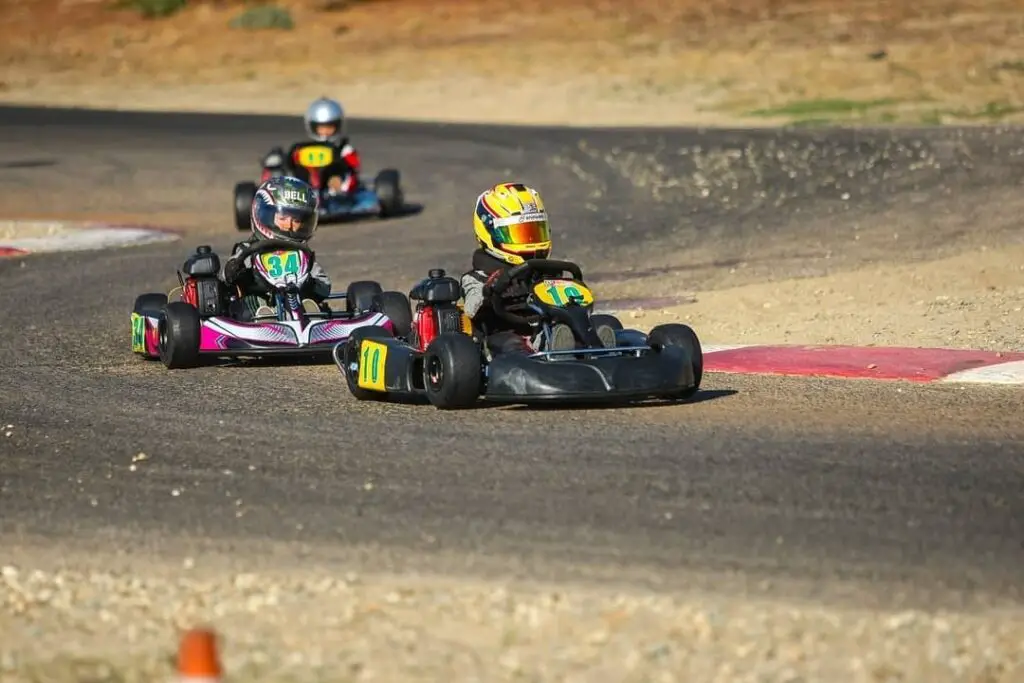 Min Requirement:
Must own a Go-kart that meets their rules
5 Year+ Age

Pricing:
$75.00 – Open Practice Days
$50 (For members or Online PReregistration)
Membership:
$99/Month

Visit their Website for Up-to-date pricing, opening-hours, and Online Booking
One of the best go-karting tracks in SoCal. They also allow drift driving, minibikes, and supermoto bikes but are primarily used for go-karting.
They do not have rental karting facility. If you're just starting out and don't want to spend too much on buying your own go-kart, you might be better off trying out Calspeed's rental karts first.
If you're going to go regularly, their membership can save you some money. Large events or track rental is an option (contact them for pricing, etc). Make sure to check their schedule before you make a visit.
Track: 3/4 of a mile, 14 turns paved race circuit.
4. K1 Speed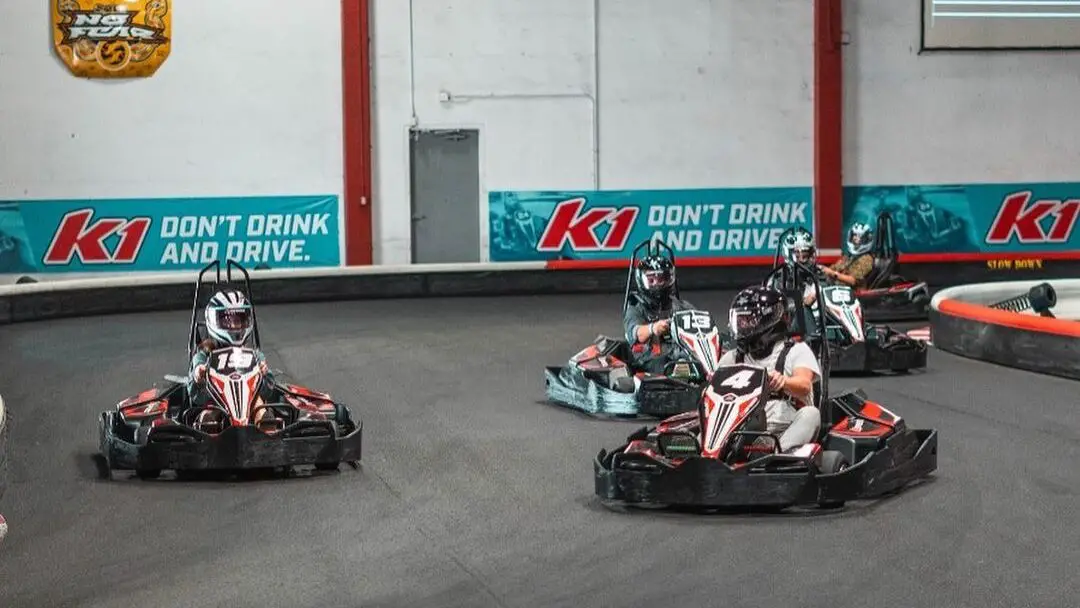 Min Requirement:
48″ (Juniors)
58″ (Adults)
Pricing (Rental Karts):
1 Race – $25.95
2 Races – $46.95
3 Races – $59.95
(+ $8 Annual Membership required)

Each race is 7-10 minutes long.

Visit their Website for Up-to-date pricing, opening-hours, and Online Booking
The nearest K1 speed to san bernedino is located in Ontario. If you don't know them already, K1 speed are the most popular indoor go-kart racing facility in the US.
Birthday parties or corporate events can be easily hosted in K1. They provide party rooms along with their track for rental for any event.
The karts in K1 speed are electric. Adult Karts can hit 45 mph and junior karts can reach 20 mph. But the speed can be remotely controlled and you're unlikely to reach those speeds.
For competitive racers, they host leagues for both adult class and junior class. All members can keep track of their lap times and compare themselves with the best racers on K1's website.
Participating in K1's karting leagues could be a good way to know if you're interested in the sport before spending loads of money on go-kart.
Check the link below to view the track layout.
5. Fiesta Village Family Fun Park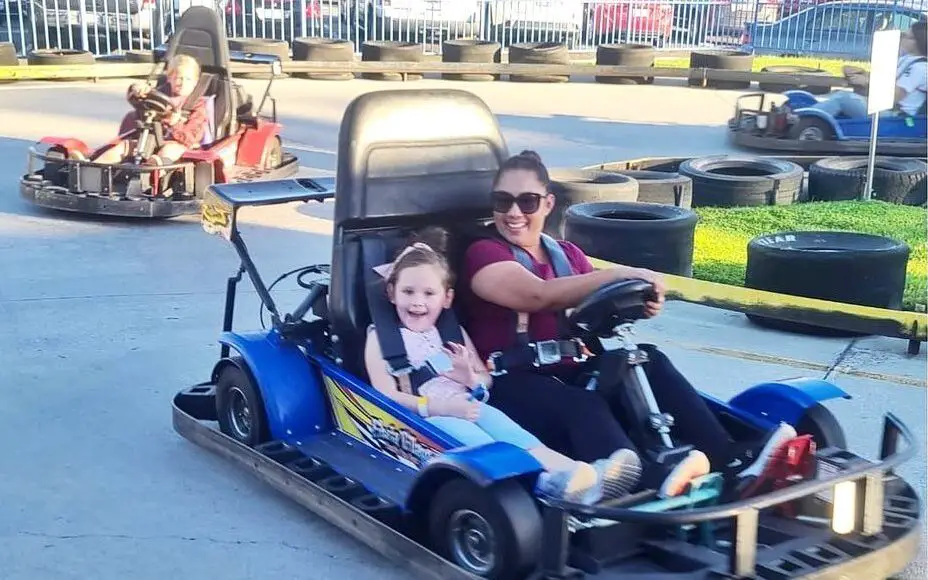 Min Requirement:
53″ tall (To Drive)
36″ to ride in a 2 seater with an adult

Visit their Website for Up-to-date pricing, opening-hours, and Online Booking
Fiesta Village Fun Park is an amusement park with go-karts. Usually, the go-karts in amusement parks aren't the quickest. But the other attractions alongside go-karts can make for a lovely day-out.
Along with Go-karts, they also have Arcade games, laser tag, batting cage mini-golf, Skate rink, etc. Birthday Parties can be booked on their website.
Note: All go-karting facilities require you to sign a waiver or get it signed by your guardian (if you're below 18). Make sure to wear closed-toed shoes, and follow other instructions given by the instructors on the track.
And that's the end of our list. Did we miss out on your favorite track? Let us know and we'll check it out!