The 10 Best Off-Road Go-Karts for Kids & Adults (2022)
Off-Road Go-Karting is incredibly fun! You can drive the fastest kart in your local track all you want but driving on the trails is a completely different experience. The off-road go-karts allow you to do so.
The best thing about Go-kart is that it can be driven by anyone starting from kids of age 5. There are go-karts made for specific age groups from kids to Teenagers to Adults. Here are our pick for the best Off-Road Go-Karts:
Coleman KT196 – Most Value for Money Go-Kart for Preteens, Teenagers and Adults (Under 6′ tall)
Hammerhead GTS 150 – Best for Adults (16+)
TrailMaster 150 XRX & XRS – Cheaper Alternative for GTS 150
Coleman CK100 – Most Value for Money Kids Kart
Trailsmaster XRX Mini – For kids up to 8
Trailsmaster XRX Mid – Alternative for KT196
Trailmaster XRX 300 – Bigger & More Powerful Go-Kart for Adults
DIY (Make Your Own Go-Kart) – Best Plans
FRP Baja-X – Electric Off Road Go-Kart
Yerf Dog Go-Karts
1. Coleman KT196
Coleman's 196cc Gas-powered Go-Kart is our pick for the most value for money off-road go-kart for anyone who's is under 5′ 10″ (70″) and over 8 years old. This Go-Kart is perfect for kids and teenagers!
It has 2 seats that can be slightly adjusted (back and forth) to fit the driver and the passenger, but the adjustments are not as impressive as the other go-karts on the list which can be turned into kids kart or adult karts by just adjusting the seats.
This go-kart can pull 400 lbs load without any troubles, for heavier drivers you might require a more powerful engine or a different go-kart (with a stronger build quality).
Top Speed – Now let's talk about speed, the Go-Kart comes with a 200cc Honda clone engine and can make 6.5hp power, it is governor restricted to 3600 rpm which roughly translates to 20 mph (with stock gearing and tires). Now that speed is pretty much perfect for kids, but might be too slow for Adults.
However, you can modify the engine to make it go faster and it is not that difficult or expensive to pretty much double the top speed or even reach 50 mph!
Problems – The most commonly reported problems for this go-kart are related to the carburetor and the Torque converter belt breakdowns. Carburetors can most of the time be fixed by a simple 5 minutes cleaning process, whereas the belts will need replacement from time to time (costs about $20). If you buy a branded comet belt, they will last a long time.
Assembly – The Go-kart will come with a step by step instructions for complete assembly. You can even watch some youtube videos for the complete process, but if you don't want to deal with it, you might need to find a local mechanic who can do it for you.
Pricing & Availability – The pricing of nearly all the go-karts usually drops during November/December just before Christmas. KT196 is available in Amazon, TractorSupply & Walmart (both Online & offline). You can also find a second-hand version for cheap in the FB marketplace or Craigslist etc.
Overall, if you're buying a go-kart for anyone under 70″ tall, I would recommend buying this one! It is cheaper in comparison to other 200cc Go-karts and is as good as any. This is also by far the most popular Go-Kart currently in the market. For a more detailed review & upgrades, you can check this article.
2. Hammerhead GTS 150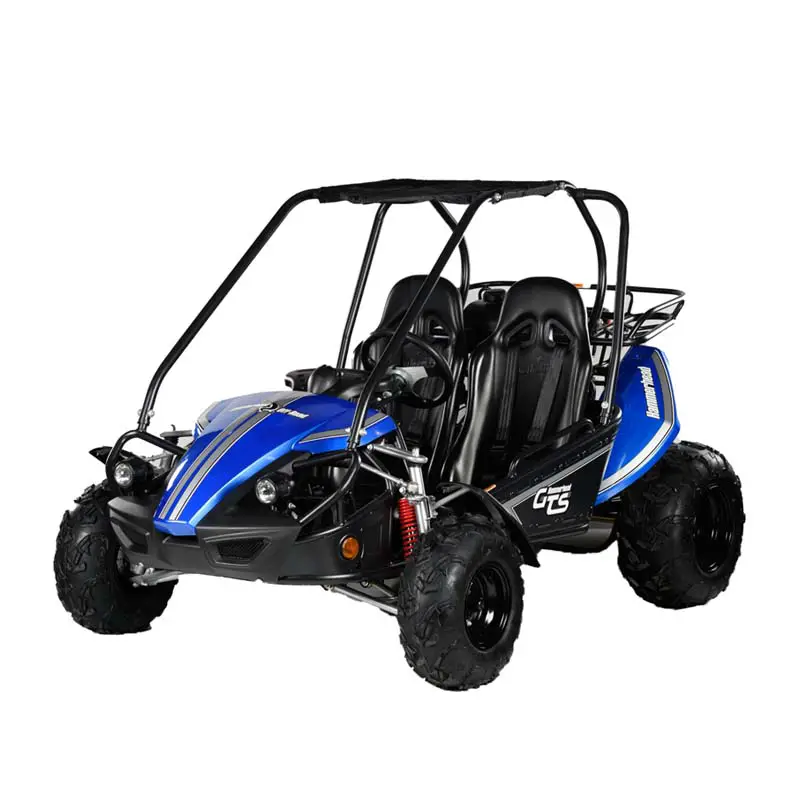 Key Features
Engine Used – 150cc 9HP GY6 Clone
Seat – Double Seater & Adjustable
Minimum Age – 16+ (To Drive)
Top Speed – 40 mph
Transmission System – CVT + Reverse
Hammerhead is another very popular Off-road vehicle manufacturer and their GTS 150 is their best seller! This Go-Kart is strictly made for Adults. Younger ones can enjoy the ride in the passenger seat.
This Go-kart comes with a headlight, digital speedometer, suspensions, hydraulic brakes, and overall better build quality than the KT196. All in all, you get what you pay for. The only downside is that this kart is only for Adults. But if you are buying for an adult, this is as good as it gets for an off-road Go-kart.
Engine (Top Speed) – This Go-Kart uses a 150cc GY6 clone engine that can make around 9 hp power! You can reach the top speed of 45-50 mph with a brand new GTS150 and there are several upgrades available for the GY6 engine to make it even faster.
Drivetrain – Like other Off road karts, this too utilizes a CVT belt drive system, this kart also has a reverse gear which will come in handy in tight spaces.
Overall, this Go-Kart is perfect for Adults if you can afford to spend $3k+ on a Go-Kart. I would also not suggest you buy this go-kart if you like to build your engines, since the GX200 engines are easier to work with and their performance parts are also much cheaper in comparison.
3. TrailMaster 150 XRX & XRS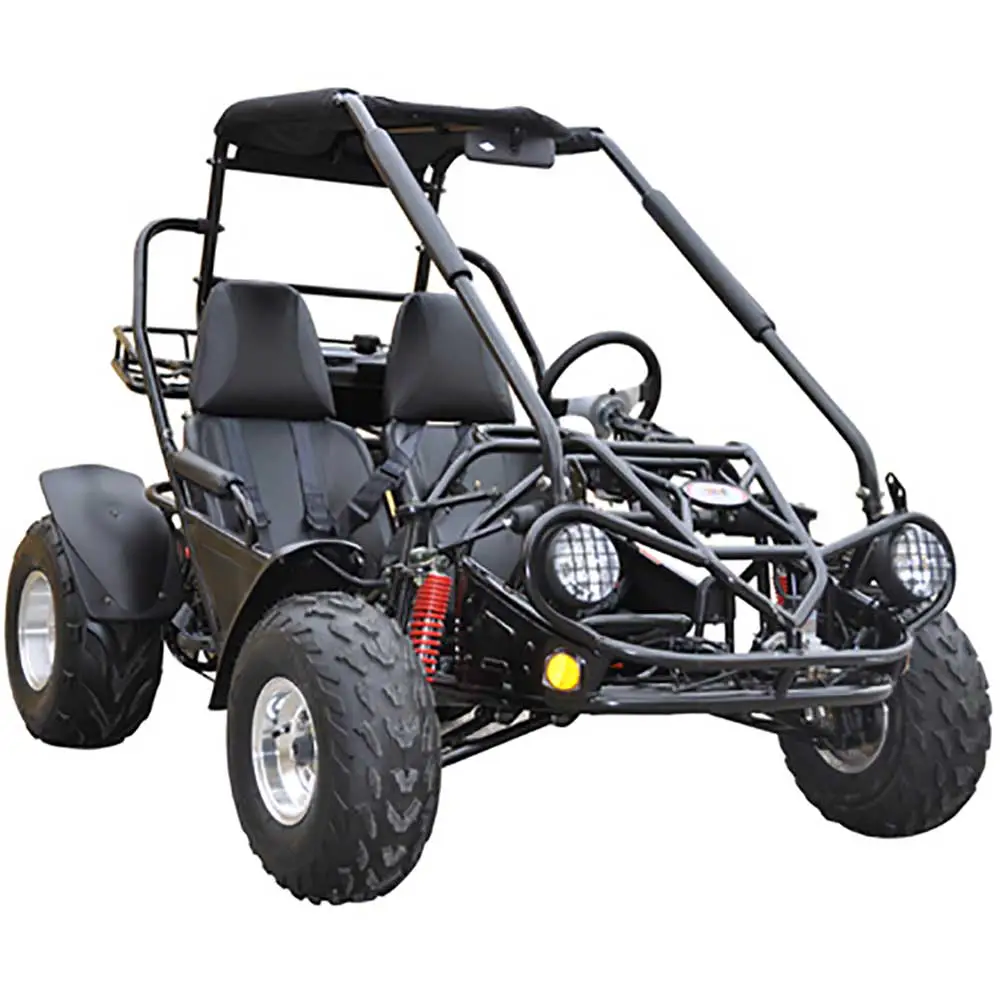 Key Features
Engine Used – 150cc 9HP GY6 Clone
Seat – Double Seater & Adjustable
Recommended Height – 5′ to 7′ tall
Top Speed – 40 mph
Transmission System – CVT + Reverse
This Go-Kart is very similar to the Hammerhead 150cc Go-kart in terms of performance, this one is made by Trailsmaster which is cheaper than the Hammerhead.
Trailmaster's 150cc Go-Karts come in two versions, XRS and XRX. The XRX model has a better steering wheel, a soft top, turn signal, mirrors, extra lights, and a digital speedometer, better wheels in comparison to XRS.
TrailMaster is a China-based company, unlike Hammerhead which was recently purchased by Polaris (American Manufacturers). This is probably the biggest reason for the lower pricing, but Trailmaster is a good manufacturer despite being China-based. I haven't seen any complaints about their build quality.
Performance – Uses a 150cc GY6 clone engine, has a top speed of approx 40 mph (depends on your weight). Has shock absorbers and almost everything that the Hammerhead 150cc go kart has.
Pricing – You can find a brand new XRS for around $2300 and the XRX is about $2500. Make sure to check FB marketplace or Craigslist, you might be able to find one in good condition for cheaper.
4. Coleman CK100
This is a less powerful and cheaper Coleman Go-kart. The top speed of the kart is limited to around 15 mph. It only has 1 seat and can be driven by anyone under 6′ without any issues.
The 3 hp engine might seem too low, I would personally swap the OEM engine with a $150 Predator 212 or the new Predator 224. You can find a second-hand CK100 for around $500 in online marketplaces, add $150 for a new engine and you have a very nice Go-Kart for $650-700.
In comparison to the bigger karts, this one doesn't have any suspension, headlight, rooftop, or reverse gearing. This is a very simply built but high-quality kart. If you looking for a kid's kart on a low budget, I would definitely recommend this.
5. Trailmaster XRX Mini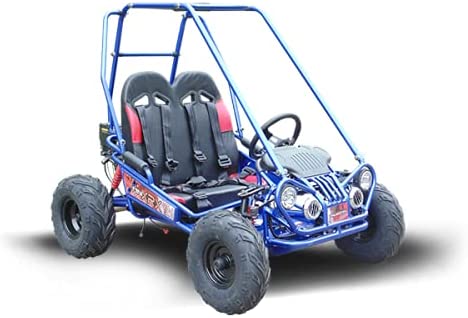 Key Features
Engine Used – 5.5 hp
Seat – Double Seater & Adjustable
Recommended Age – 5 to 8-year-olds
Top Speed – 15 mph
Transmission System – Centrifugal Clutch
XRX Mini is perfect for kids between 4 to 8 years of age, it's hard to find a Go-kart that will fit a 4-year-old (since most kids only become capable of driving a Go-kart after 6) but due to the adjustable seat and the small chassis, this Go-Kart is a great buy for 4 to 8-year-olds.
There are 3 versions of this go-kart available in the market, XRS, XRX, and XRX-R mini. XRS is the most basic model with no headlights, horn, or electric start. XRX-R has the most features, including a reverse gear.
Engine – All 3 versions utilize a 5.5 hp engine that is speed governed to 15 mph which is more than enough for a kid kart.
Problems – The only downside about this Go-kart is the transmission system used, a centrifugal clutch. Centrifugal clutches can get jammed or stuck very quickly if you drive your go-kart on off-road trails.
Pricing – The pricing for a brand new XRS Mini starts at $1500+ but you can find a second-hand version in good condition for less than $1k.
6. Trailmaster Mid XRX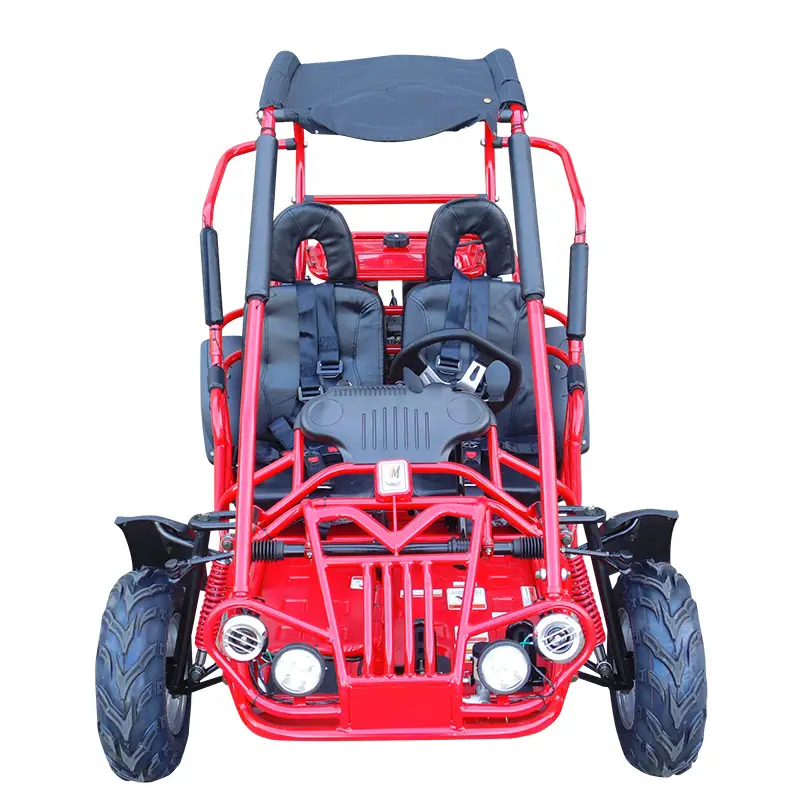 Key Features
Engine Used – 196cc Honda GX200 Clone
Seat – Double Seater & Adjustable
Recommended Height – 5′ 10″ and Under
Load Capacity – 400 Lbs
Top Speed – 20 mph (Can be increased)
Transmission System – Torque Converter
This is an almost identical kart to the Coleman KT196. Almost everything about this is similar to the KT 196. The only difference worth mentioning is that some versions of the Mid XRX have headlights and reverse gear. Trailmaster and Coleman are both good companies and you can expect very similar quality.
The engine used, top speed, transmission system, etc everything is similar to the Coleman KT196.
Pricing – A brand new Mid XRX starting price is $2200. Once again I'll mention that you can find a good deal in online marketplaces.
7. TrailMaster 300 XRX & XRS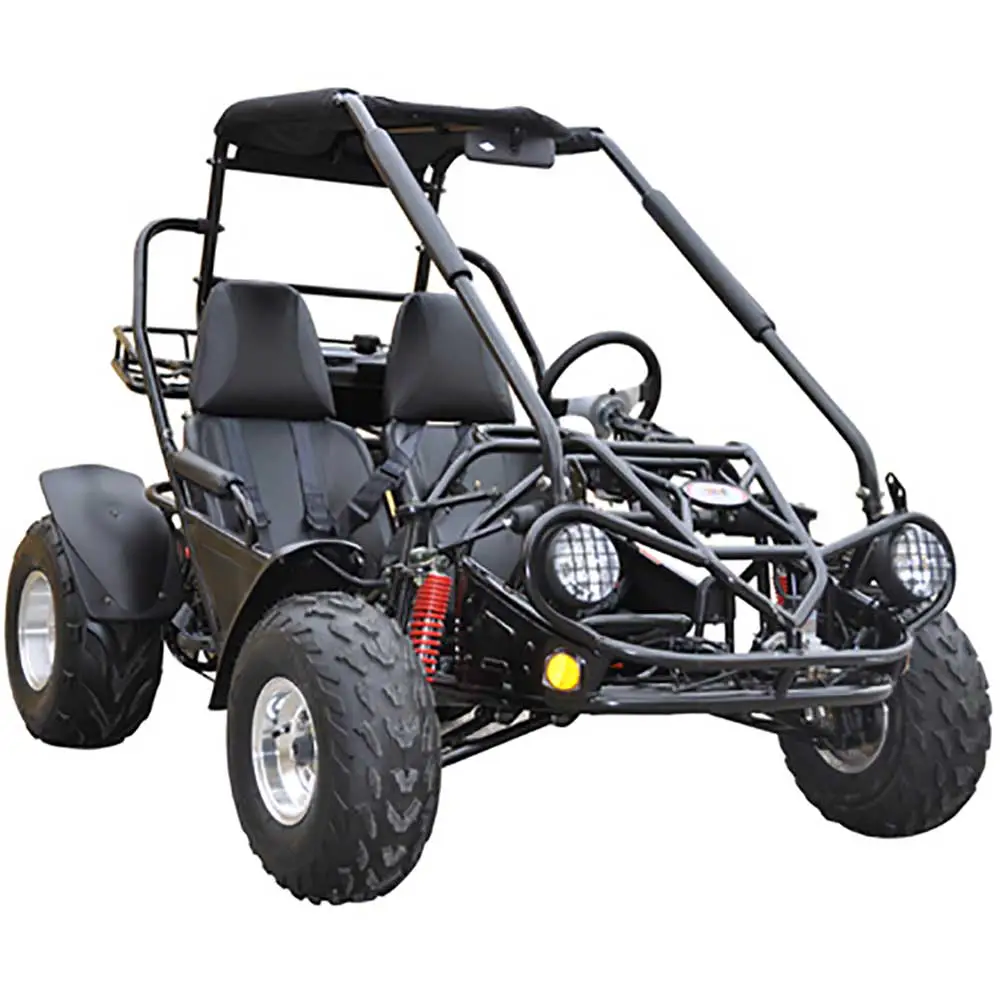 Key Features
Engine Used – 300cc & 17 HP
Seat – Double Seater & Adjustable
Recommended Height – 5′ to 7′ tall
Top Speed – 55 mph
Transmission System – CVT + Reverse
This is an upgrade on the 150cc Go-karts that was mentioned earlier. The 300 XRX makes 17HP power and can reach 55mph! In terms of exterior design, these aren't a whole lot different from the 150 XRX, they have the same height, weight, and ground clearance.
In fact, apart from the engine, these go-karts are very similar to the 150cc XRX. You can check their detailed comparison here.
Pricing – This is by far the most expensive kart on the list, a brand new 300cc kart goes for around $5500!
8. DIY Project
Riding Go-karts are fun for sure, but riding a Go-Kart that you made yourself gives you a sense of achievement that is completely worth the time you put in!
If you have some welding & machining experience then I definitely recommend you to make your own kart, it can also be a great project to get your kids involved.
However, if you're not experienced in welding, metal cutting, and other machine work, I recommend you to buy a frame from any online marketplace and then work with the engine, brakes, throttle, drive system, etc.
To build one completely from scratch, you need a plan. I recommend using the spidercarts "Grand Daddy" plan, which is essentially an off-road go-kart plan.
Cost
| | |
| --- | --- |
| Plan | $30-45 |
| Engine | $150 |
| Torque Converter | $70 |
| Tires & Wheels | $150 |
| Frame material (1″ Steel Square tubes) | $50-70 |
| Sprocket & Axle | $50-100 |
| All Other Parts (Brake, Chain, etc) | $200-300 |
Overall, you can make yourself an off-road go-kart for $600 to $800.
There are several plans available on the internet, there are also several builds documented in forums such as diygokarts which will set you toward the right path.
Even though making the frame is the most time-consuming part, it is actually not the most expensive. The tires, axle, brakes, etc push the price higher.
9. FRP Baja-X
This is an interesting addition to our list, different from all the others, this Go-kart is powered by an electric motor. The spacing in the kart allows for kids to operate it but would be difficult to fit Adults in it.
The motor can produce 1000W. The battery can charge in 6 to 8 hours (according to the manufacturer). There are some complaints about this product from the customers which I recommend you to read before you purchase. I would personally not go for an electric kart for off road purpose and won't recommend it either.
10. Yerf Dog Go-Karts
If this isn't your first time buying an Off-Road Go-kart, chances are that you've heard about Yerf Dog Go-Karts! These Go-karts have not been produced since 2006 but are still one of the most popular in the online marketplaces because of how popular they were in the early 2000s.
There are about 15-20 models of Yerf Dog, all of which use Techumseh Engines ranging from 5 hp to 8 hp and different designs.
How to buy – You can only buy these in a secondary market. You should be able to find a 7hp yerf dog in decent condition for under $1000.