Best Go-Karting Tracks in Houston
Go-Karting tracks can be hard to find even in the most popular cities but Houston has some amazing outdoor and indoor go-kart tracks, from amusement parks with go-karts to member-owned clubs, there are lots of options (at least in comparison to other cities).
All the facilities on our list provide you with rental karts (except #6) and helmets, all you need to do is arrive and drive, doesn't matter if you're a newbie or a pro.
Kart owners too have 3 outdoor tracks nearby, to test out their go-karts. Races are regularly hosted by most of the facilities for a very reasonable entry price, making go-karting a perfect way to get into motorsports without spending too much money.
Here are the best places to go Go-karting near you!
MSR Houston – Outdoor Track
K1 Speed – Indoor Track
Track 21 – Indoor Track
Speedsportz Racing Park – Outdoor Track
Speedy's Fast Track – Amusement hub
Gulf Coast Kartway – Outdoor Track (for Kart Owners Only)
1. MSR Houston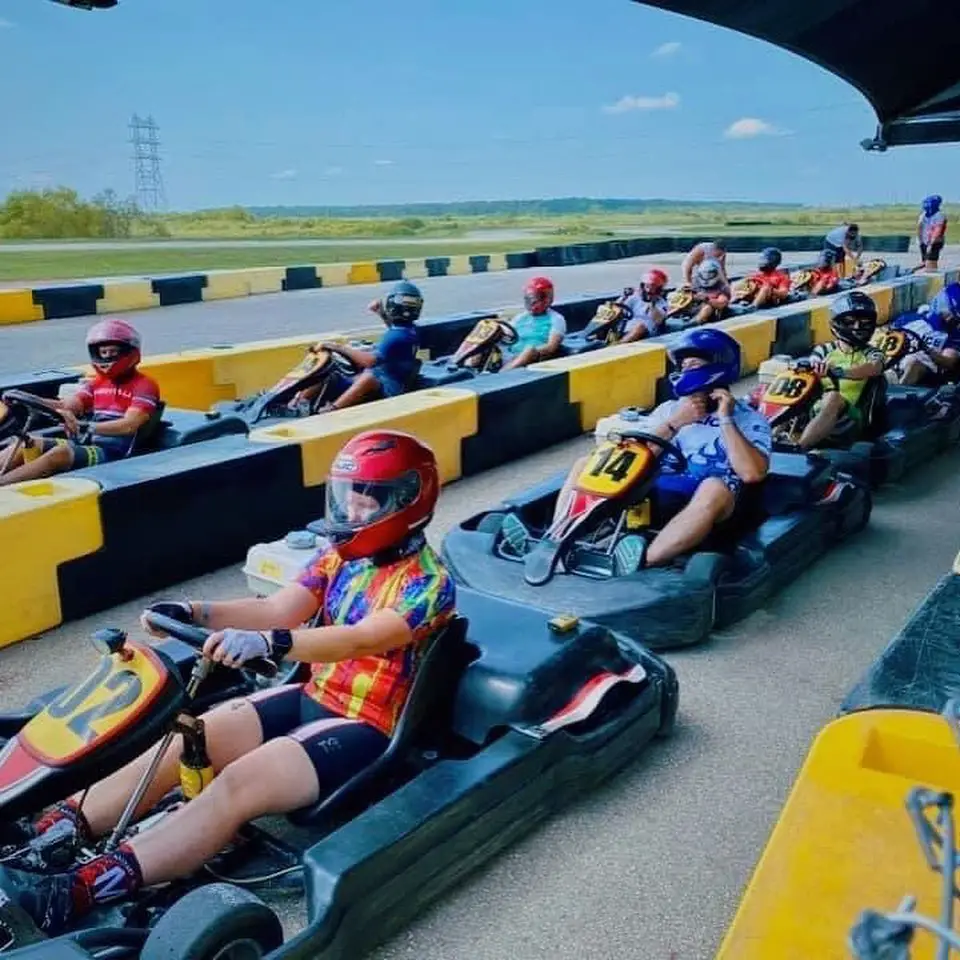 Min Requirement:
9 years old and 57″ tall
Pricing (Rental Karts):
$25 – 1 Session
$60 – 3 Session
$100 – 6 Session

Each session is 15 minutes long.

Visit their Website for Up-to-date pricing, opening-hours, and Online Booking
Located nearly 35 miles south of downtown Houston, this outdoor go-kart racing facility is one of the best in Texas.
MSR's primary track is 2.38 miles long, they have a separate karting track which is 0.7 miles long and has 17 turns. (Google Earth's satellite view of the Track).
Their rental go-karts are gas-powered and can reach 50 mph, each session lasts 15 minutes. Their Karting tracks are open for the public Thursday to Sunday and Monday to Wednesday is for private events (Check timing on their website).
Birthday parties and corporate events can be booked in advance, even the entire track can be booked for a few hours.
For competitive racers, they organize a "night league race" every month on the 3rd Saturday.
"Looks pretty cool! It's a 65 second outdoors track with cool curves. The karts look very awesome and well taken care. They also have a system to keep track in which position eacher driver is. The facilites are clean and well groomed. Some helmets have a Going Pro thingy to attach the camera"

– Juan (Google Review)
2. K1 Speed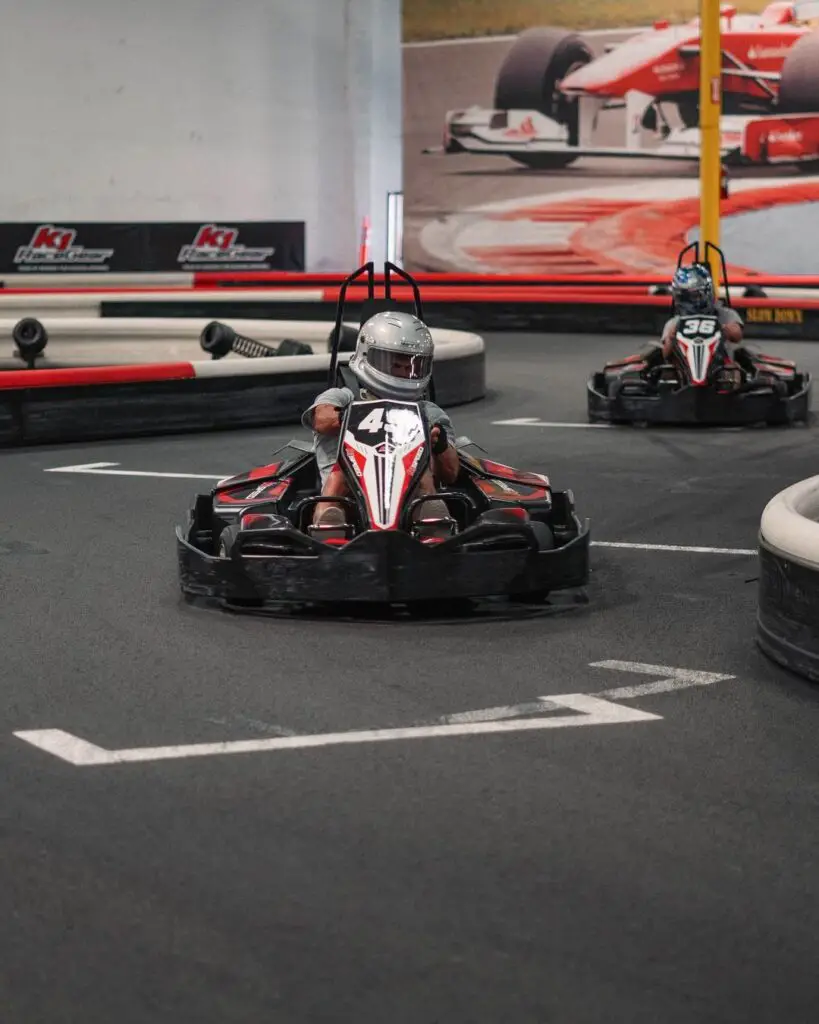 Min Requirement:
48″ (Juniors)
58″ (Adults)
Pricing (Rental Karts):
1 Race – $24.95
2 Races – $44.95
3 Races – $59.95
(+ $8 Annual Membership required)

Each race is 7-10 minutes long.

Visit their Website for Up-to-date pricing, opening-hours, and Online Booking
K1 speed is the most popular indoor go-karting facility. They have more than 50 centers all around the world.
They are very popular for event hosting such as birthday parties and company parties. They have party rooms for rental to enjoy meals and celebrations after racing.
The karts are all-electric and their electric motors make up to 20 hp power. Their Adult Karts are advertised to be able to hit 45 mph and the junior karts can reach 20 mph.
For competitive racers, K1 hosts leagues across all their centers for both adult class and junior class. All members can keep track of their lap times and compare themselves with the best racers.
Check the link below to view the track layout.
"Great experience. Really helpful staff guide you through everything and help out when you get in trouble. Fast cars and fun track, with a cool printout of your results after the race. Great to be in the weatherproof indoors with air conditioning using electric carts with no engine fumes."

– Tory Gattis (Google Review)
3. Track 21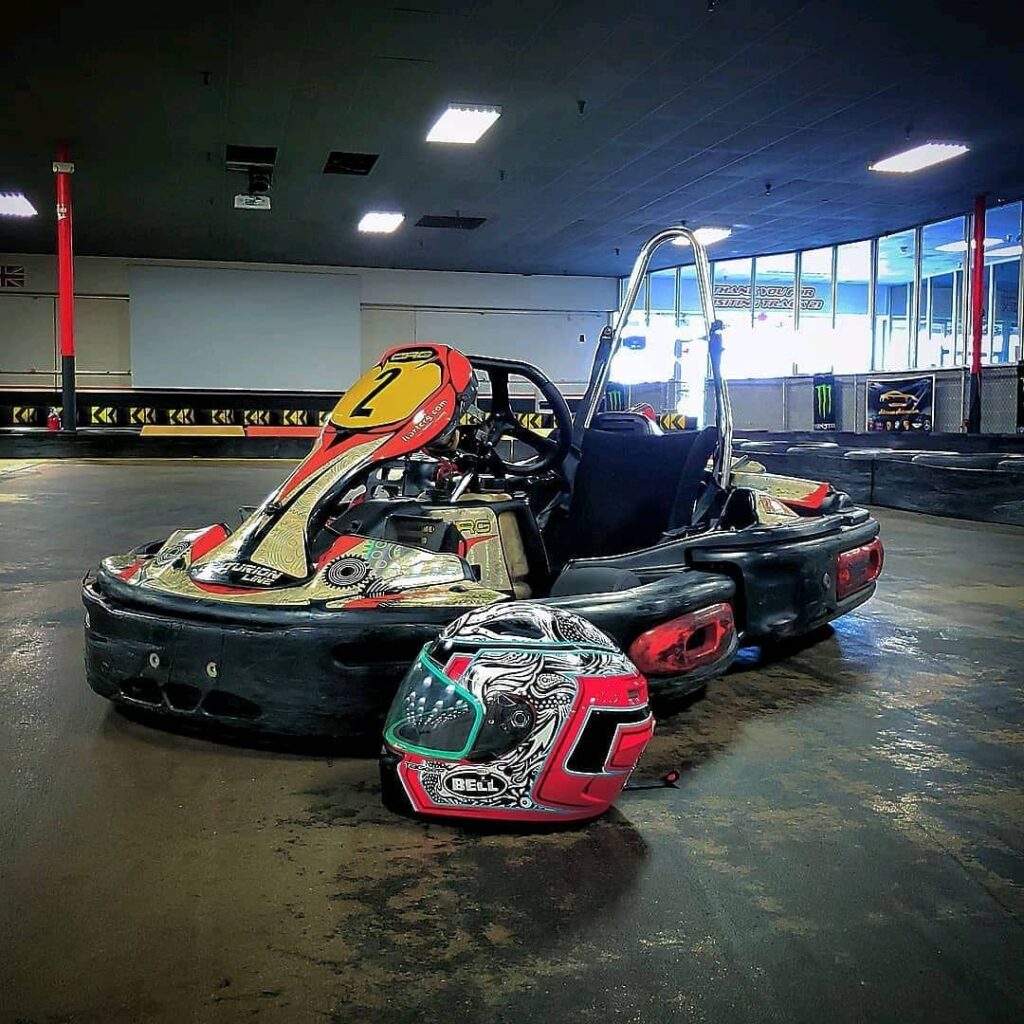 Min Requirement:
52″ tall (Junior Karts)
16+ years old (Adult Karts)
Pricing:
$18 – 1 Race (Adult Karts)
$15 – 1 race (Junior Karts)
Each race is 10 minutes long.

Visit their Website for Up-to-date pricing, opening-hours, and Online Booking
Track 21 is an indoor go-karting facility with 2 tracks with different layouts designed for both adults and juniors.
You can rent the SODI SR5 electric karts from their facility. The top speed is advertised to be 45 mph on the adult karts and 25 mph for Junior karts.
Their biggest track has 19 turns and is 1/4 miles long. You can check the exact layout on their website. Competitive racers or aspiring racers can join their league to compete against the best racers.
"We decided to celebrate with family and friends my son's 11th birthday at Track 21 and it's was amazing. I brought candy bags , the balloons and cake . The guy who was in charge of our party was very helpful, put up the cake until it was time to enjoy it and had the tablets ready and decorated the room the color I asked green and black . Mini golf was my son's favorite. The Kars were fun to ride , fast and easy to use . You can bring your own food . The drinks are included in the birthday package."

– Nbetzy Guzman (Google Review)
4. Speedsportz Racing Park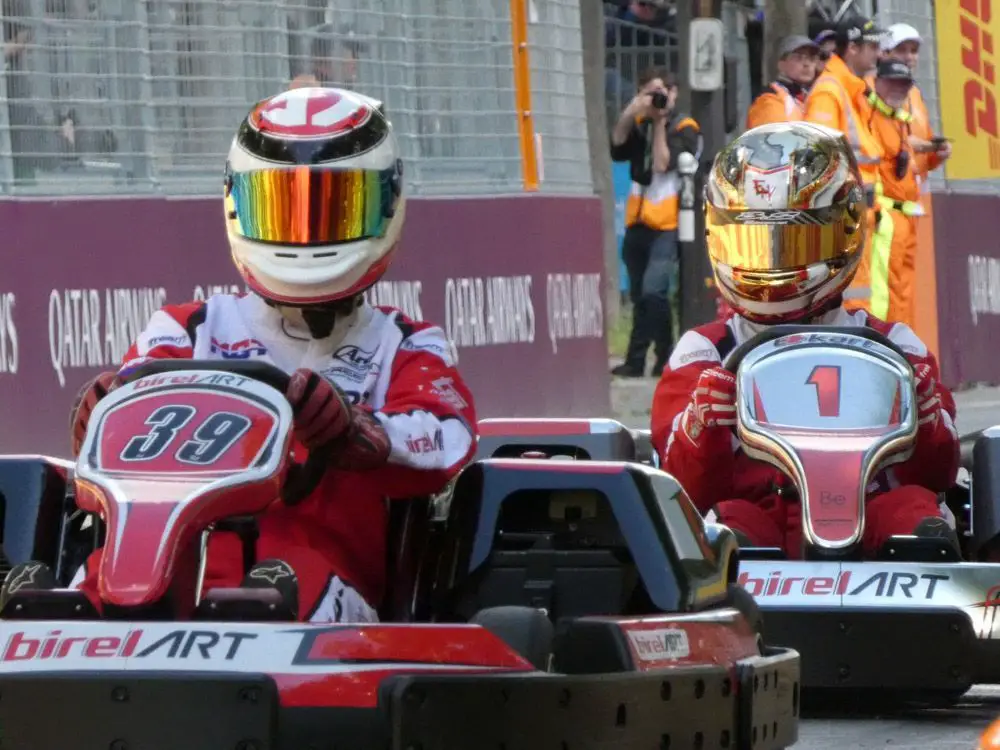 Min Requirement:
13+ years old
60″ tall
Pricing (Rental Karts):
$25 – 1 Race
$45 – 2 race
$60 – 3 races
$90 – 5 race
Each race is 10 minutes long.
Pricing (Kart Owners):
$75/ day (Non-members)
Unlimited Practice for Members
Check their Membership pricing.

Visit their Website for Up-to-date pricing, opening-hours, and Online Booking
Located just north of Kingwood, Texas. Speed sports Racing Park is nearly 33 miles away from downtown Houston.
They have 2 separate tracks, both outdoors. One is for rental purposes and the other is for faster karts. Their "performance track" is also available to the public (but a little more expensive).
Rental Go-karts here can reach 45 mph and their "professional go-kart" can reach as high as 70 mph! Each session on these karts can cost $199.
Kart owners are also allowed on the pro-track. For competitive racers, they regularly organize races. Check their website for more details.
"Speedsportz Racing Park provided us with an amazing experience. The staff were very polite, professional and paid attention to detail. The Karts go alot faster than they look and the track is a really good outdoor track with good turns. Each race is 10 minutes, which is more than enough for you to really put your foot on the gas and enjoy the racing experience. I loved it and would recommend it for anyone looking to have a great time with a group of friends."

– Bashir Zakari (Google Review)
5. Speedy's Fast Track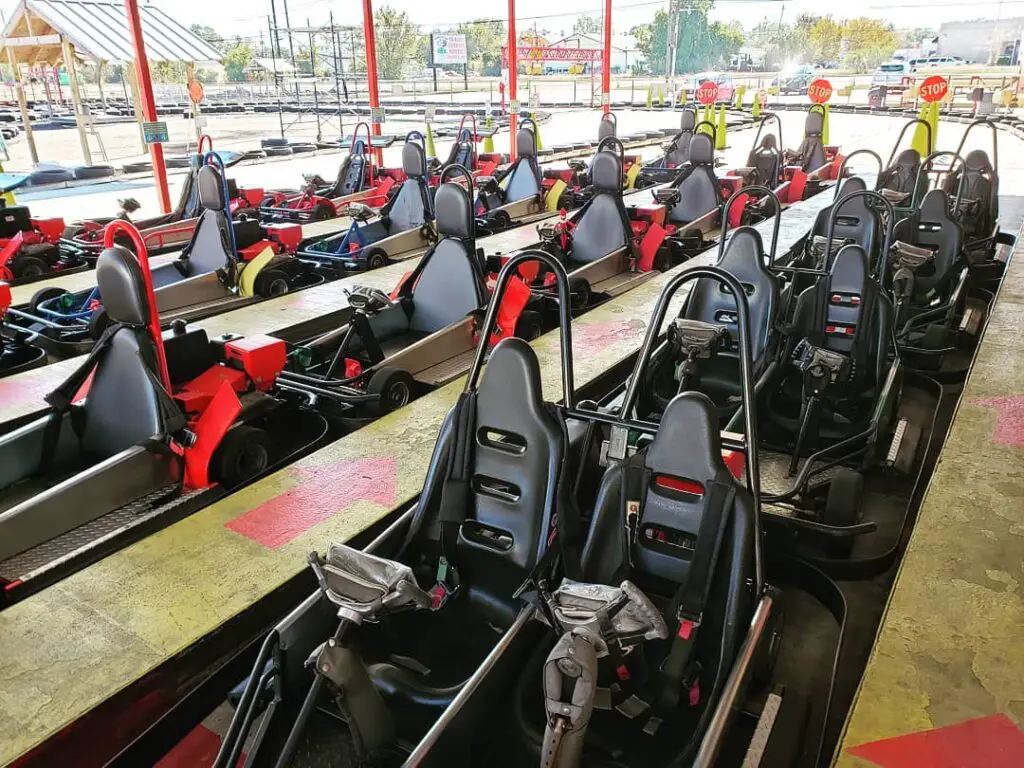 Min Requirement:
54″ tall (To Drive)
15+ to drive their "Super karts"
36″ tall (to be a passenger in 2 seater karts)
Pricing (per race):
$8 (Normal Karts)
$10 (Super Karts)
$12 (F1 Karts)
Each race is 5 minutes long.

Visit their Website for Up-to-date pricing, opening-hours, and Online Booking
Speedy's fast track is a family fun center with multiple indoor and outdoor activities like mini-golf, Laser Tag, and Arcade alongside their rental Go-karts.
They have multiple types of karts and it includes double-seater karts, making them ideal if your kids aren't old enough to be able to drive in other karting facilities. Anyone taller than 36″ can ride their double-seater go-karts.
Birthday parties, corporate parties, etc can be booked in advance.
The karts aren't going to be as fast as in other centers, so it isn't ideal for competitive racers, but this is a nice family-friendly facility with multiple activities.
"We had fun. I had no idea it was still open. The golf course was interesting. Can be crowed in some parts.They kept the place very clean. Parking can be crazy if you don't get there at a good time. A lot of games to choose from. Lazer tag was fun as well my 3 year old was able to participate."

– Shalon Lee (Google Review)
6. Gulf coast kartway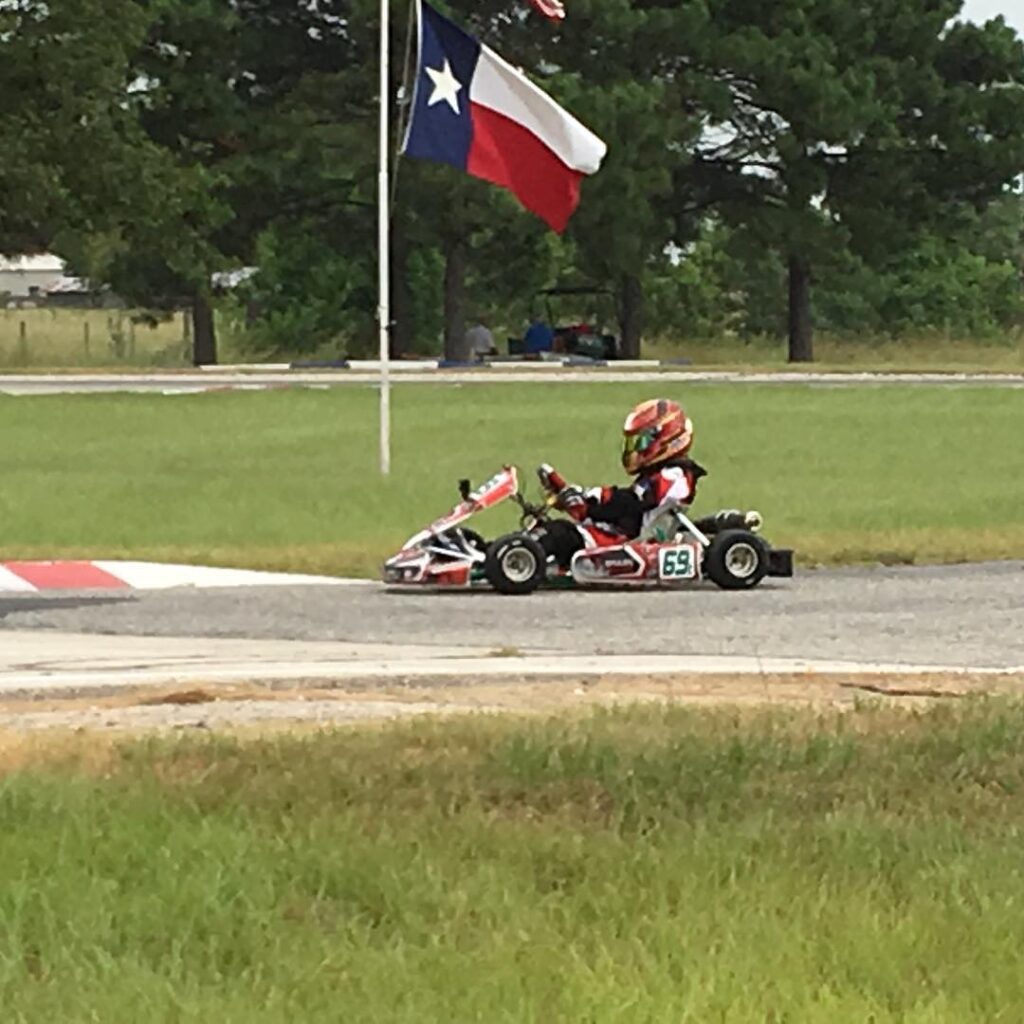 Min Requirement:
5 years and above

Visit their Website for membership forms, other info about classes
Gulf coast kartway is a member-owned club. The non-members can also participate in their races and practices for a fee. Membership costs $325-375/year and gives the members unlimited usage of the track.
Races are regularly hosted, the schedule can be found on their website. Classes include kid's kart (5-8-year-olds) all the way up to Masters class (30+), engines in use are KA100, LO206, shifters, etc.
"I moved to Katy to be closer to this track, and I'm so glad I did. The membership price with the flexibility of the hours is unbeatable. There was a good-sized group of other motorcycles there, and we took turns sharing the track when there were go-karts. I got to ride a lot in a short period of time, with riders of different levels, all super friendly. I love the layout of the small, technical track, and it was paved well enough for me. I'm in love, and I'm so very grateful this exists."

– Elvia Olvera (Google Review)
Looking for other good tracks nearby? There are a lot of them in Austin and Dallas, check our list for the best tracks in Austin and the best tracks in Dallas.
Note: All go-karting facilities require you to sign a waiver or get it signed by your guardian (if you're below 18). Make sure to wear closed-toed shoes, and follow other instructions given by the instructors on the track.