The 4 Best Go-kart Tracks in Cincinnati
When it comes to Go-Kart tracks in Louiseville, you have got a few options to choose from. Whether you're looking for a place to celebrate your kid's upcoming birthday or an outdoor track to challenge your friends to a race, there is a track for everyone's needs.
Go-Karting for the first time? There are a few rules common across all the facilities:
To be able to race, you must sign a waiver or get it signed by your parent if you're under 18.
You must wear closed-toe shoes while driving.
If you have long hair then the hair has to be pulled back in a pony tail or bun.
You won't be allowed to drive if you have heart issues or back issues (if you have any medical conditions please consult with your doctor, or other qualufied healthcare professional to know if you are allowed to drive).
Drive safely, not only will you have to cover costs for damaging any karts, you also put yourself and others at risk by driving rash.
Other than that, every karting center has its own rules for minimum height/age requirements to enter a race (we have included the minimum requirements of all the centers in the list, please check the requirements before you visit).
Everything else including the go-karts, helmets, etc can be rented from the facility. Some drivers prefer to carry their own helmets and driving suits for a better fit which isn't an issue with most centers. But if you want to drive your own Go-Kart in these tracks, it's best to contact the facility for information regarding whether it's allowed or not.
Here is the list of best Go-Kart Facilities for you to visit if you're in Cincinnati!
Full Throttle Adrenaline Park – Best Indoor Go-Karting
Motorsports Country Club – Outdoor tracks with rental Go-Karts
G&J kartway – Outdoor Tracks for Kart Owners
THE WEB Extreme Entertainment – Electric Go-Karts
1. Full Throttle Adrenaline Park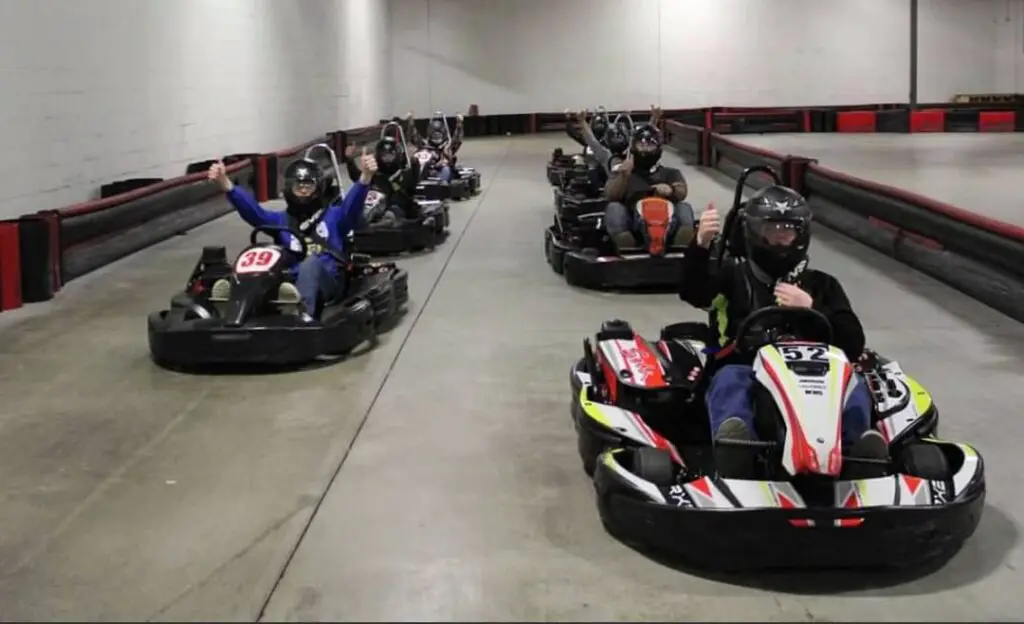 Min Requirement:
48″ (Junior Karts)
55″ and at least 14 years old (Adult Karts)
42″ to be a passenger in 2-seater Karts
3+ years old (Micro Karts)
Pricing (For Karting):
1 Race – $23
2 Races – $42
3 Races – $62
+ $7 annual membership (required to be able to race)
(6 minutes of racing per session)

2 Hour Pass (for Karting, Axe Throwing, and Rage Room)
$55 – Online Booking
$60 – Walk-In

Check their Website for Up-to-date pricing, opening-hours, and Online Booking
Full Throttle is located in 2 regions nearby, one in Tri-County Mall and the other in Florence, KY (they also have a center in Louiseville). They offer a driving experience for kids and adults of almost every age.
The Adult Go-Karts in here can go as fast as 40 mph and a 1/4-mile road course to test you out. The 2-seater karts allow you to have a 42″ or above in the passenger seat, and these karts can also go quick! The micro-karts they have are for 3+ year-old kids.
Apart from Karting, they also offer Axe-Throwing, rage room, VR, and Paintball. When it comes to Foods and Drinks, they offer a large beer selection, mixed drinks, and some finger foods to keep you filled up between races (drink responsibly, they won't allow you to race if you're drunk).
What People Are Saying About Full Throttle
"This is the perfect place to relax and drive away from anything that bothers you. I walked in having a trash day and everyone that worked there was overtly pleasant and really made me have the best time ever. I only go to drive so I can't say anything else is great but it's the best karting in the tri-state."

– Lauren Roeder (Google Review)
2. Motorsports Country Club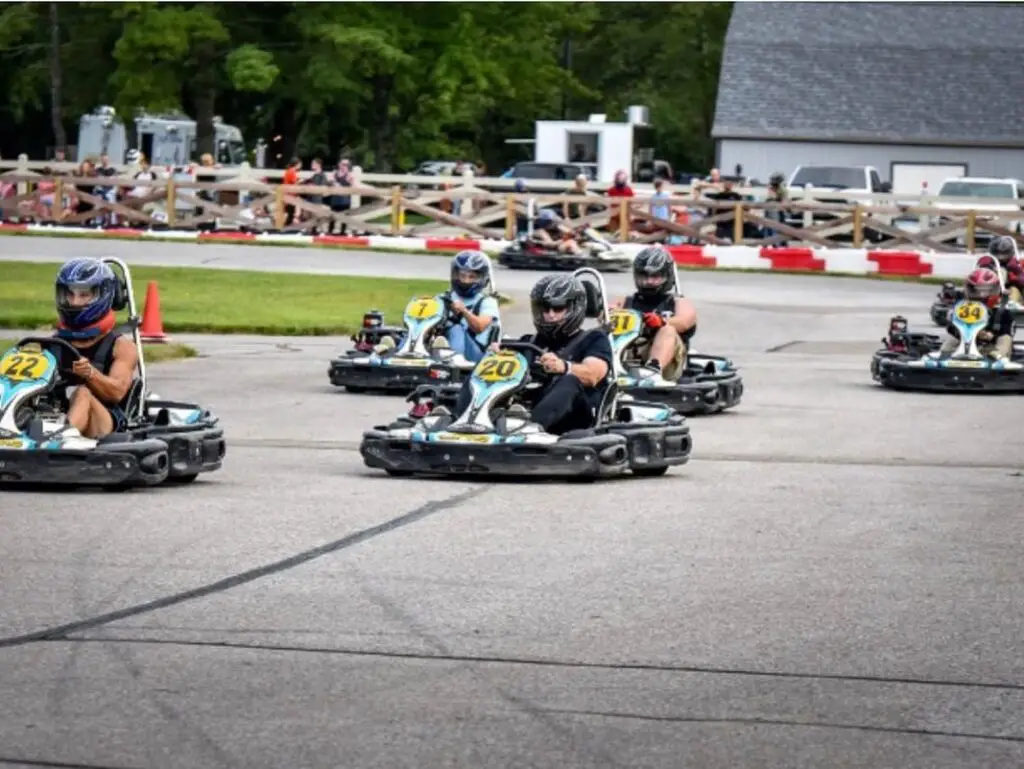 Min Requirement:
Ages 16 and up / 55″ tall

Pricing (Rental Kart Membership) :
$100.00 (membership includes 2 sessions of 12 minutes each)
$20 for additional sessions.

(Call them before you visit to check whether the tracks are available for rental purposes)

Membership for Pro racers: Check here

Visit their Website for Up-to-date pricing, opening-hours, and Online Booking
If you are even remotely interested in being an actual pro then this is the place to be at. Located just a few minutes from I-275, this is the best outdoor karting track in the region.
They have a 0.7-mile road course, with 7 different configurations all professionally designed for racing (Check out their configurations here).
Their rental karts can go as high as 50 mph! They aren't just about rental karts either, they also allow you to drive your own karts, you can in fact become a member and become a part of their team.
Overall, this is the place to be if you're going out with your friends for racing and want the fastest karts and the best tracks. This is also your best option if you're serious about being a pro racer and/or want to race in leagues.
What People Are Saying About MCC
"Where to start!? I had the pleasure of racing the carts here today! Michelle and Shaun were terrific! Very organized and personable! If you are thinking about doing this….stop thinking and book it! It absolutely exceeded my expectations and I want to give a huge THANK YOU to all the staff! I'm still smiling hours later…Thanks again for a great time!!!"

– Justin Jones (Google Review)
3. G&J kartway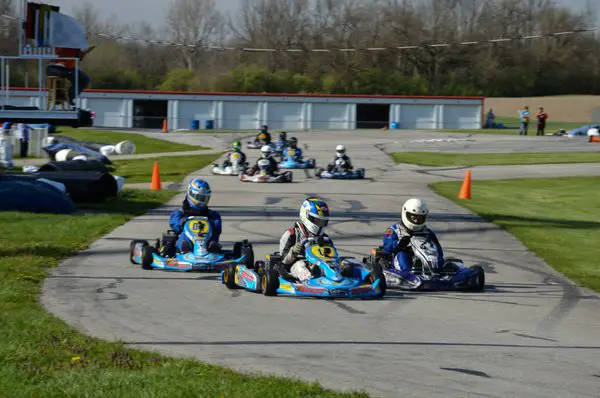 Min Requirement:
Kart Owners Only

Pricing:
$10 for unlimited track time

Visit their Website for Up-to-date pricing, opening-hours, and Online Booking
If you're a kart owner, this is an amazing track to practice at, Located among the cornfields and pastures of Southwestern Ohio, their ½ mile, 9 turn configuration is one of the best tracks for Kart owners in Ohio.
They are open for practice throughout the year and host many races throughout the season, for a very affordable price. If you're a kart owner, definitely worth giving this place a shot.
What People Are Saying About G&J kartway
"Best club in the country! They always go above and beyond to make it a great racing experience. First time racing or a 20 year vet, they make you feel welcomed."

– Ron Cunagin (Google Review)
4. THE WEB Extreme Entertainment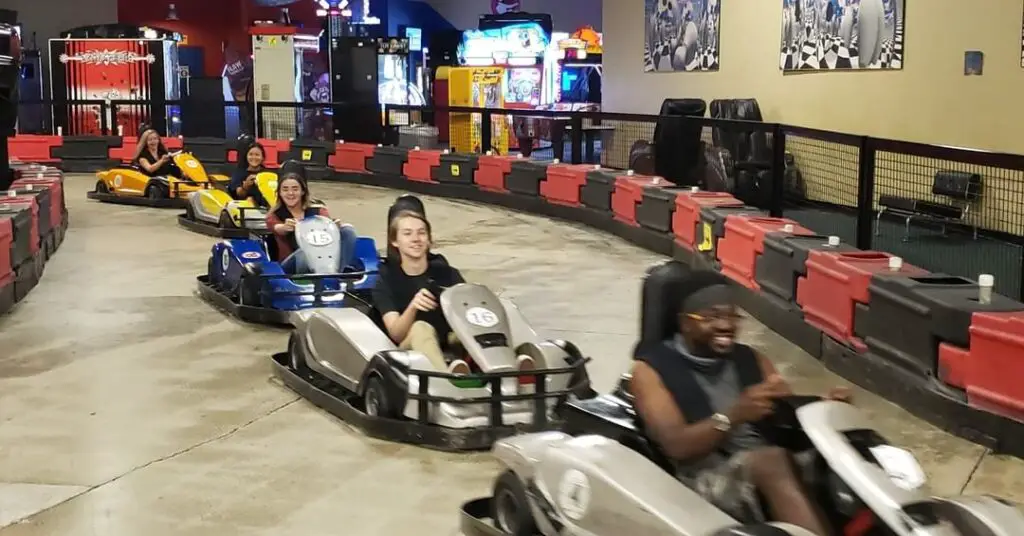 Min Requirement:
10+ and 56″ to drive
32″ to ride on double seater karts.

Pricing (Rental Karts):
$9 per driver

Visit their Website for Up-to-date pricing, opening-hours, and Online Booking
Want to experience Electric Karts? This is the place to be at, electric karts usually have more torque in comparison to Gas-Powered karts, giving higher acceleration (for some drivers, a good take-off is almost as exciting as driving at high speeds).
This might not be the place for you to become a pro and their karts aren't the fastest on this list, but the place is still full of fun activities, including Valvo Jump, laser tag, mini-golf, etc.
Food and Drinks are available on the spot, you get to choose from chicken sandwiches, hotdogs, cheeseburgers, salads, and much more. All in all, a fun place to be at with your family.
What People Are Saying About WEB Extreme
"Graduation party was great! This place took fabulous care of us and I had a very large party. The pizza was good. Games are fun. Go carts are great. Lazer tag was cool. The staff is excellent and friendly. Prices are very reasonable."

– Erika Moeller (Google Review)