The 4 Best Go-kart Tracks in Columbus, Ohio
Ohio in general has lots of good Go-Kart Tracks, but especially in Columbus, there are a lot of choices. Looking for a place to host an event? You've got Buckeye Raceway. Trying to find a track to test out your new go-karts? There are a couple of amazing outdoor tracks for that.
If you've never been to a go-karting facility, there are a few rules common across all the facilities:
To be able to race, you must sign a waiver or get it signed by your parent if you're under 18.
You must wear closed-toe shoes while driving.
If you have long hair then the hair has to be pulled back in a pony tail or bun.
You won't be allowed to drive if you have heart issues or back issues (if you have any medical conditions please consult with your doctor, or other qualufied healthcare professional to know if you are allowed to drive).
Drive safely, not only will you have to cover costs for damaging any karts, you also put yourself and others at risk by driving rash.
Apart from that, every karting center has its own rules for minimum height/age requirements to enter a race (we have included the minimum requirements of all the centers in the list, please check the requirements before you visit).
Here is our list of the best Go-Karting Facilities for you to visit if you're in Columbus!
Buckeye Raceway – Best Indoor Go-Karting in Downtown Columbus
Adrenaline Fix Karting – Nearest Outdoor rental Go-Karts for competitive racers.
WILMINGTON RACEWAY PARK – Best Outdoor Tracks
Scene75 Entertainment – Amusement Park with Go-Karts
1. Buckeye Raceway
Min Requirement:
48″ and 8 years old (Junior Karts)
56″ and 12 years old (Adult Karts)
Pricing (For Karting):
1 Race – $21
3 Races – $54
+ $6 annual membership (required to be able to race)
(6 minutes of racing per session)


Check their Website for Up-to-date pricing, opening-hours, and Online Booking
Whether you're looking for a place to celebrate your teen's birthday, organize a bachelor party, or simply just want to race your friends, this is the place to be at. Located in Columbus, this is the closest track to downtown Columbus.
The Adults Karts here are all-electric and can reach a speed of 45 mph! The real fun about electric karts is more to do with their acceleration in comparison to Gas-Karts.
All races are 8-minutes long. The tracks are 1/4 miles in length and will test you out, if you're a beginner racer, their karts and tracks are a good way to start off before you buy your own karts to race on outdoor tracks.
What People Are Saying About Buckeye Raceway
"One of the most exciting places to go. The workers are very friendly and helpful and want you to enjoy your time. It is pricey, but very much worth racing. Going 45MPH in a go-kart doesn't seem that fast until you're behind that wheel with no power steering"

– Brock Marshall (Google Review)
2. Adrenaline Fix Karting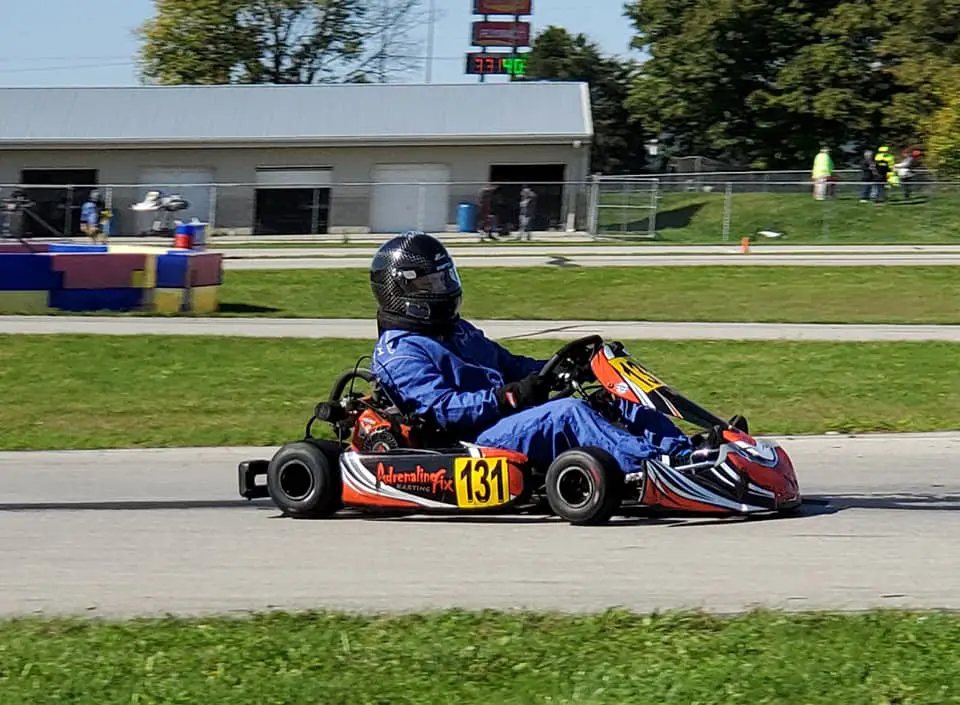 Visit their Website for Up-to-date pricing, opening-hours, and Online Booking
For people looking to get into competitive racing, this is the place to be at, you can simply arrive and drive without having to spend 1000s of dollars on go-karts and other equipment to be able to experience real racing.
Their professional crew will help you to become better with your lap times and you can expect improvement in your skills, they will even take care of inspections of your karts after each session.
Their rental karts are extremely fast, 28 hp engine and 75 mph top speed! They do not have their own Kart tracks, they travel through the midwest for kart tracks. Contact them for additional information.
3. WILMINGTON RACEWAY PARK
Min Requirement:
15 Years or Older

One of the best tracks in Ohio, this place is worth a visit, even if you're not a competitive racer and just want to experience outdoor Karting, they have karts and a track available for rental.
Kart owners get to experience a 1-mile long track with multiple configurations to completely test you out or prepare you for the next race. Do contact them before visiting to know if the tracks and karts are available to rent on any particular day.
What People Are Saying About WILMINGTON RACEWAY
"Very neat and clean facility. The track is very technical, fast, and not too many bumps. Easy to get to with hotels and restaurants within 5 miles."

– Chardon (Google Review)
4. Scene75 Entertainment
Min Requirement:
10+ and 56″ to drive
32″ to ride on double seater karts.

Pricing (Rental Karts):
$10 per driver

Visit their Website for Up-to-date pricing, opening-hours, and Online Booking
Scene 75 are famous for a lot of their attractions and Go-Karting is one of them, this isn't the place with the fastest go-karts or a place to start your driving career but it is still fun to visit with your family especially if your family has 4-9-year-olds.
Apart from their go-karts, they have Arcade, drop tower, Laser tag, and much much more. Food and drinks are available in the center.
What People Are Saying About Scene75
"Went to this place over the weekend with my family. My kid and wife enjoyed it here and it's really a fun place. No admission fee but we need to pay for each game and that's not expensive. We loaded $50 and spent about three hours and we will definitely plan to go back as we didn't cover the whole place. We missed the inflatable park as it was closed during the time we visited.."

– Rajasekar Murugesan (Google Review)
Apart from the track mentioned in the list, there are a few other amusement parks that offer Go-Karting. If you're a kart-owner then there are a few good tracks in Cincinnati.