The 3 Best Go-kart Tracks in Louisville
When it comes to Go-Kart tracks in Louiseville, you have got a few options to choose from. Whether you're looking for a place to celebrate your kid's upcoming birthday or an outdoor track to challenge your friends to a race, there is a track for everyone's needs.
Go-Karting for the first time? There are a few rules common across all the facilities:
To be able to race, you must sign a waiver or get it signed by your parent if you're under 18.
You must wear closed-toe shoes while driving.
If you have long hair then the hair has to be pulled back in a pony tail or bun.
You won't be allowed to drive if you have heart issues or back issues (Consult with your doctor, or other qualufied healthcare professional to know if you are allowed to drive).
Other than that, every karting center has its own rules for minimum height/age requirements to enter a race (we have included the minimum requirements of all the centers in the list, please check the requirements before you visit).
Everything else including the go-karts, helmets, etc can be rented from the facility. If you've never driven these small karts before, don't panic, the instructors in most of the tracks will guide you through the process.
Here is the list of best Go-Kart Facilities for you to visit if you're in Chicago!
Bluegrass Karting and Events – Best Indoor Go-Karting in Downtown Louisville
Kart Kountry – Best Outdoor tracks for Go-Karting
Malibu Jack's Louisville – Amusement park with Go-Karts

Alternative Amusement Park with Go-karts: Renaissance Fun Park
1. Bluegrass Karting and Events
Min Requirement:
48″ (Junior Karts)
60″ (Adult Karts)

Pricing (For Karting):
1 Race – $23
2 Races – $42
3 Races – $62
+ $7 annual membership (required to be able to race)
(6 minutes of racing per session)

2 Hour Pass (for Karting, Axe Throwing, and Rage Room)
$55 – Online Booking
$60 – Walk-In

Check their Website for Up-to-date pricing, opening-hours, and Online Booking
Bluegrass Karting & Events is Louisville's best indoor karting facility. If you're planning for a birthday party, bachelor party, or any corporate event, this place should definitely be considered. This is one of the best Go-Karting centers in Ohio.
Their adult karts can go as quick as 40 mph, their tracks are approximately 1000 ft long and will for sure test your skills.
If you're going to challenge your friends to a race in here, have a look at the best path for the track to gain a little advantage 😉
(Source: their website)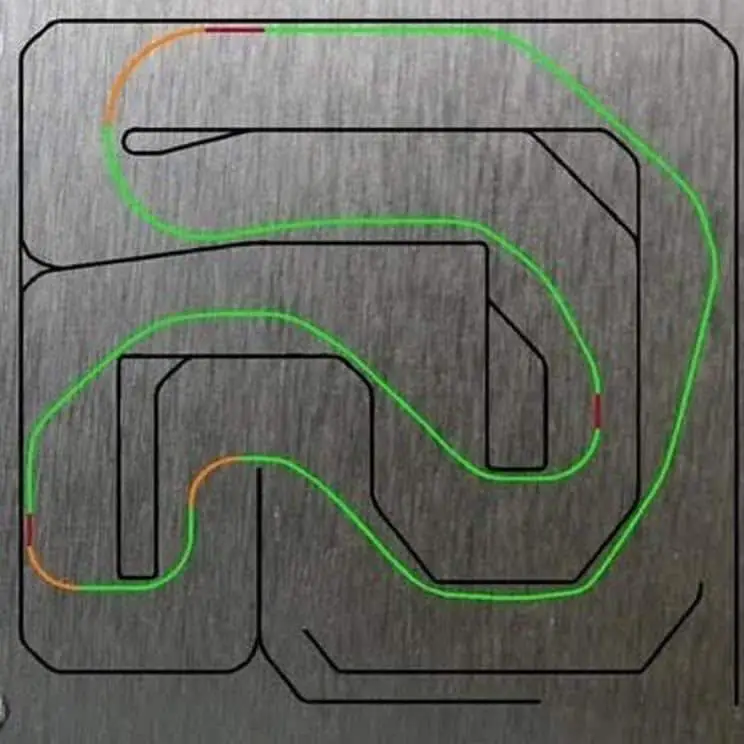 For people more serious about karting and looking to get into competitive racing, Bluegrass Karting organizes leagues regularly, they even have a racing camp for 7-15-year-olds.
Add Axe-throwing to Karting and it's not difficult to see why this place is rated so highly. Overall, this is the place to try out, doesn't matter whether you're a pro or a beginner looking to experience some adrenaline rush! This is the best place for go-karting in Louiseville
What People Are Saying About Bluegrass Karting
"We did the 3 hour race package for my brothers bachelor party and all had an incredible time. Would like to thank the staff for doing a great job and really going out of there way to keep it exciting and fun. Can't remember the girls name that worked behind the counter, but she really went out of her way to help us out with our food, drinks and tickets. Awesome time! Definitely will come back!."

– Christopher Obryan (Google Review)
2. Kart Kountry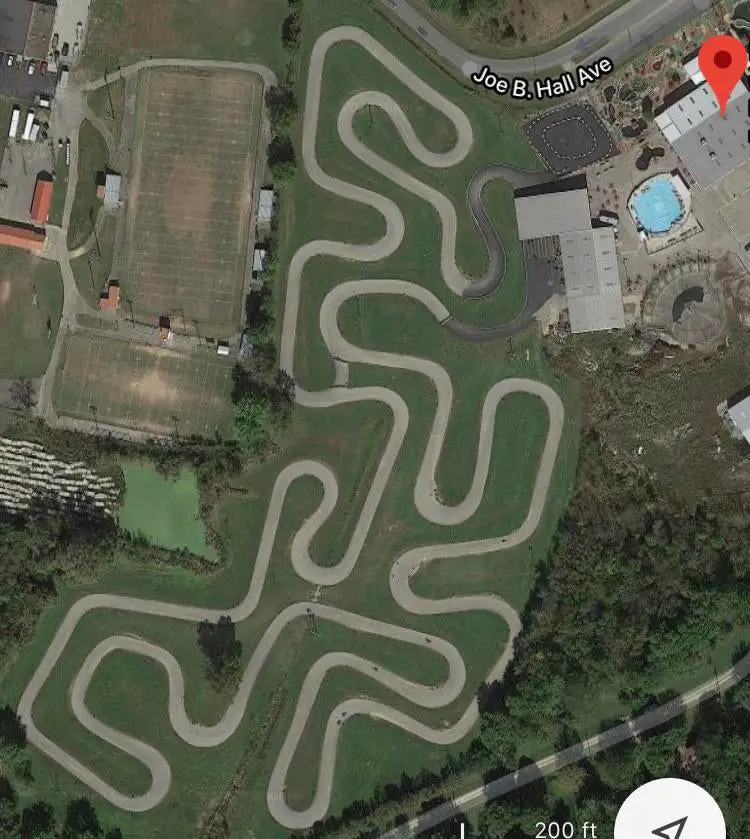 Min Requirement:
4′ and 7 years old (kid's karts)
5′ and 10 years old (Junior Karts)
5′ & 14 years or above (Adult Karts)
5′ & 16 years or above ("Thunderbolts" Karts)

Pricing :
1 lap – $7
5 lap – $32

Visit their Website for Up-to-date pricing, opening-hours, and Online Booking
Kart Kounty located in Shepherdville is the best outdoor track in Louisville. Famous for their looong tracks. Seriously, their tracks are really long, 1.5 miles to be exact. You can have 3-4 laps in a usual indoor track equivalent to 1 lap in here.
They have karts for almost every age group. Other than Karting they have mini golf, arcade, batting cage, bumper boats, and more. This place could be really fun to visit with your family.
What People Are Saying About Kart Kountry
"We loved this place!!!! Everyone was so friendly and helpful. We purchased the 5 attractions for $27 which was the best deal. We rode the go Karts 3 times, the bumper boats and played the 18 hole mini golf. We played in the arcade afterwards. This was a great family friendly experience!"

– Amber Evans (Google Review)
3. Malibu Jack's Louisville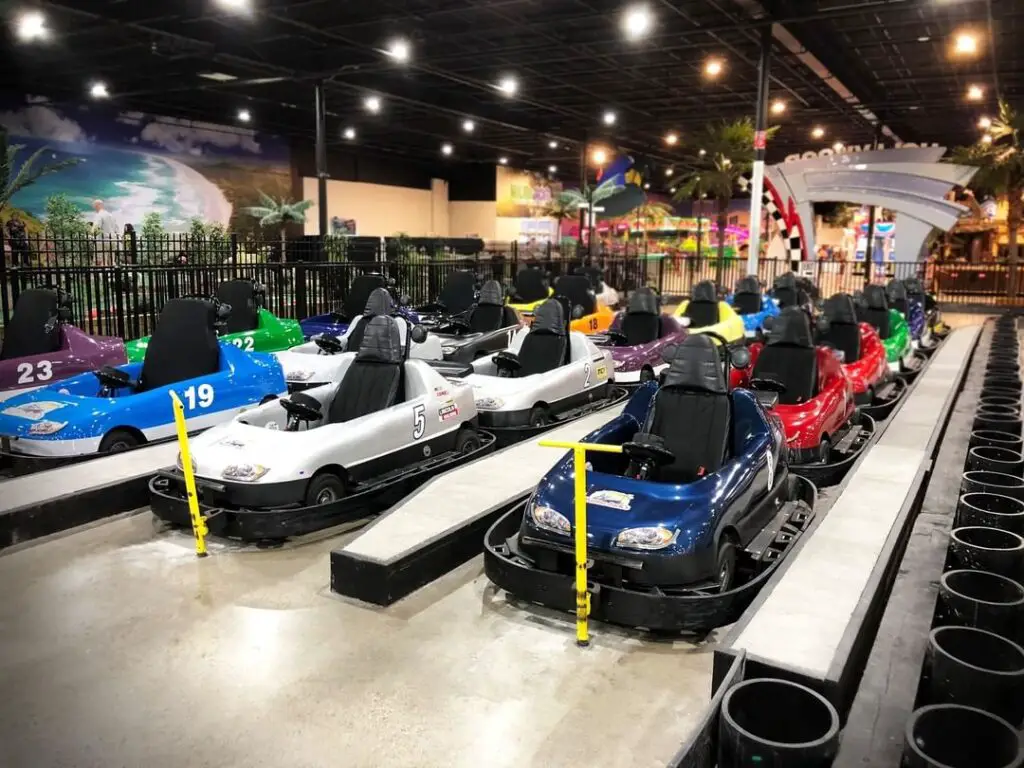 Min Requirement:
56″ and 10 years old or above to drive
38″ and over 4 years old to ride

Pricing (Rental Karts):
$7 per driver

Visit their Website for Up-to-date pricing, opening-hours, and Online Booking
Malibu Jack's is an amusement park in Louisville which offers Go-Karting. You don't have the fastest karts but they sure are fun, especially for kids around the age of 4-7, they can enjoy a ride while you drive.
They offer laser tag, miniature golf, bumper cars, arcade games, kids play zone in addition to go-karts. Overall, this is a fun place to be if you've got younger children.
What People Are Saying About Malibu Jack's
"My kids enjoy themselves here they have everything bumper cars a bowling alley golf virtual reality arcade game and more"

– (Google Review)
There aren't any Outdoor tracks for leagues or professionally made outdoor tracks in Louisville but if you don't mind traveling, there are some good options in Cincinnati.