Honda 400EX Oil – Type, Change (Complete Guide)
When it comes to Oil, different people prefer different types and brands and this is true for all kinds of motors. I can share what's recommended by Honda themselves, what you can use in cold temperatures and the brands we like.
The owner's manual of Honda TRX 400EX recommends using SAE 10w-40 JASO T903. JASO T903 is a globally recognized standard for 4-stroke motorcycle oils. In other words, you cannot use a random car oil, you must use motorcycle oil.
Regular car oils have energy-conserving additives, which will make your clutch slip, and can damage the clutch in the long run. The user manual clearly states not to use any oil that contains molybdenum or graphite additive.
If you have been using an automotive oil, and have developed a slip, you will have to replace the clutch disk eventually.
SAE Numbers Explained
If you are confused about what the numbers "10" and "40" in 10W-40 mean, they simply describe the viscosity of the oil at low temperature and 100°C respectively. You can think of "W" as "Winter". So the first number indicated the viscosity at low temperature.
When Viscosity is low, the oil will be thinner and flow better but due to its low thickness, it won't be able to provide good resistance to wear.
So the oil is made such that, the viscosity is low at low temperature and high at operating temperature, since the wear and tear is more at operating temperature.
Different Oil for Winter & Summer?
Unless you live in an extremely cold (less than 0°F) or extremely warm region (more than 100°F), 10W-40 oil is good enough. Here's a Chart showing the different oil you can use depending on the surrounding temperature –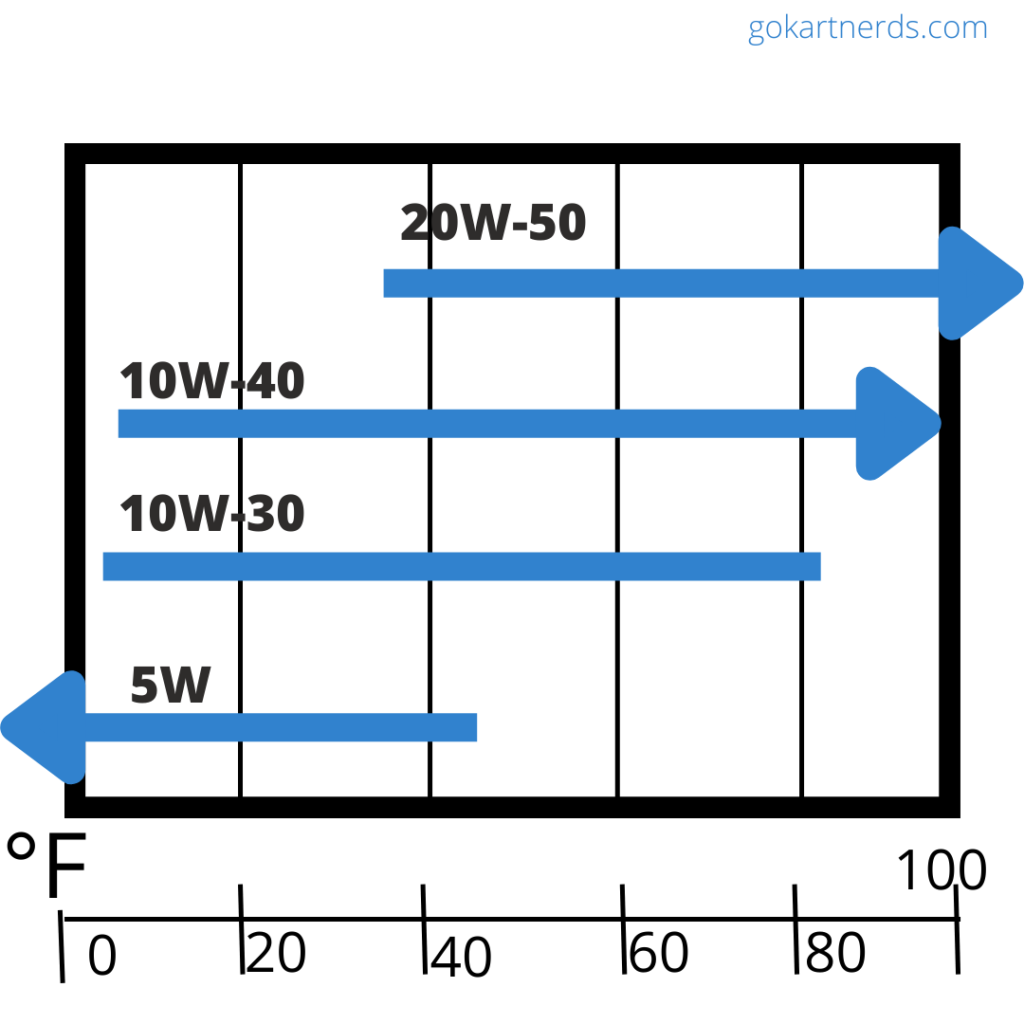 In winter you can let the engine warm up and oil spread before you take it out for the ride with a 10W-40.
Some people do use 10W-30 Oil in Winter since it is thinner at working temperature, while some also use 0W-40 in winter so that the oil flows better initially. If you live in a region where temperatures can go below 0 farenheit, you might have to use a SAE 5W Oil.
10W40 Oil works well upto 100 degree farenheit. For regions exceeding that, you will have to use 20W-50 Oil.
To sum it up, it is up to you to decide, use the above chart as reference.
Synthetic vs Conventional
I would recommend always using synthetic Oil, regardless of the viscosity of the oil. Synthetic oil provides much better protection to the components and it flows better. Since the transmission utilizes the same oil as engine, I highly recommend you choose the high quality (even if it's slightly more expensive).
Best Oil for 400EX
This is the Oil recommended by Honda in the user manual. It's a conventional oil that will give you a solid performance over a long period of time. If you have any other ATV or motorcycle that need a 10W-40 Natural Oil, this will be a good choice.
This is a fairly priced sythetic oil with no moly additives, therefore making it safe to use with wet clutches.
There are a lot of other options that you may choose from, just keep in mind that the oil should not have additives that can damage the clutch.
Note – You'll need to get a new Oil Filter along with the oil, if you plan on replacing the Oil.
How to Check, Add Or Change Oil – Step by Step
Before you read through, I will remind you that you can find a mechanic for changing the oil if you do not like to or don't have the tools to DIY, it might also be easier for you to understand the process via a video, in which case you can search youtube.
If you prefer written form, then continue! The procedure is same for all Honda TRX 400EX, regardless of the year they were made in.
Parts & Tools you will require
2 Quarts Oil, Oil Filter, Sockets (8,12 & 14 mm), Funnel and Pan (to drain on).
Step by Step Process
Turn on the engine and warm it up for a 5 minutes, so that the oil is less viscous and flows better, therefore easier to drain (if your surrounding Temp is low, you may have to warm it up longer)
Place the drain pan under the engine.
Remove the Dip Stick, clean it and Reinsert. The recommended oil level is the marks "3" and "4", you may add to the oil or change it. If you want to change the oil, read further.
Remove the drain bolts on the oil tank and left crankcase.
Make sure not to loose the Crush Washers (unless you have a replacement, you'll need to reuse it)
Loosen and remove the Oil filter, without removing the spring behind it.
Replace the Oil filter and Reassemble. The bolt Torque recommended (by user manual) are –
Oil tank bolt – 14 lbf-ft
Crankcase Drain Bolt – 18 lbf-ft
Oil Filter Cover – 7 lbf-ft
Refill the Oil to the upper level mark.