Best Go-kart Tracks in Rochester and Nearby
Rochester has one of the best outdoor tracks of New York, and an Indoor rental karting track. Safe to say, it's a perfect place to be in if you're at all interested in Karting. The only thing missing is an outdoor karting facility with rental karts, and unfortunately, the nearest one is about 5-6 hours away.
Alongside the tracks dedicated entirely for karting, there is also an Amusement park with go-karts. Here are the best tracks you can visit from Rochester:
Indykart Raceway – Indoor Rental Karting
Genesee Valley Kart Club – Karting Club with Outdoor Track for Kart Owners Only
LaFayette Motorsports Park – Outdoor Track for Kart Owners Only
Clubhouse Fun Center – Amusement Park with Rental Go-Karts
1. Indykart Raceway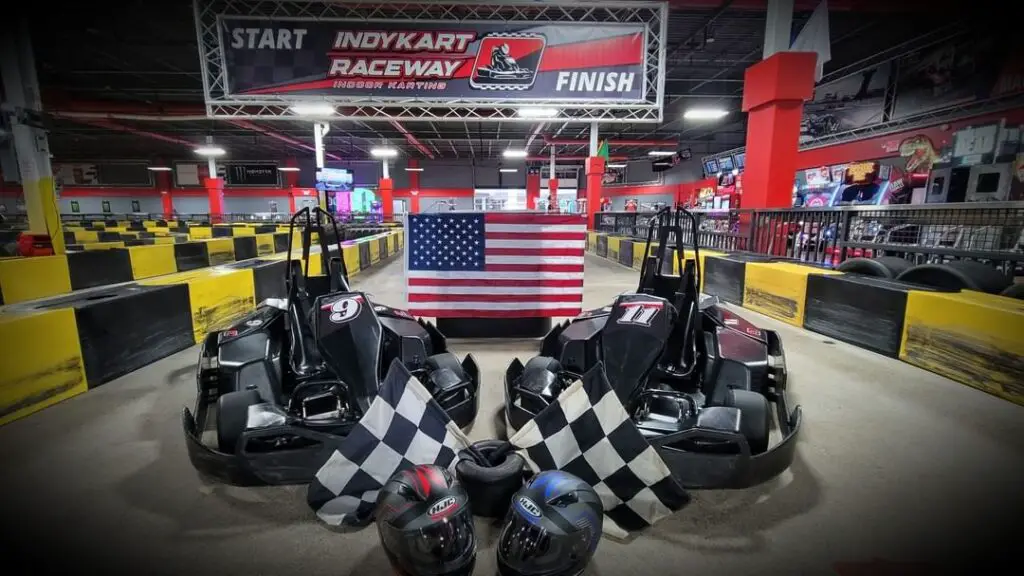 Min Requirement:
4′ and 6 Years old (Junior Karts)
4'10" (Youth Racers)
4'10" and 16 year-olds (Adult Racers)
Pricing (Non-Members):
$20 – 1 Race
$54 – 3 Races
$160 – 10 Races
Pricing (Members):
$16 – 1 Race
$42 – 3 Races
$120 – 10 Races

Annual Membership Costs – $50
(Includes 3 free Races)
Each Race is 14 Laps for Adults/Youth and 10 laps for Juniors. Each race is approximately 7-8 minutes long.
Check their Website for Birthday Party/Corporate Events Packages

Visit their Website for Up-to-date pricing, opening-hours, and Online Booking
Indykart Raceway in Rochester is an indoor go-karting facility with electric karts that can reach 45 mph (on Adult Karts).
This is the best place to visit if you're looking for a place to celebrate birthdays or to arrange any type of group events to go along with go-karting. The birthday party package costs $250 and $320 for a group of 8 and includes 1 race and 2 races (for each guest) respectively.
Corporates can rent the whole facility for $1000/hour.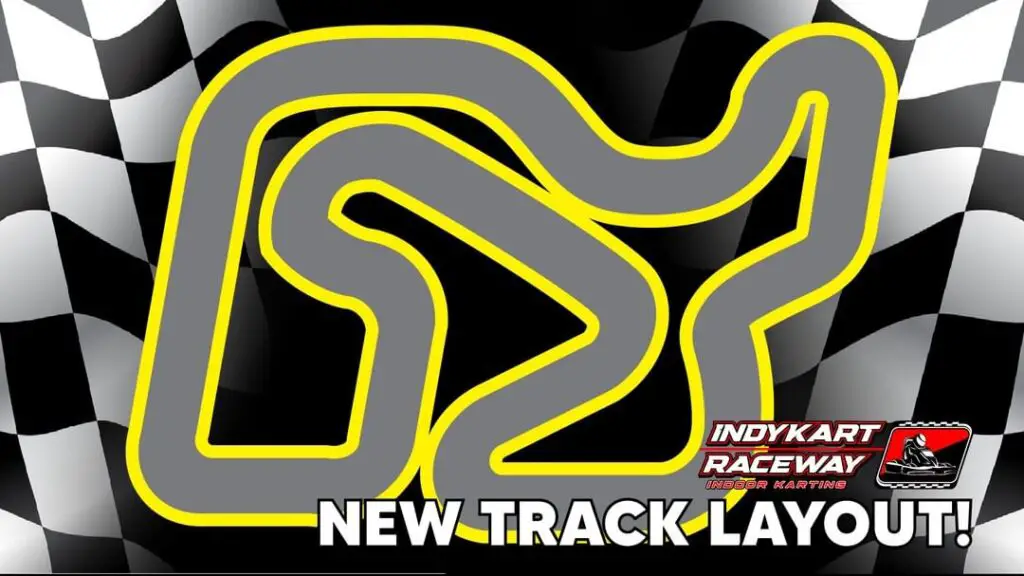 They have several track layouts including an Oval track that they open for rental occasionally.
The track has a bit of everything, decreasing radius turns, increasing radius turns, 90 degrees, hairpin turns, and a straightway path to speed it up!
Note: Juniors and Adults have separate tracks and karts and need to race separately.
Even though Rochester has some amazing outdoor tracks for league racing, Indoor leagues can still be a great way to start if you're a beginner.
Indykart raceway has currently got 2 types of league racing. Endurance racing happens once every month and the seasonal league takes place in March and in Winter. The entry for racing on each night of league racing is $55.
2. Genesee Valley Kart Club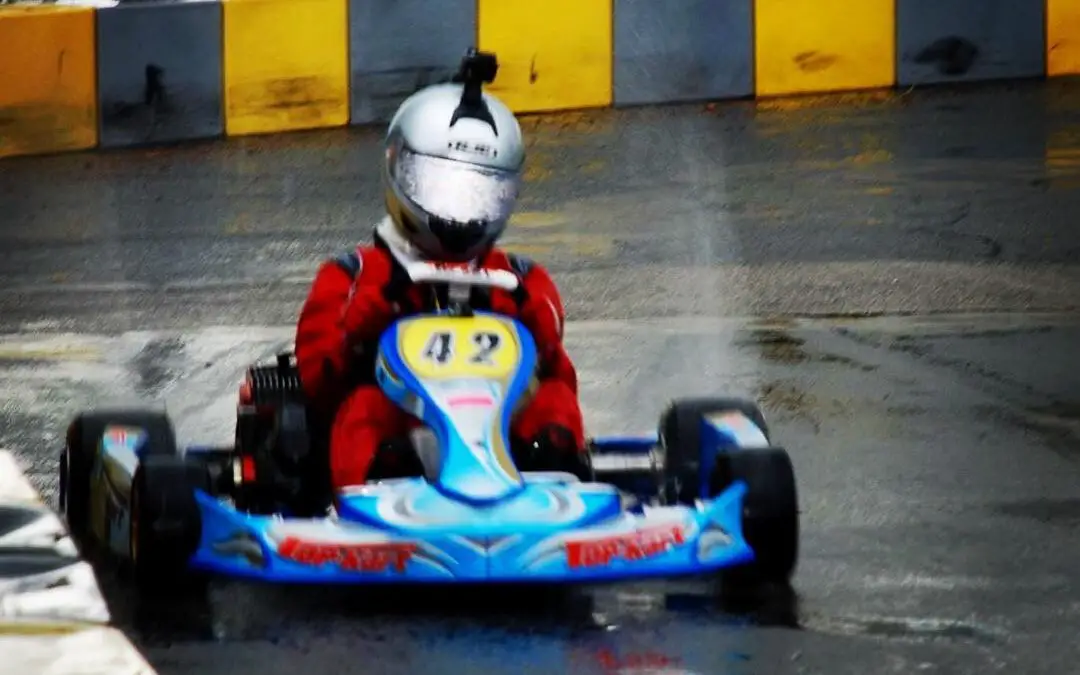 Min Requirement:
5 Year Old

Check their Website for membership pricing and up to date schedule
GVKC is a karting club for kart owners, they are not a rental kart facility. However, you can watch club races on Sundays for free.
They organize their own club racing that runs from April to October on Sundays. Saturdays are for practice.
Classes
LO206 – For Every Age Class
Comer 50cc – Kid Karts
KT-100, Mini Roc 60cc, Mini Swift 60cc – Cadet
KT-100 and KA-100 – Juniors
KT-100, KA-100, and Shifters – Adults 
Track
They use 4 different layouts of the track including an Oval track. Check all the layouts here.
The track is very straightforward, with not too many turns but still challenging enough.
3. LaFayette Motorsports Park
Min Requirement:
5 Years Old
Go-kart and Engine approved for Racing
Pricing:
$45 – Practice Days
$65 – Race Days

Members get discounts.
Arrive & Drive Program – Currently closed

Check their Website for Up-to-date pricing, opening-hours, and Online Booking
LMP is one of the best outdoor tracks in NY, located in Lafayette (about 2 hours away from Rochester). They used to have an "arrive and drive" rental facility but have currently closed that service.
They also have an on-site kart shop to maintain parts of both Rotax and IAME engines in the shop. Any kind of kart repairing can be done by their experts.
Just like other outdoor tracks, the facility is open between April and October and closed in winter. Fridays are usually practice days, Saturdays and Sundays are open for both practice and league races (if any are scheduled).
Leagues
Spartan Mid-Atlantic Kart Series
Rotax Max Challenge Trophy Series East
Both these leagues utilize the LMP track along with the OVRP track of Cuddebackville and the United karting track of Maryland.
Spartan Mid-Atlantic series is a 6 round series that takes place between August and October. Rotax's series takes place between May to July and is a 4 round series.
Classes
LO206 – For Every Age Class
Comer 50cc, 50cc Honda – Kid Karts
80cc Comer, Mini Rok 60cc, Mini Swift 60cc – Cadet
KT-100, Vortex 100cc, and KA-100 – Juniors
KT-100, Vortex 100cc, KA-100, X30, Rok GP and a few other 125cc TaG Engines – Adults 
Track
The track is 0.5 miles long, with the largest configuration having 10 turns, it has a hairpin turn, a few decreasing radii, a few increasing radii turns, and a chicane turn.
4. Clubhouse Fun Center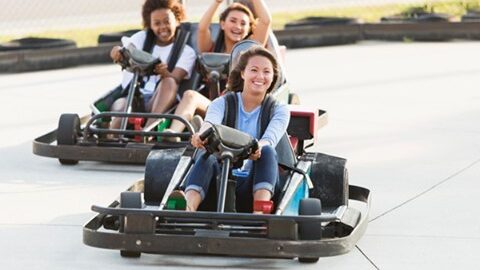 Min Requirement:
48″ (Rookie Karts)
58″ (Junior Karts)
36″ (Passenger in a Double seater)

Pricing (Per Session):
$8 – Rookie Kart
$10 – Junior Kart
$12 – Double Seater

Each session is about 5-6 minutes long

Check their Website for Up-to-date pricing, opening-hours, and Online Booking
Clubhouse fun center is an amusement park with Go-karts for rental. The minimum height required to drive here is 48″.
Apart from Karting they also have mini golf and Arcade games. Birthday parties and other group events can be hosted in the park, with options to do unlimited karting for 2 hours with the guests!
Note: If this is your first time karting, you should be aware of these rules that are common across all the facilities:
Wear closed toe shoes
Long hairs should be tied back and out of the way (please do this, hairs getting stuck in the kart can cause horrific accidents)
Wear Comfortable clothing
Most importantly, follow the instructions given on the track.
Did we miss out on any other nearby track? Let us know and we will check them out!