Best Go-Kart Tracks in Lake George (& Nearby)
1. Adventure Family Fun Center
Min Requirement:
58″ to Drive
3 years old to be a passenger
Pricing (Non-Members):
$7.50 – Drivers
$2 – Passenger

$40 – 2 hour unlimited driving

Visit their Website for Up-to-date pricing, opening-hours, and Online Booking
Adventure Family Fun Center is the perfect place to visit with your family! They have indoor as well as outdoor tracks for Go-Karting. Indoor tracks are open almost throughout the year.
Birthday parties or any other kind of group event can be booked. 8 people group events are priced from $265-350 and give complete access to all the activities for 2 and a half hours!
Apart from Go-karts they also have laser tag, paintball, bumper karts, and a few other attractions. Overall, if your priority is a fun time with your family then this is the place to visit.
2. Turkey Trot Raceway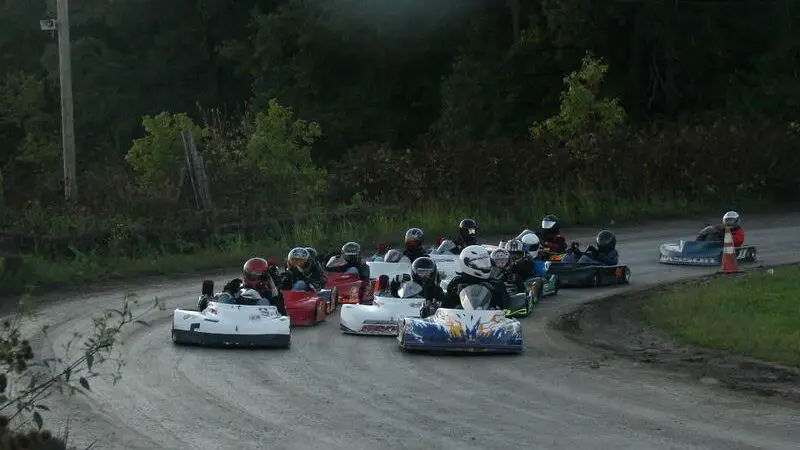 Min Requirement:
7 Year Old
Go-Kart & Engine Approved for your Class

Check their Website for membership pricing and up to date schedule
TTR is an outdoor karting track for kart owners, located in Fort Edwards. This facility is perfect if you're into oval track racing!
The track is open from April to October for practice and championships. They currently host 2 championships, their members also receive weekly points which are tracked throughout the season.
Classes
Classes are divided on the basis of age, weight and the restrictor used. WKA 5HP BRIGGS is the engine used in all the classes.
Track
3. Caroga Creek Raceway

Check their Website for Up-to-date pricing, opening-hours, and Online Booking
Yet another Dirt Oval track, this one located in St Johnsville. Racing is usually scheduled to take place on Saturdays. Contact them on FB for more info.
Track
Note: If this is your first time karting, you should be aware of these rules that are common across all the facilities:
Wear closed toe shoes
Long hairs should be tied back and out of the way (please do this, hairs getting stuck in the kart can cause horrific accidents)
Wear Comfortable clothing
Most importantly, follow the instructions given on the track.
Did we miss out on any other nearby track? Let us know and we will check them out!