Best Go-Kart Tracks near Jersey City, NJ
Finding a Karting track that you'll enjoy isn't the easiest thing to do! Most want to be at a center with the fastest karts but the fastest karts are usually found on facilities with Outdoor tracks which themselves are very difficult to find!
Others want to find the best place to host a birthday party or a facility that will be best for a family weekend. In this list, we have covered all the best tracks in Jersey City and nearby regions.
RPM Raceway – Indoor Track in Jersey City
Oakland Valley Race Park – Nearest Outdoor Track
Staten Island FunPark – Amusement Park with Go-Karts
The Funplex – Amusement Park with Go-Karts in East Hanover
1. RPM Raceway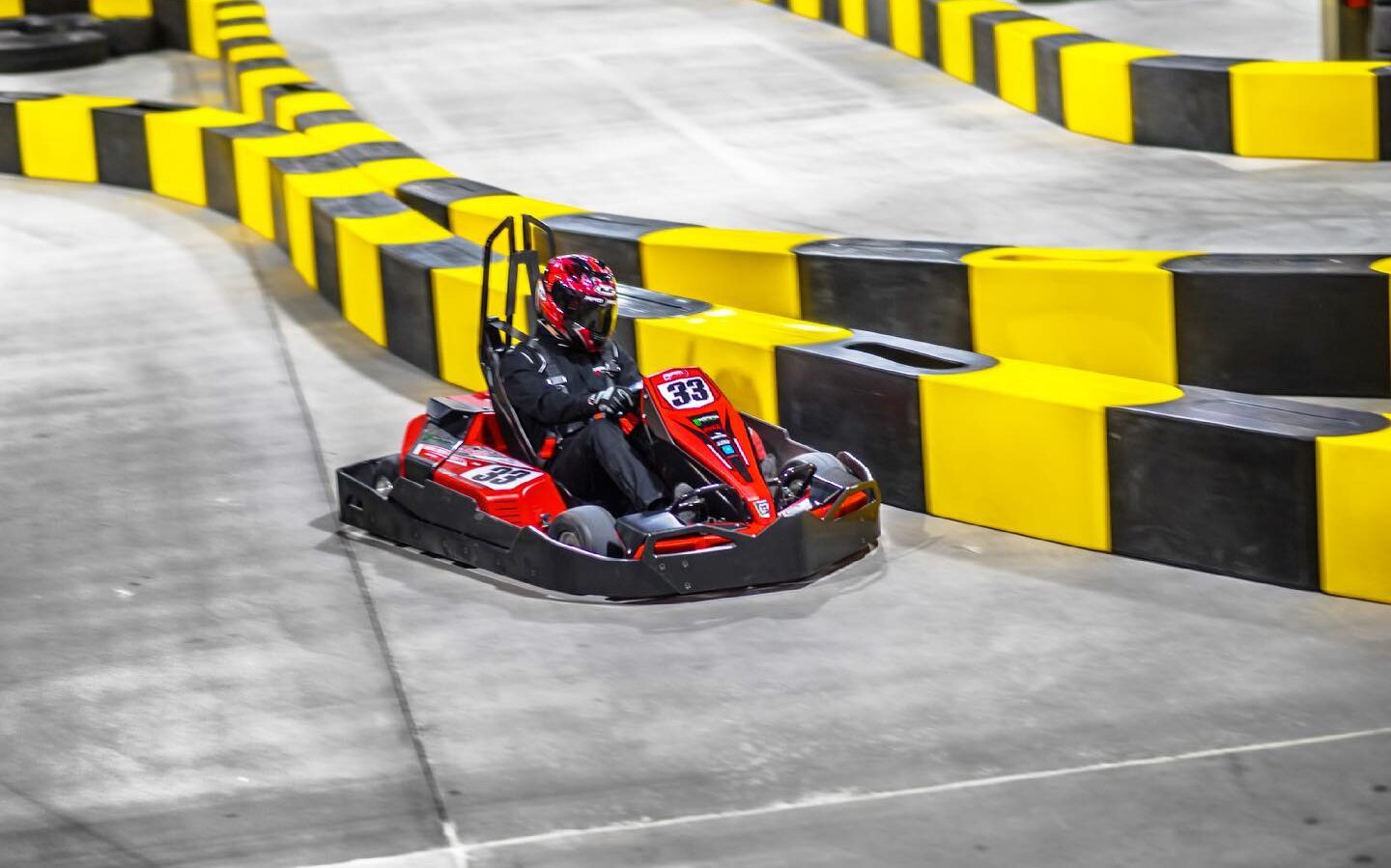 Min Requirement:
48″ and 6 Years old (Junior Karts)
58″ and 13 year-olds (Adult/Teens Kart)
Pricing (Non-Members):
$30 – 1 Race
Pricing (Members):
$20 – 1 Race
$50 – 3 Races
$100 – 7 Races

Annual Membership Costs – $65
(Includes 3 Races)
Each Race 15 Laps for Adults and 8 laps for Juniors. Each race is approximately 10 minutes long.
Check their Website for Birthday Party/Corporate Events Packages

Visit their Website for Up-to-date pricing, opening-hours, and Online Booking
RPM Raceway is your best option for Go-kart racing in Jersey City. They are located in multiple locations in NYC and NJ, the one closest to you is located in Jersey City itself!
They have 3 Indoor tracks in the facility, two of which are 1/4 mile long tracks with one of them having mostly 90 degree turns while the other having mostly hairpin turns. The third track is open on Mondays and is a combination of tracks 1 and 2.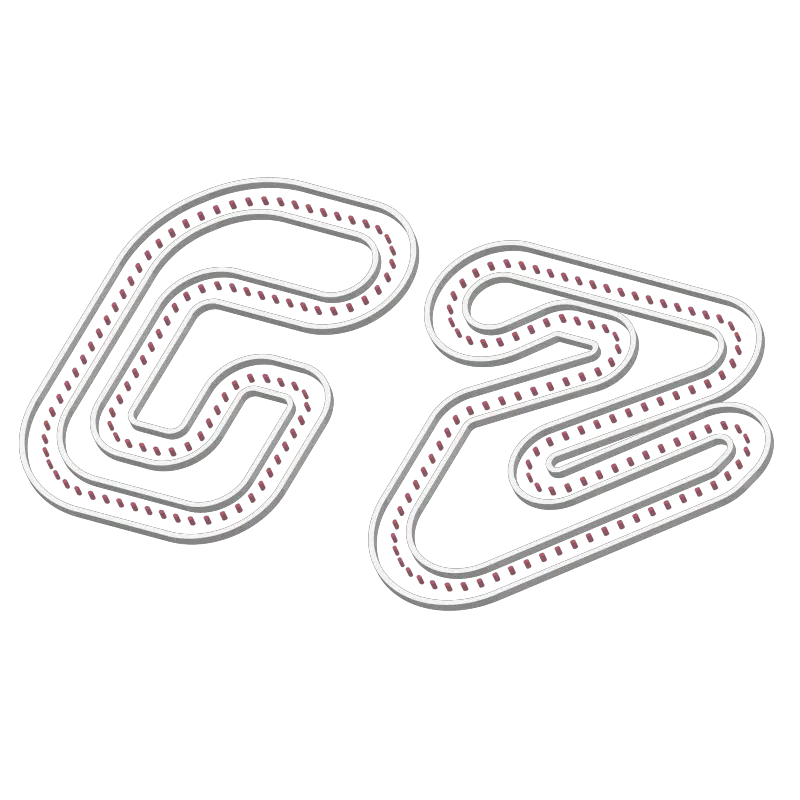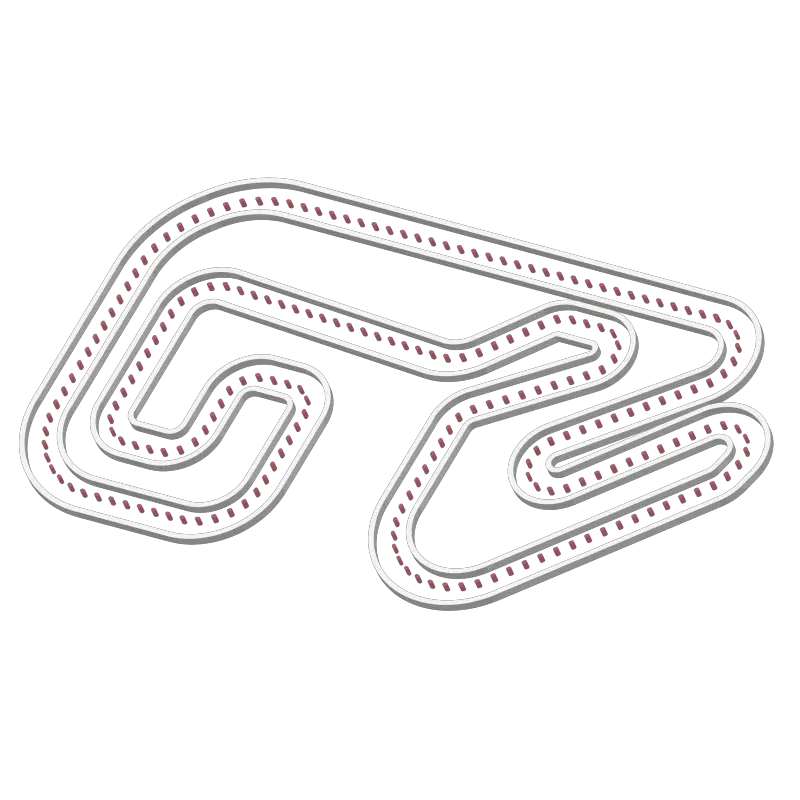 The Go-karts are Electric. Adult karts can reach 45 mph! Licensed drivers can try faster karts.
Go-karting is mostly popular for a weekend outings or for celebrating birthday parties. If that's what you're looking for then you can reserve the track for your group/family.
The pricing for group events starts at $40/person for kids and $60/person for Adults. You'll be allowed to have a few races against your group. Check their website for more details about group events.
Finally, let's talk about professional racers! Racing is an amazing hobby/sport to get into for both kids and adults. While the best form of kart racing happens on outdoor tracks, Indoor tracks are a great way to get started on a low budget.
RPM Raceway organizes league racing once every week throughout the year. To be able to participate you must be at least 58″ and have a driver's license. You can also take racing lessons from professionals on the track.
Apart from Go-karting, they also have racing simulators and VR racing, which can also be used as a starting point to learn the basics of racing. Bowling and Arcade games are also present in the facility for waiting time (Saturdays can have a long waiting time).
2. Oakland Valley Race Park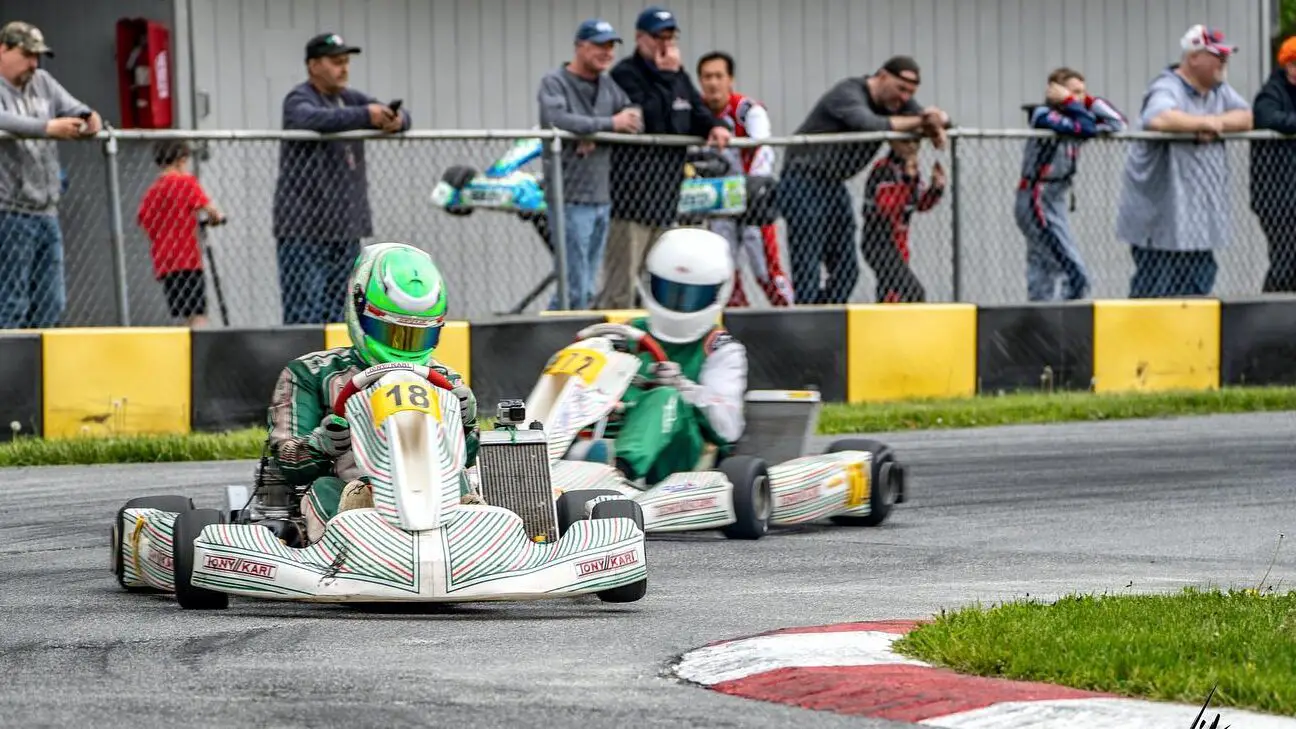 Min Requirement:
48″ (Junior Karts)
60″ (Adult Karts)

Pricing (Rental Karts):
$30 – 1 Session
$56 – 2 Sessions
$88 – 4 Sessions
Pricing (Kart Owners):
$65 – Day Pass (Non-members)
$45 – Day Pass (Members)

$15 – Pit Pass (Need to be paid by everyone)


Note: Track is Open Only between April and November

Check their Website for Up-to-date pricing, opening-hours, and Online Booking
Unfortunately, there aren't many outdoor rental tracks near you, the closest one is in Cuddebackville, NY, and is approximately 90 miles away from Jersey City. However, it is worth at least one visit because there is no Indoor karting that can compete with an Outdoor Track (IMO).
OVRP has Gas-powered go-karts for rental that can go as fast as 50 mph! If you're an experienced karter, you can get an even faster kart. The rental karts have 4-stroke engines, so you won't be driving a true racing kart but they are very close.
There is one downside to outdoor tracks, they are not open throughout the year due to weather. OVRP is open between April and November and you'll need to make a reservation if you want to race. It's best to contact them before making a visit since you'll be traveling a long distance.
Kart owners can go for practice sessions and participate in NY championship races. Classes are the usual 2-stroke engines, 50cc for kids, 60 and 100cc for juniors, and 125 TaG and Shifters for Adults. LO206 classes are also available for Adults and Juniors.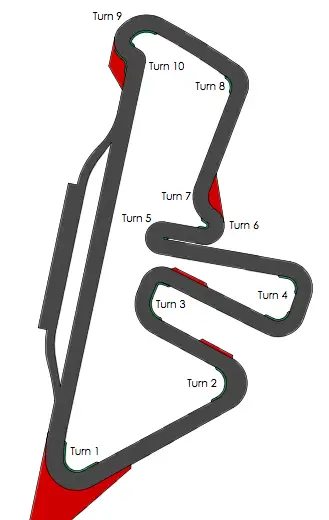 Their sprint Track is 3/4 miles long and has 10 turns that include 1 hairpin turn,1 double apex a few right-angle turns, and a few decreasing radii turns.
They also have a 1/5 mile long Oval Track!
3. Staten Island FunPark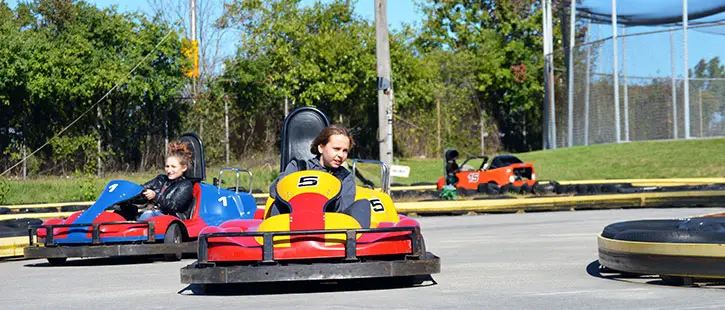 Min Requirement:
58″ To Drive
40″ For Passenger

Pricing:
$9 – 1 Session (Drive)
$5 – 1 Session (Passenger)

Visit their Website for Up-to-date pricing, opening-hours, and Online Booking
An amusement park in Staten Island (~26 minutes from Jersey City), they have Go-karts along with their other attractions.
Amusement park Go-karts aren't going to be the fastest. You can expect a top speed of 20-25 mph at max from any Amusement Park Karts.
However, they have their benefits in the form of double seater karts. Anyone above 40″ can be a passenger in a double seater.
Apart from Karting, they also have a mini-golf arena and batting cages. Birthday parties or any other group parties can be hosted. Birthday parties cost about $475 for 12 participants, you can check all the activities available for parties on their website.
4. The Funplex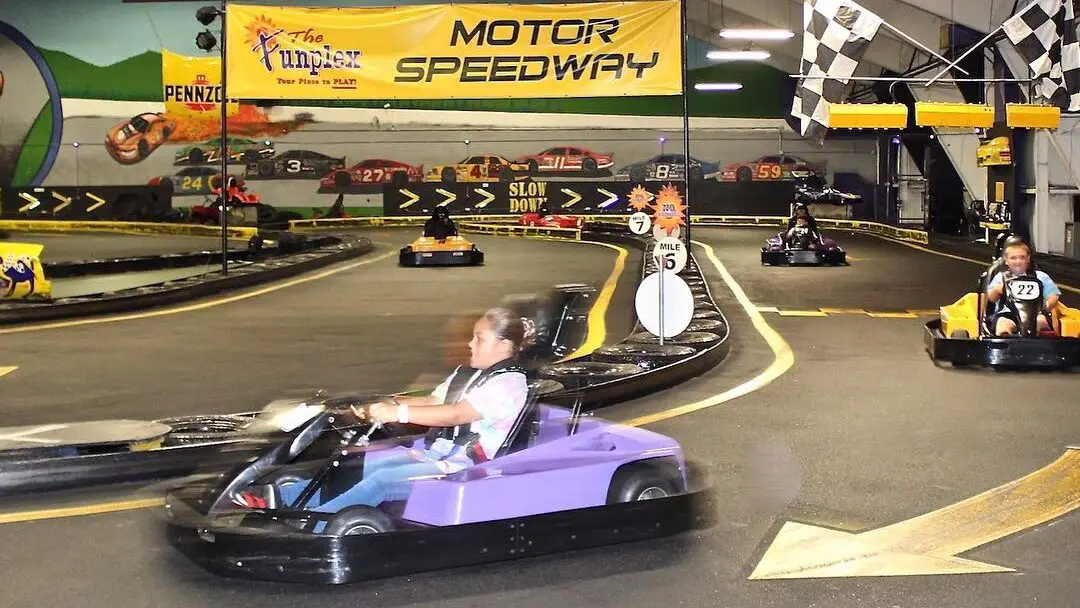 Min Requirement:
54″ (To Drive)
40″ (Passenger)
Pricing:
$8 – 1 Seater
$10 – Double Seater

Visit their Website for Up-to-date pricing, opening-hours, and Online Booking
The funplex in East Hanover is another amusement park near you with a Go-kart track. Their Go-karts are electric and are speed-adjustable! However, do not expect them to be very fast.
They have loads of attractions apart from Karting, this includes bowling, bumper cars, Hologate, laser tag, and more. They also have a waterpark!
Birthday parties can be hosted, starting from $300 for 10 people's passes for 2.5 hours. They also have multiple cafes in the facility so food won't be an issue!
Overall, this place can be a fun visit with your family, especially for the younger members.
Note: All go-karting facilities require you to sign a waiver or get it signed by your guardian (if you're below 18). Make sure to wear closed-toed shoes, and follow other instructions given by the instructors on the track.
And that's the end of our list. Did we miss out on your favorite track? Let us know and we'll check it out! If you're willing to make a longer trip, check out our list of best tracks in Philadelphia.