The 5 Best Go-Kart Tracks in Boston & Nearby
Looking for a track nearby to enjoy your weekend? You have 3 Indoor karting options and an amusement park. The outdoor track (X1 Outdoors) is currently closed. Note: Make sure to read the minimum requirements before you visit. The last thing you want is to take your kids to one of these tracks and then realize that they aren't allowed to drive.
1. Supercharged Entertainment
Min Requirement:
58″ to Drive
48″ to be a Passenger in the Double-seat Karts
Pricing:
$26 – 1 Race
$66 – 3 Races
$100 – 5 Races
$166 – 10 Races
Each race is approximately 7 minutes long.
Check their Website for Birthday Party/Corporate Events Packages

Visit their Website for Up-to-date pricing, opening-hours, and Online Booking
Supercharged Entertainment is a multi-level karting track located in Wrentham (40 minutes away from downtown Boston). This is definitely the best Indoor karting option not just in Boston but for Massachusetts in general.
The karts are electric, you can expect 35-40 mph top speed. However, they divide the races into "Pro Speed" with faster karts for experienced karter and "Semi-Pro" with relatively slower karts for newbie drivers.
The height requirements of this place are higher than the competitors, if your kid is smaller than 58″ then they can only be in the passenger seat but I suggest that if the min-height requirements are over your kid's height then you should go to K1.
Track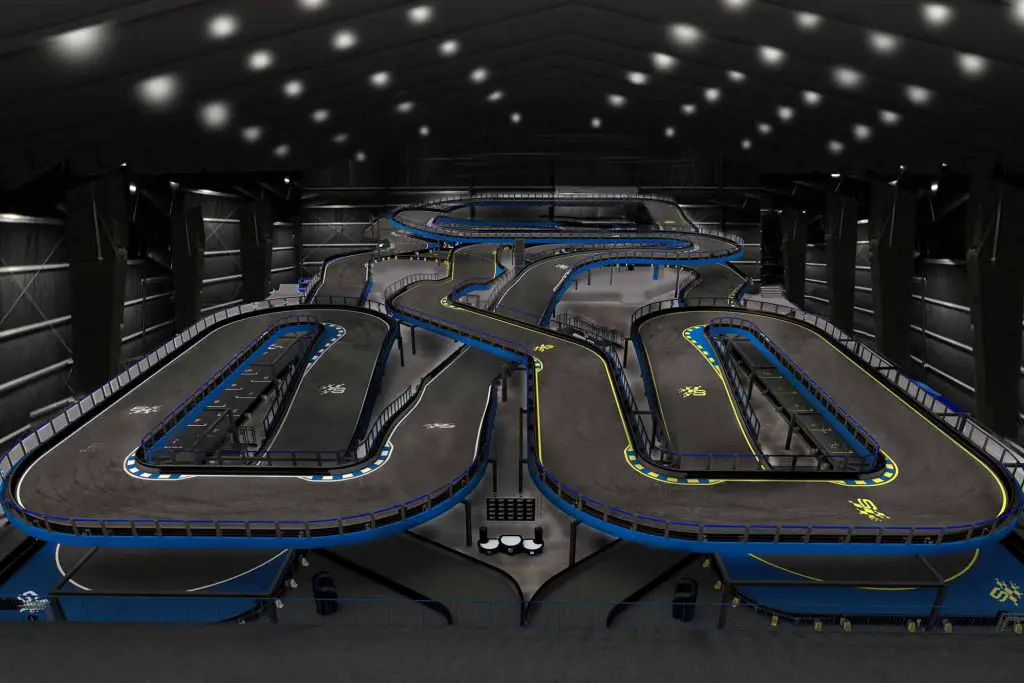 Their track is the world's largest multi-level karting track! The ground floor is 939ft long, the upper floors are 1506ft long, making it in total 2445 ft long!
You'll find all sorts of turns, fast turns, slow turns and of course, you also get to drive in the slopes going up and down between the floors.
Birthday parties or any other group event require 2-week advanced booking. Contact them for the pricing details.
In previous years they have organized league racings so keep an eye on their social media pages if you're interested. This can be a good way to enter the world of motorsports racing without spending too much.
2. K1 Speed
Min Requirement:
48″ (Juniors)
58″ (Adults)
Pricing (Rental Karts):
1 Race – $24.95
2 Races – $44.95
3 Races – $59.95
(+ $8 Annual Membership required)

Each race is 7-10 minutes long.

Visit their Website for Up-to-date pricing, opening-hours, and Online Booking
K1 speed is the biggest indoor go-kart racing chain in the US, located in more than 50 locations throughout the country. The karts in K1 are electric, the Adult Karts are advertised to have a top speed of 45 mph and junior karts can reach 20 mph.
The min-height requirements are lower here in comparison to other tracks in the list, which is a big positive if you have pre-teen kids.
Track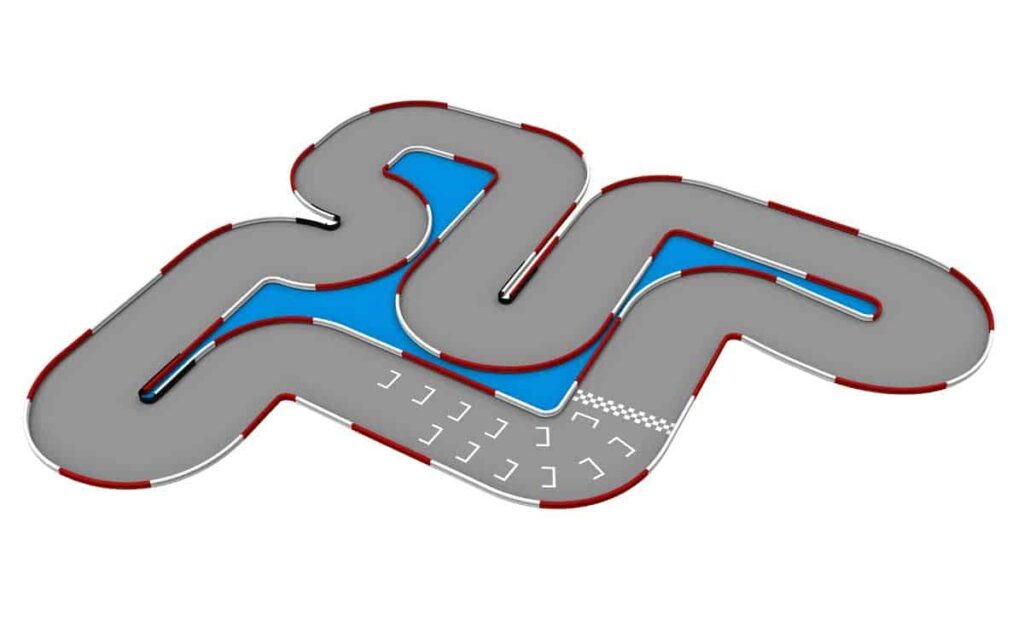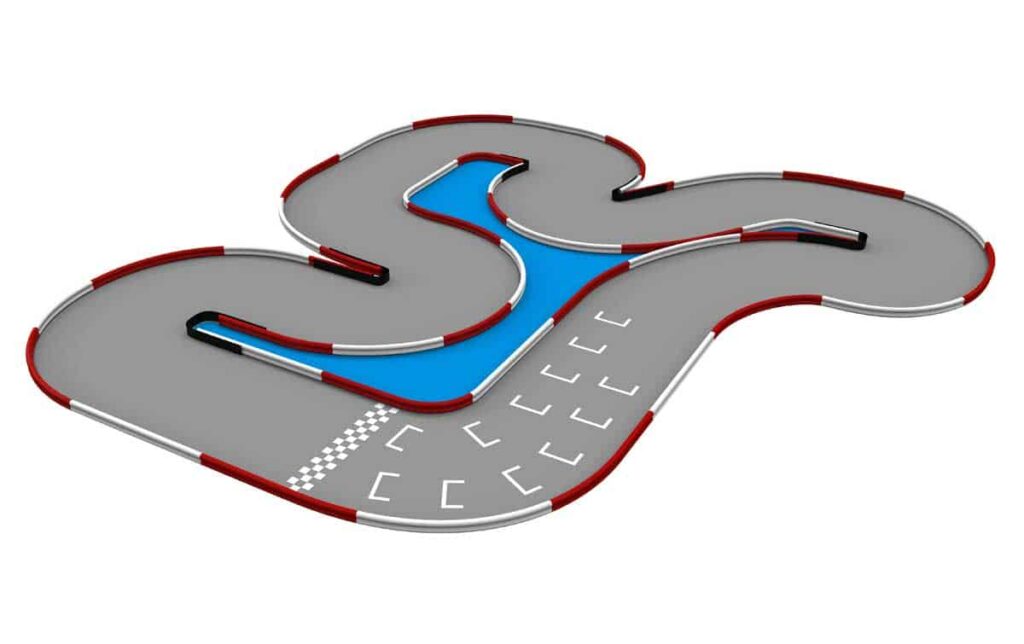 They have two tracks in the facility, both of them have similar turns and look fairly challenging.
Birthday parties or corporate events can be hosted in K1. They provide party rooms along with their track for rental for any event.
For competitive racers, they host leagues for both adult class and junior class. All members can keep track of their lap times and compare themselves with the best racers on K1's website.
3. Apex Entertainment Marlborough
Min Requirement (Age):
58″

Pricing:
1 Race -$25
3 Races: $60
Each Race is 12 laps long


Check their Website for Up-to-date pricing, opening-hours, and Online Booking
Apex Entertainment in Marlborough is another amazing option for Indoor Kart racing. The karts are electric-powered and the track is multi-floor (similar to supercharged entertainment).
The reason you might like to choose this place over K1 and Supercharged is the other attractions they have apart from Go-Karting. This includes Bumper cars, bowling, Arcade, Laser Tag, and many other activities (you can check their website for a list of all attractions).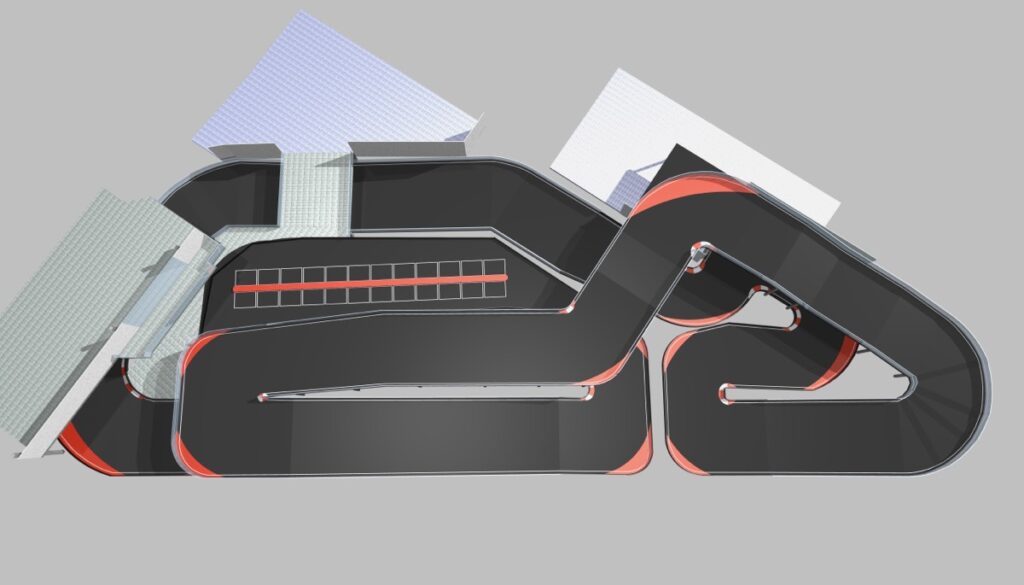 The track was designed and created by PGK. It is multi-layered. You will find all sorts of turns, hairpins, slow turns, fast turns, right angles, and the slope to go up and go down between the floors.
4. X1 Outdoors

Check their Website for Up-to-date pricing, opening-hours, and Online Booking
Currently Closed!
This is/was the only outdoor track near Boston, formally known as F1 Boston they had to change their name (due to copyright issues afaik). It is still not clear whether the track is permanently closed or not.
For competitive racing, this is/was your nearest track from Boston and they used to host multiple series throughout the year. Popularly, the NHKA racing series have a few races scheduled on this track, however, they didn't use this track last season.
Keep an eye on their website to be updated on their situation.
5. Jay Gee's Fun Center
Pricing:
$17 –  1 go-kart ride, 1 round of mini-golf, 1 bumper car ride, 1 bumper boat ride, 1 batting cage token.

Check their Website for Up-to-date pricing, opening-hours, and Online Booking
This place is primarily known for their delicious Ice-Creams but they also have some outdoor activities to go along with their Ice-Creams (Lovely Combo if you ask me!). The pricing is fairly cheap, your kids might enjoy this place. But if you're looking for the fastest karts, then of course this place doesn't compete with the other Indoor Tracks.