A Beginner's Guide to Go-Kart Racing Classes
When you're just starting out on go-kart racing, it's a great idea to learn about different classes and the average cost to race in each class.
Any racing is divided into classes so that no driver has an unfair advantage over their counterparts. In kart racing, Classes are divided based on the Age of the driver and the Engine used on the go-kart.
In addition, each class will have a rule for tires, gearing, and fuel that can be used. The weight of the driver should also not exceed the max-weight limit of each class and there are several other rules that the drivers must follow. These rules aren't the same everywhere, depending on where you live, they will vary.
| | |
| --- | --- |
| Kid Karts | 50cc |
| Cadet | 60cc |
| Junior | 100cc, 125cc TaG, LO206 |
| Senior | 100cc, 125cc TaG, 125cc Shifter, LO206 |
| Masters | 100cc, 125cc TaG, 125cc Shifter, LO206 |
Note: The engines used for each age class will vary slightly, depending on where you live
Age Classes
Kid Karts (5-7)
Cadet (8-12)
Junior (13-15)
Seniors (16-30)
Master (30+)
Note: The age requirement for each class will depend on your region, the numbers mentioned above are generally true in US.
Kid Karts
As the name suggests, this racing class is for kids, generally of ages 5 to 7. At this age, they are usually just learning the basics of driving and having fun while doing so! Like in any other sport, getting started early is a huge advantage.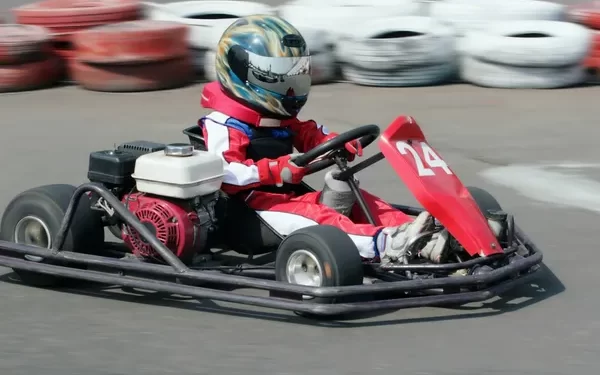 The chassis of the karts used for this class is 1/2 the size of adult karts and the engine is a 50cc 2-stroke engine. A brand new chassis and engine for this class will cost around $3000 combined. But buying them second-hand will save you a lot of money (and is recommended).
Cadet
This is one step up from kid karts and more competitive. Usually, the age group competing in this class are 8 to 12-year-olds. But depending on where you live, this might vary widely. For example, in some European countries, the cadet class is for 7 to 10-year-olds.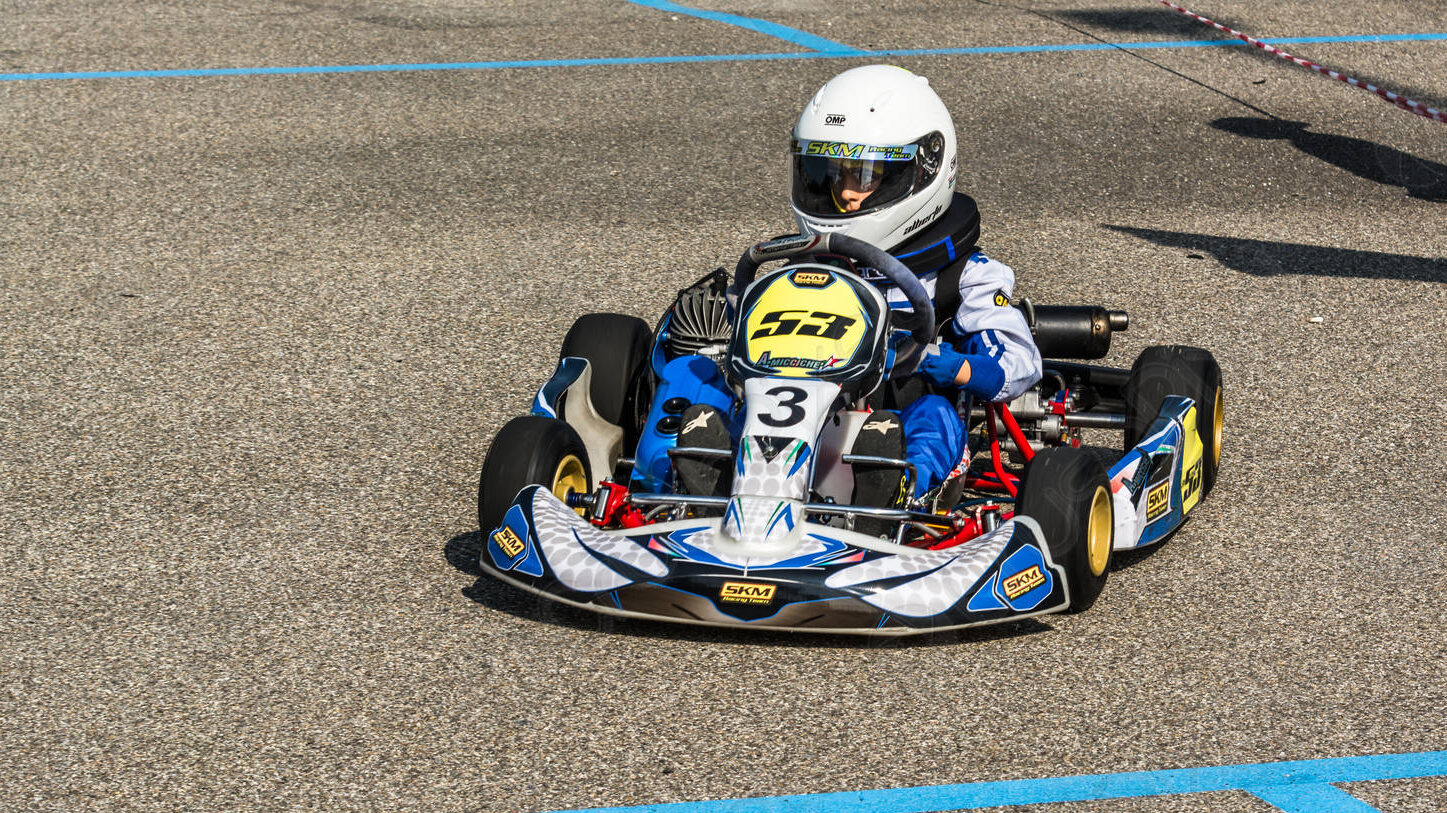 The engines used in this class are usually 60cc and the karts are nearly 3/4 the size of full-sized karts. The kart and engine will require much more maintenance than kid karts. A brand new chassis and engine for this class will cost around $4000-4500 combined.
Junior
Junior Class is for early teenage drivers (13 to 15). Karting can become very competitive for this class. This is the first time that a driver will experience a full-size kart and it can be a challenge transitioning from 3/4 size karts to cadet karts.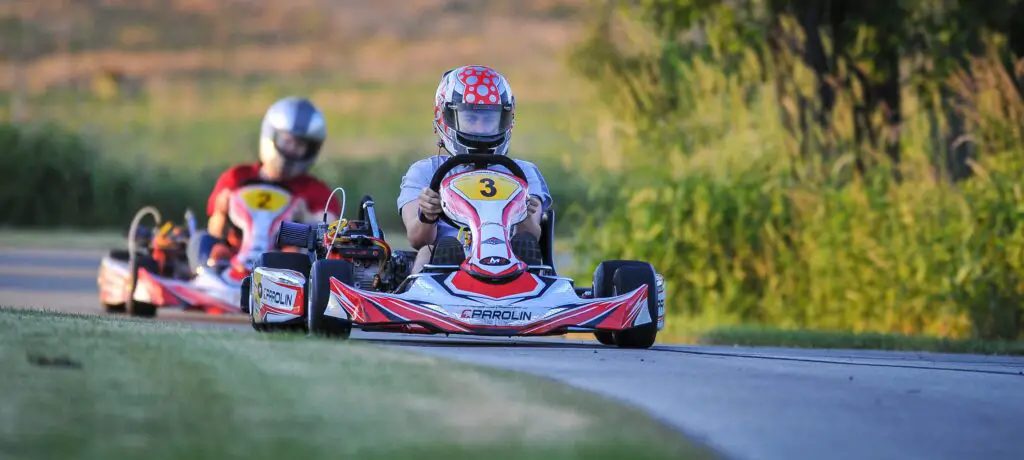 There usually are several engines to compete with from this class onwards, the most popular being 100cc. If you live in the US, LO206 engine class might also be available for juniors and LO206 is a great cost-effective way to enter for beginners.
A brand new chassis and engine for this class will cost around $5000-8000 combined depending on the engine you use. Maintainance and Engine rebuild won't be cheap either.
Senior
Usually, this class is for anyone above the age of 16. This may vary depending on where you live. The karts are full size as you'd expect.
125cc engines are the most popular for this class. Both TaG style and Shifter engines are very popular. In the US LO206 is also popular for this class.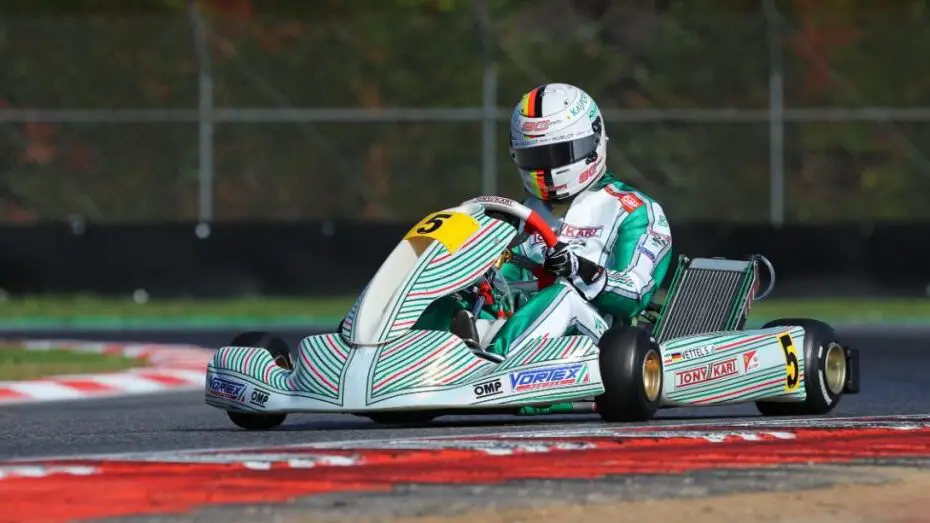 A brand new chassis and a 125cc 2-stroke engine can cost anywhere between $5000 to $10000. But don't get afraid of the price of a new chassis and engine.
If you buy a used chassis and engine then the budget you'll require to compete in your local leagues is roughly $5000 for 2 stroke 125cc TaG engines, this includes the maintenance costs, tires, piston change costs, and race entrance fees. That isn't very cheap but unfortunately, racing sports are expensive to compete in and Go-karting is one of your cheapest options.
Master
This class is for Anyone above the age of 30. Apart from that, it's the same as the "Senior Class" in terms of engines used and the cost of competitive racing.
Engine Classes
50cc
60cc
100cc
125cc TaG
125cc Shifter
LO206 (4-Stroke Engine)
50cc Engines
50cc 2-stroke engines are used on kid karts. They only produce 2-3 hp power. In the US, the most popular engine for 50cc is Honda's 50cc while Comer C50 is more popular worldwide.
The 50cc engines are usually pull-start engines, there are very little to no adjustments that can be made on these engines. The top speed of a 1/2 size go-kart with these engines is restricted to 30-35 mph.
In some regions, the speed restrictions can be removed, as some kids get more skilled they get a separate class of unrestricted engines that can reach 50 mph.
A brand new 50cc 2-stroke engine will cost ~$800.
60cc Engines
60cc is popular among cadet class, these engines can produce as much as 10 hp power! IAME Mini-Swift is the most popular engine used for this class. The engines in this class are Touch and Go type and not pull start.
The top speed of a cadet kart with a 60cc is about 50 mph. These engines are not sealed like the 50cc engines, therefore several adjustments can be made (make sure to consult an expert before you make any adjustments, unfair modifications can get you disqualified!).
A brand new IAME or Vortex 60cc Engine will cost ~$1600
100cc Engines
100cc class is the most popular 2-stroke engine for beginners. These engine classes are used in Junior, Senior, and Master Age Classes. Basically, any class that utilizes a full-size kart.
For Adult beginners who are looking to start with a 2-stroke engine instead of a 4-stroke, this is the way to go!
IAME KA100 is the most popular engine in use for this class, however, Vortex's 100cc ROK engines are less expensive. A brand new 100cc 2-stroke karting engine will cost ~$2500.
125cc TaG Engine
125cc is the most popular engine class all over the world. It is used mostly in the Senior and Master class, however, they have been gaining popularity in the junior classes as well.
IAME X30, Vortex ROK GP, and Rotax's 125cc TaG Engines are the most popular in this engine class. They will all produce roughly 30-35 hp power, top speed of a full-sized kart with one of these engines will be around 75 mph.
A brand new X30 or ROK GP will cost approximately $3000.
125cc Shifter Engine
And finally the shifters! The difference between these and 125cc TaG Class is that shifters utilize manual transmission as opposed to automatic transmission.
There are a wide variety of engines available for this class. In the US, Honda and ROK Shifters are the most popular. There are also KZ engines available in this class that can create up to 50 hp power.
These engines are expensive in themselves and if we add to that the frequent engine rebuild requirements, it will require you to have a decent budget to race locally or regionally in this class.
A further level up from 125cc is the 250cc Super karts. These engines are very rarely used in any regional or local championships. You can learn more about them here.
4-Stroke Engine
Till now we have only seen the classes that include 2-stroke engines, but 4-stroke engines are increasing in popularity especially in the US.
LO206 engine is the most popular 4-stroke racing engine. They are cheap to buy, are fuel-efficient, and won't require lots of engine rebuilds. Making them very affordable and therefore very popular.
Almost every club/championship across the USA has a separate class for LO206 for juniors, seniors, and masters.
You can read more details about these engines in our "best racing engines" guide.