The 5 Best Go-Kart Tracks in Long Island & Nearby
Long Island has two Amusement Parks and an Indoor karting facility all of them being perfect for a fun family weekend. However, if you're looking for some really fast outdoor karting tracks or if you're a kart owner looking to practice then the nearest outdoor track is 130 miles away which sucks because outdoor tracks are the most fun! Here are the best tracks in Long Island and Nearby:
RPM Raceway – Indoor Track
Tiki Action Park – Amusement Park
Country Fair Entertainment Park – Amusement Park
OVRP – Nearest Outdoor Track
Grand Prix NY – Indoor Track
1. RPM Raceway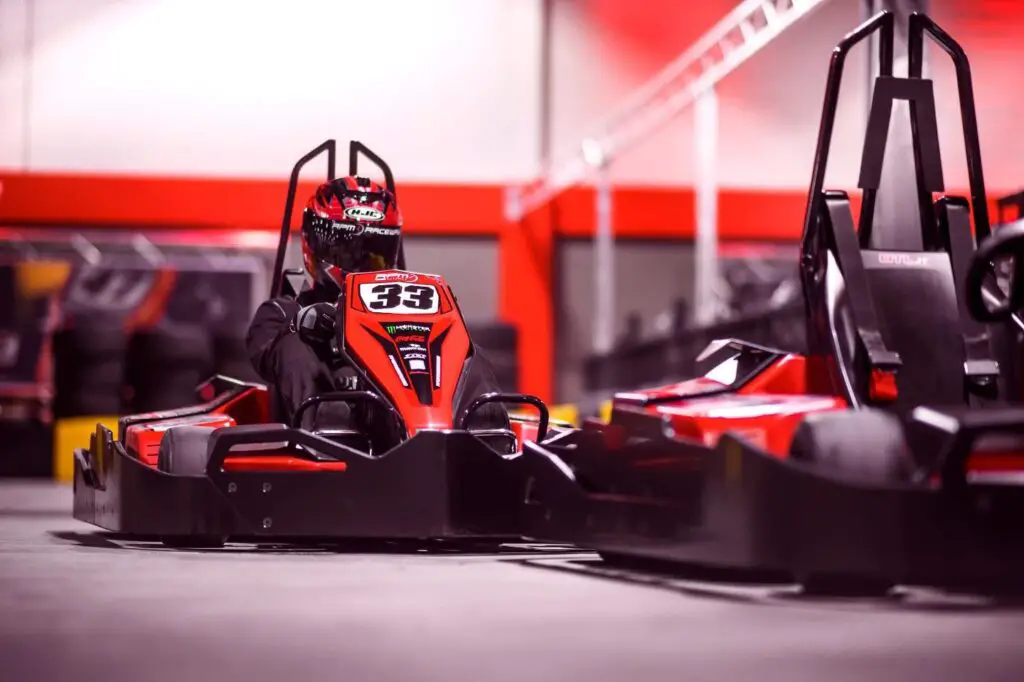 Min Requirement:
48″ and 6 Years old (Junior Karts)
58″ and 13 year-olds (Adult/Teens Kart)
Pricing (Non-Members):
$30 – 1 Race
Pricing (Members):
$20 – 1 Race
$50 – 3 Races
$100 – 7 Races

Annual Membership Costs – $65
(Includes 3 Races)
Each Race 15 Laps for Adults and 8 laps for Juniors. Each race is approximately 10 minutes long.
Check their Website for Birthday Party/Corporate Events Packages

Visit their Website for Up-to-date pricing, opening-hours, and Online Booking
RPM Raceway is an indoor go-karting facility located in Long Island, Jersey City, and Stamford. Their Go-karts are electric and can reach 45 mph!
This can be the perfect place to host a birthday party, corporate party, or to just have a weekend race with your family without having to travel too far.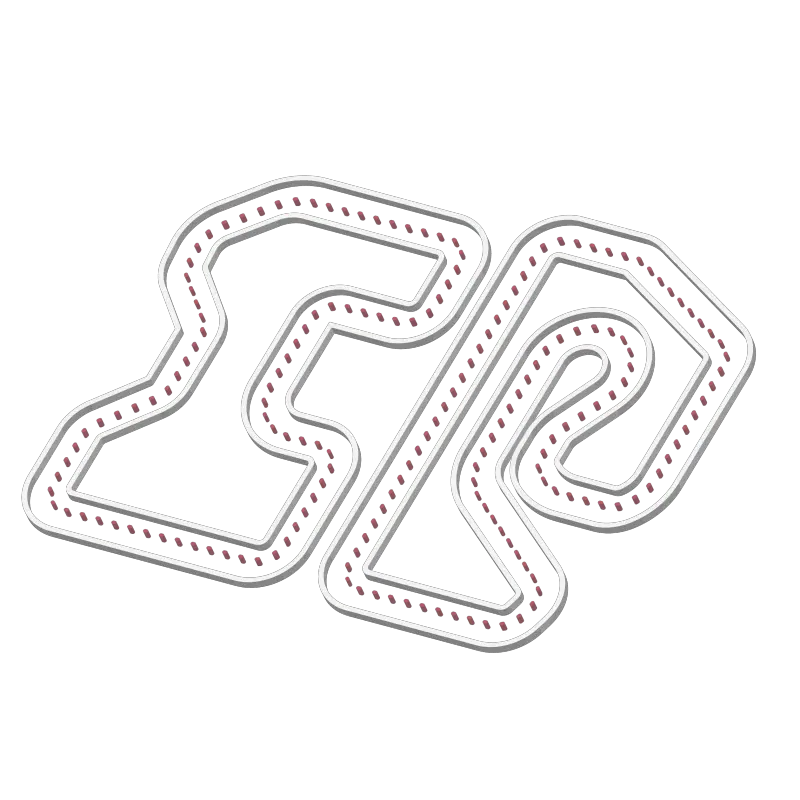 The center has 2 tracks, both being 1/4 mile long. Occasionally the tracks are joined to form one 1/2 mile-long track.
The first Track has hairpin turns, double apex turn, and decreasing radii making them challenging while the other track has got more right-angle turns and increasing radii making them more beginner-friendly.
The pricing for group events starts at $40/person for kids and $60/person for Adults. In group events, you'll be allowed to have a few races against your group. Check their website for more details about group events.
If you're looking to make go-kart racing your new hobby, RPM raceway can be a good place to start, they organize league racing once every week throughout the year. Requirements for participation are to be at least 58″ and to have a driver's license.
2. Tiki Action Park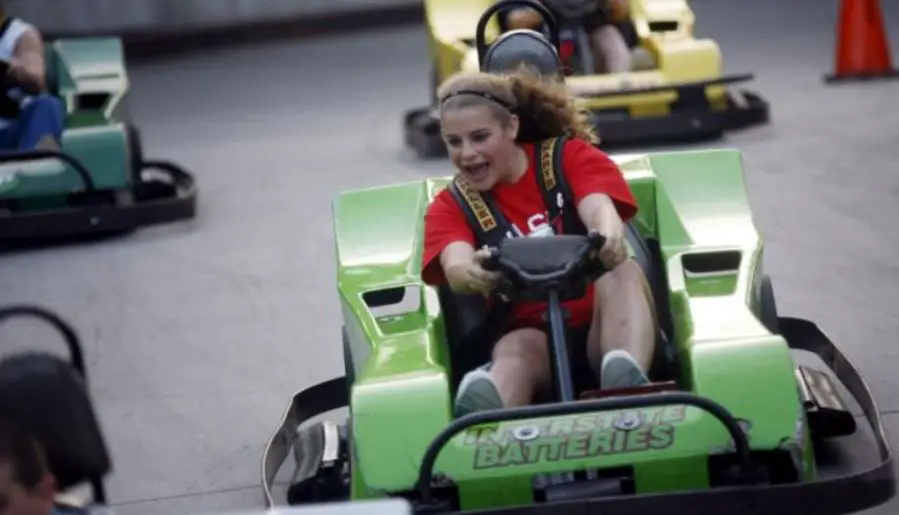 Min Requirement:
58" tall & 16 years old (to Drive)
40" tall and 3 years old (Passengers)
Pricing:
$7 single rider
$9 double rider
$40 for half hour unlimited riding

Check their Website for Up-to-date pricing, opening-hours, and Online Booking
Tiki Action Park is an Amusement park with Go-karts, located in Centereach. They have both single-seater and double-seater Go-karts.
Go-karts in amusement parks usually aren't the quickest but they make up for it with other attractions, apart from Go-karts, Tiki Park is famous for its mini-golf, laser maze & arcade. . Parties and other group events can also be hosted.
You can host kid birthday parties or other events in the park. The package starts from $300 for 10 guests (an additional $16 for extra guests). To include go-karts in the party, you'll have to choose the $350 package. For more information on parties, check this page.
3. Country Fair Entertainment Park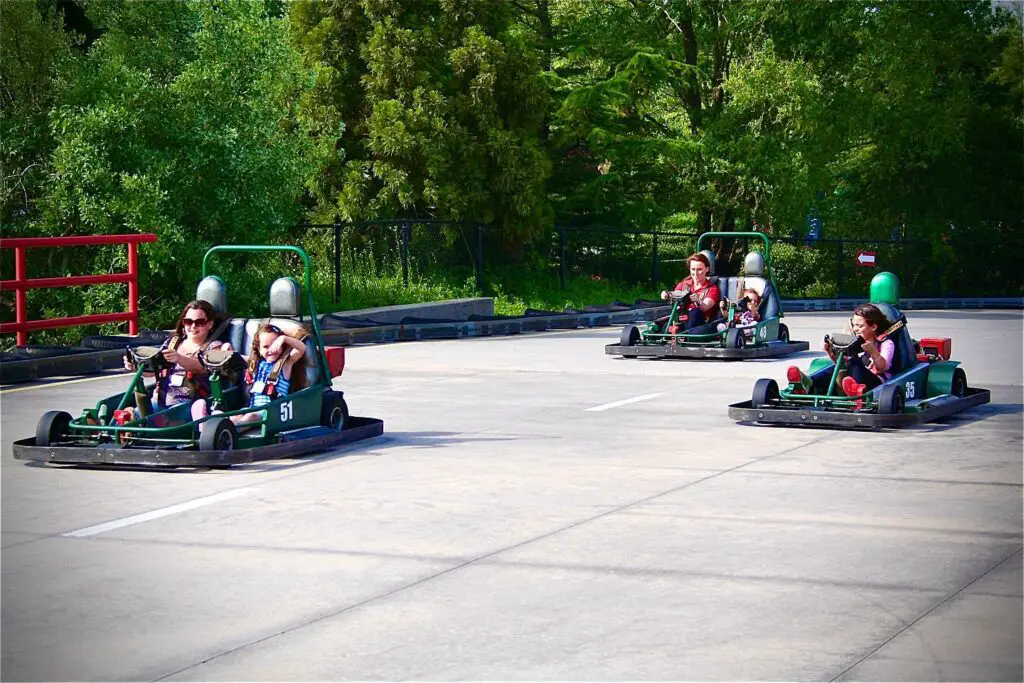 Min Requirement:
60" (Single Go-Kart)
55″ (Rookie Go-Kart)
36" (Passengers in a Double Seater)
Pricing:
$9 (Rookie Kart and Single Karts)
$11 (Double Seater)

Each Ride is approx 5-6 minutes long

Check their Website for Up-to-date pricing, opening-hours, and Online Booking
Country Fair Entertainment Park is an amusement park in Medford with attractions such as batting cages, laser tag, a driving range, and of course a Go-Kart track.
Just like Luna Park, this amusement park also has double seater and single seater karts. The pricing is on par with any other amusement park, a 4-5 minute ride costs on average $10.
Birthday Party packages start from $350 for 10 guests, however the packages including go-karting starts from $425. Corporate parties can also be hosted in the facility, check their website for more information on parties.
4. Oakland Valley Race Park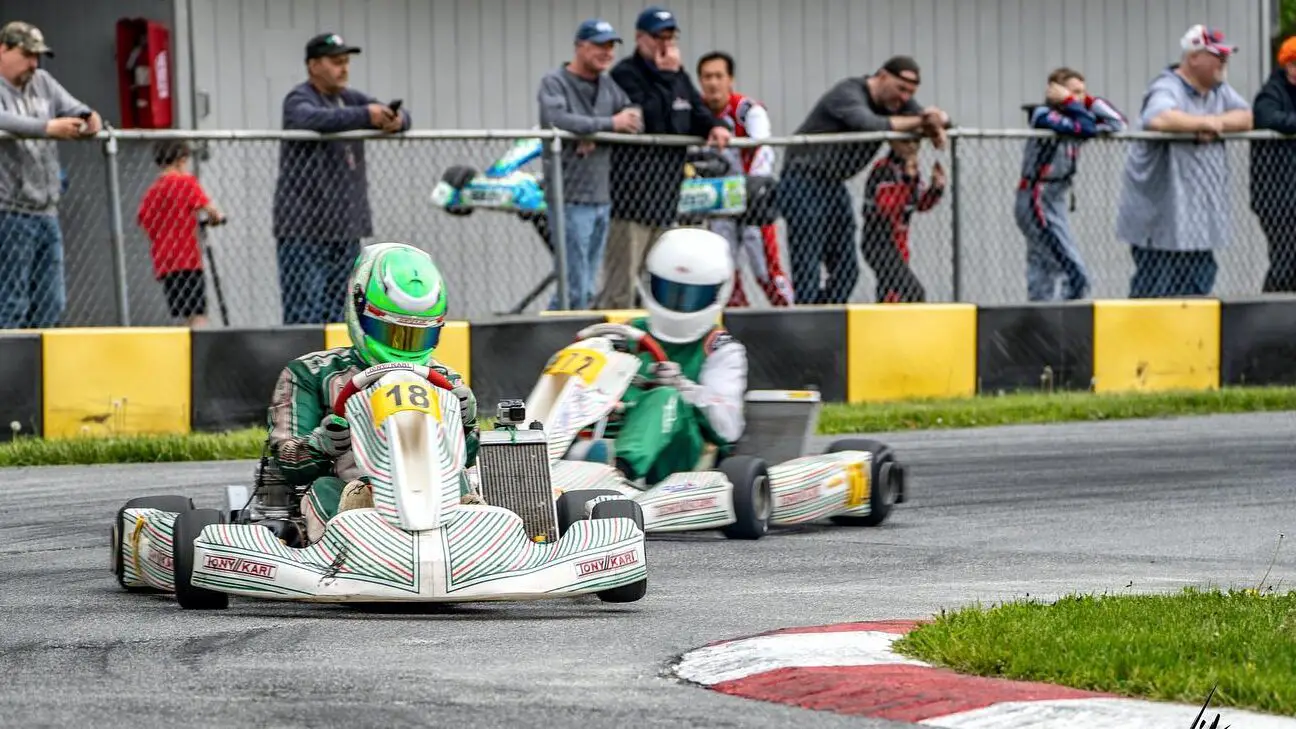 Min Requirement:
48″ (Junior Karts)
60″ (Adult Karts)

Pricing (Rental Karts):
$30 – 1 Session
$56 – 2 Sessions
$88 – 4 Sessions
Pricing (Kart Owners):
$65 – Day Pass (Non-members)
$45 – Day Pass (Members)

$15 – Pit Pass (Need to be paid by everyone)


Note: Track is Open Only between April and November

Check their Website for Up-to-date pricing, opening-hours, and Online Booking
OVRP is an outdoor track located in Cuddebackville (about 2-hours away from NYC), this is the nearest outdoor karting facility which isn't an amusement park and has some seriously fast go-karts for rental.
Kart owners can also practice on the tracks. However, they are not open throughout the year. You can race here between April and November.
For rental, they have Gas-powered go-karts that can go 50 mph. Experienced karters can rent faster karts.
Championship races of the New York and NJ regions are regularly hosted on this track. Classes are the usual 2-stroke engines, 50cc for kids, 60 and 100cc for juniors, and 125 TaG and Shifters for Adults. For the 4-stroke engine class, LO206 engines are used for both Adults and Juniors.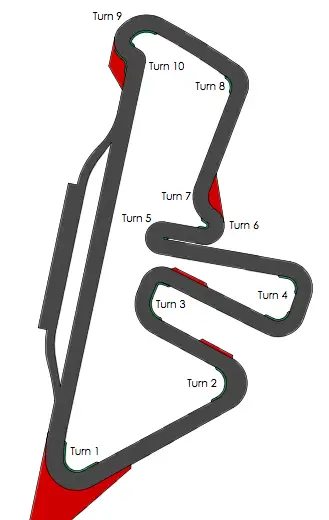 Their sprint Track is 3/4 miles long and has 10 turns that include a hairpin turn, a double apex, and a few right-angle turns.
They also have a 1/5 mile long Oval Track!
5. Grand Prix New York Racing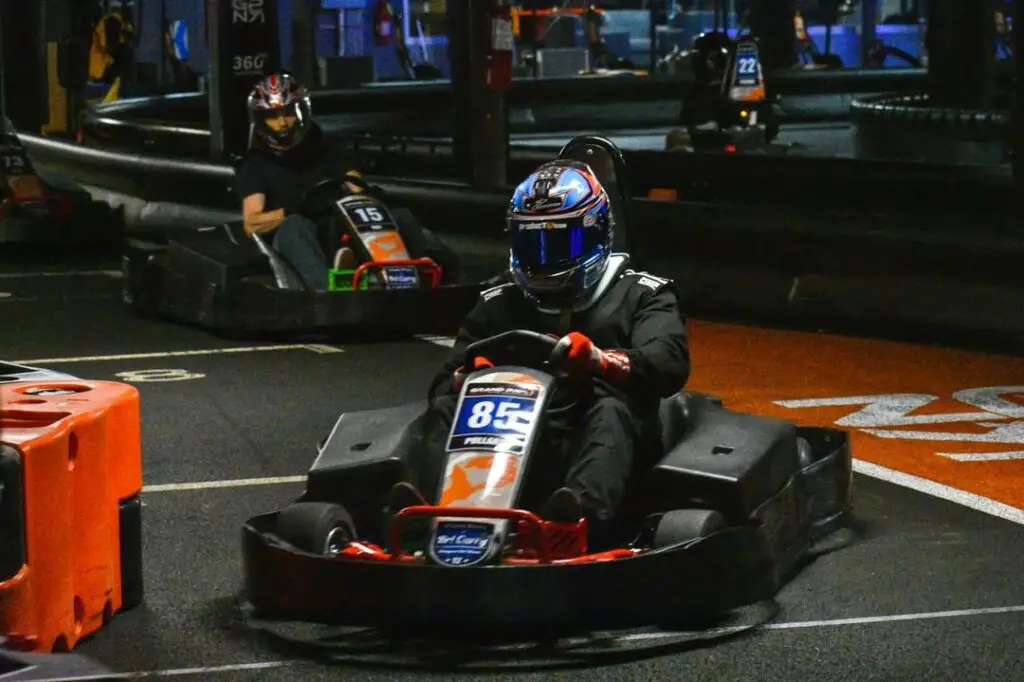 Min Requirement (Age):
4-8: Starter
9-11: Junior
12-16: Teens
16+: Adults

Pricing:
1 Race -$5 (Starter)
1 Race: $14 (Junior)
1 Race: $20 (Teens)
1 race: $27 (Adults)
Races are 6 to 8 minutes long


Check their Website for Up-to-date pricing, opening-hours, and Online Booking
GR New York is a multi-level indoor track located in Mount Kisco which might be too long to travel just for indoor karting since RPM Raceway is nearby, however, if you want to try something different then this place is worth trying out.
The karts here are 6.5 hp gas-powered that can reach 25-30 mph. However, if you're part of their private training and are skilled enough you can get a 9 hp kart which can reach 45-50 mph!
The unique feature of this place is the kid's karts (4 to 8-year-olds). Kids have their own separate track and slower go-karts.
They feature 3 racing tracks, one for kids, another for juniors and adults, and the third one for adult racers and leagues racing.
On some racing days, they remove the track barriers to connect tracks to make 1 bigger track. The tracks have hairpin turns, spiral ramp, constant radius turns, banked semi-oval turns, increasing radius turns, and several elevation changes.
They host league racing every Wednesday night for Adults and Saturday mornings for Juniors. Racing costs $75/week or $650 for the entire season. They also offer private lessons.
Apart from Karting, they also have bowling and other activities. For information on Birthday parties, corporate parties, etc, check their website.
That's all the nearby tracks to check out near Long Island, if you're looking for more tracks then check out our list for the best tracks near NYC.