What does a jackshaft do on a Go-Kart?
In a Go-Kart or a Mini Bike, a jackshaft is a shaft between the Axle and the Engine's Crankshaft. It is used as an intermediary in the power transmission from the engine to the wheel.
There are two main purposes for using a jackshaft on a Go-kart or a minibike, the first reason is to align the clutch with the Axle sprocket without redesigning your entire setup.
The other purpose is to lower the gearing without having to install a huge axle sprocket. Many times, a big axle sprocket isn't even compatible with your setup, getting a jackshaft setup would become necessary in such cases.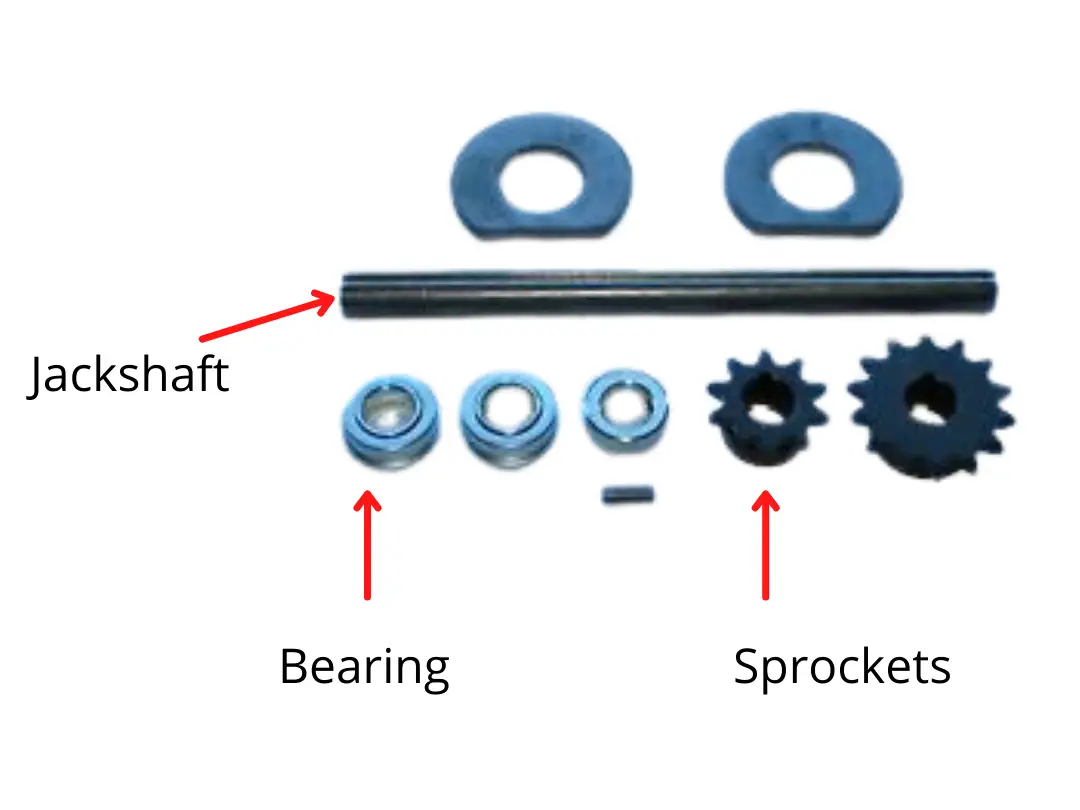 These are the components that come with a Jackshaft kit:
2 x sprockets
2 x bearings
2 x bearing hangers, a collar, a key
1 x jackshaft itself.
JackShaft with Clutch
A Go-kart or minibike setup with a clutch and a jackshaft will have 2 sprockets in the jackshaft, one sprocket of the jackshaft is connected to the clutch sprocket with help of a chain, while the other sprocket is connected to the Axle. An example setup is shown below.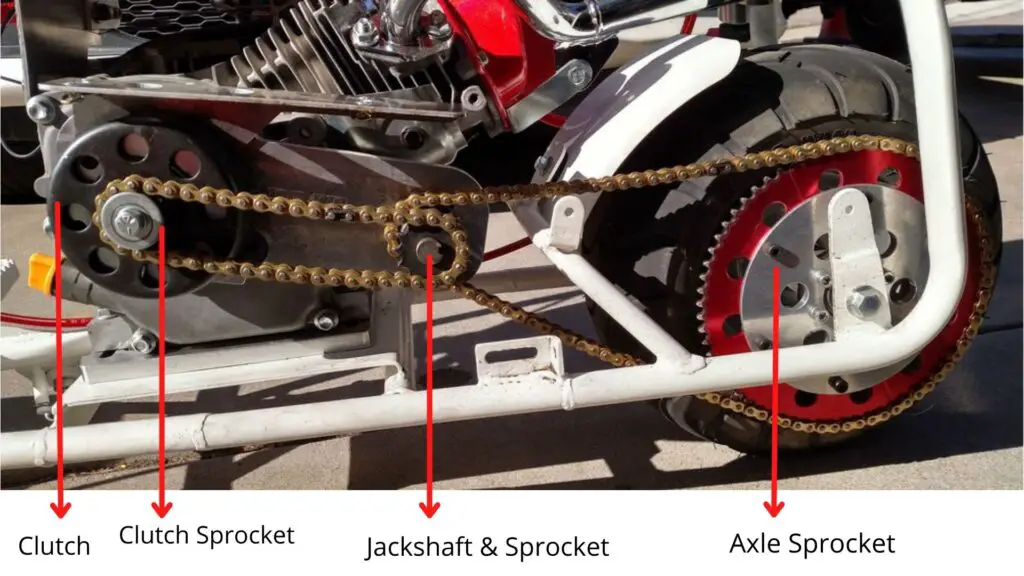 Jackshafts with Torque Converters
Torque converter kits usually come with a jackshaft and sprocket along with the other parts. This is because a jackshaft is necessary for a belt drive system.
30 series torque converters come with an aluminum plate and the jackshaft can be fit in the plate, therefore won't require any separate jackshaft setup. 20 and 40 series on the other hand will require a separate jackshaft setup that can hold sprockets and the driven pulley.
The plate in the 30 series makes it hassle-free to install and is therefore very popular.
How will a Jackshaft help with Alignment
When you're installing a chain on your Go-kart (or Minibike), you have to make sure that the chain is running perpendicular to both the engine shaft and the Axle. However, many Go-karts come with a fixed axle sprocket and there is no way to fit a chain correctly.
Now you can either do some machining and welding work to move the axle sprocket or move the engine to align the engine directly with the axle. However, sometimes the best solution to this problem is to install a jackshaft.
Gear Ratio & Top Speed Calculator for Jackshaft
Jackshafts are a great way to lower the gearing. There are other methods to change gearing like changing the Axle sprocket or clutch, however, jackshafts can come in handy for some situations. Here's a Calculator to calculate the gear ratio and top speed of a setup.
Terms Used:
N.T – Number of Teeth in a sprocket
Sprocket 1 – This is the sprocket that connects to the Axle sprocket with the jackshaft
Sprocket 2 – This is the sprocket that connects to the Clutch sprocket with the jackshaft
Clutch Setup
Gear Ratio = (Axle N.T/ Sprocket 1 N.T) X (Sprocket 2 N.T/ Clutch N.T)
Top Speed Calculator
Torque Converter Setup
Torque converter top speed and gear ratios are a bit more complicated to calculate because the gear ratio is variable and depends on the Engine's rpm.
You'll need to know the high-end gear reduction of your torque converter. Here's a high-end gearing reduction chart that you'll need:
| | | | |
| --- | --- | --- | --- |
| Driven Pulley Dia | 20 Series | 30 Series | 40 Series |
| 6″ | 1.15 | 0.90 | – |
| 7″ | 1.40 | 1.12 | – |
| 7 1/2″ | – | – | 1 |
| 8 1/2″ | – | – | 1.24 |
Depending on which series torque converter you have and what the driven pulley diameter is, the top speed will vary.
Top Speed Calculator for Torque Converter
Disadvantages of a Jackshaft
The obvious one is the loss of power in transmission, more energy will get wasted into heat due to the jackshaft which will ultimately affect the torque and RPM of the rear wheel.
Cost is another factor to consider, a jackshaft combined with sprockets and bearing will cost around $50. If your set-up doesn't need them you'll be better off not getting one.
What Gearing to Aim for?
There is no one perfect gearing for every kart, it really depends on your setup and the purpose of your go-kart/Mini Bike. Jackshaft gives you the flexibility in choosing the gearing, you can have it set up really high or very low without needing large axle sprockets.
You can check this Gear Ratio Chart to choose the gearing that fits your kart and its purpose.
How to Install a Jackshaft
You have to take 2 things into consideration while installing a jackshaft
The jackshaft and the sprockets should not move sideways when you're driving.
The sprockets in the jackshaft should align perfectly with the clutch sprocket and the axle sprocket.
Now you'll have to work out how you'll fix the jackshaft into their positions and the setup will be different for every kart/bike.
The jackshaft kits come with ball bearings and collars that will fix the sprockets into their positions. Here's a video from the "Gas Pedal Garage" Youtube channel with their set-up.
Conclusion
That's about all you need to know. A jackshaft will help you to reduce gearing and align the sprockets. However, they will cause some extra power loss in comparison to a setup with no jackshaft.