What Chain to Use on Go-Karts & Mini-Bikes?
Running your Go-Kart or Mini Bike with a wrong-sized chain can result in Sprocket wear, chain stretching, and eventually chain breakage. Therefore, it's wise to save yourself the troubles by getting a chain that can handle your engine's power.
Go-karts & Mini Bikes with an Engine that produces less than 20 hp power should use one of #35, 40, 41, or 420 roller chains. If the Engine produces more than 20 hp power then a #50 or a #428 roller chain should be used.
Chain Size Chart
When deciding between different chains, there are only 3 things that you should take into consideration, they are, pitch, roller width, and Tensile Strength of the Chain.
Tensile Strength is the load at which the chain will break, pitch and Roller width are physical dimensions and are shown in the diagram below.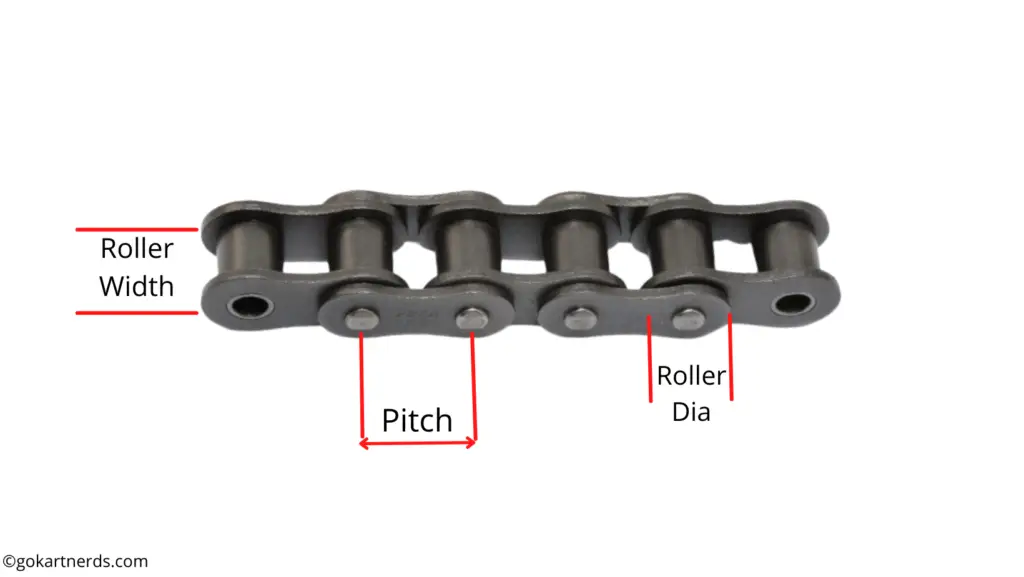 Roller Width: Space between inner plates.
Pitch: Center to the center length between two pins.
Average Tensile Strength (Lbs)
| | | | |
| --- | --- | --- | --- |
| #35 | 3/8″ | 3/16″ | 2,100 |
| #40 | 1/2″ | 5/16″ | 3,700 |
| #41 | 1/2″ | 1/4″ | 2000 |
| #420 | 1/2″ | 1/4″ | 3,700 |
| #428 | 1/2″ | 5/16″ | 4,200 |
| #50 | 5/8″ | 3/8″ | 6,100 |
There are several other roller chains, but these 6 chains on the table are good enough for almost every Go-kart and Mini-Bike.
Chains with higher Tensile Strength will be able to handle more powerful engines, whereas a go-kart with a 6-7 hp engine won't require those chains.
Shifter karts (used for Go-kart racing) use #428 chains, similarly heavily modified Go-kart Engines or Go-karts with motorcycle engines that produce more than 40 hp power use #50 chain. Both of these chains can withstand a lot of power but cost much more than a standard chain.
Since most people do not use an engine that produces more than 15 hp, #35,40,41, and 420 are the only chains we will go through. So which one out of those 4 should you use?
Difference between 420 chain and 40 chain
Both 420 and 40 chains have the same tensile strength and pitch, the only major difference is the width between the inner plates of #40 is larger than #420 by 1/16″.
40, 41, and 420 chains all have the same pitch (1/2″) and use the same sprocket, even though the roller width is not identical. The difference is minute and won't cause any failure.
However, the 420 chain is more popular than the #40 chain because it is a tighter fit on most sprockets in comparison.
Difference between #41 and #420 chain
The #41 chain is not as strong as the #40 and #420 chains and will break at a much lower load in comparison to those 2 chains. It can be used with engines that produce up to 5 hp power.
The #41 chain has the same pitch and roller width as #420 but its plates are thinner and shorter, therefore, it will deform easier in comparison therefore, it is not as popular as the 40 and 420 chains.
Difference between #420 and #35 chain
Both will use a different sprocket. A #35 sprocket won't fit a #420 sprocket and vice versa. #420 chain is 1.75 times heavier than 35 chains and can withstand nearly 2 times more load.
However, there are different variations of 35 chains like 35-1,35-2…35-5, that have more strength and weight. The 35-1 is the most easily available.
Due to the lightweight nature of the #35 chain, it is popular for racing purposes, there are certain #35 chains made for performance Go-karts such as the Gold Extreme #35 chain, which are light and can still handle powerful engines.
Another key point to note is that sprockets for the #35 chain are usually smaller than 40,41 and 420 sprockets. So you can use an axle sprocket with more teeth without having clearance issues.
You'll also find that the clutches that use the #35 chains have 12 or 14 teeth in comparison to 10 teeth on 420 chain clutches. Therefore it's easier to gear the go-kart/minibike high with a #35 chain.
How to identify your drive chain?
The easiest way to tell them apart is by measuring the pitch.
The first digit of the "chain size" in a Roller chain describes the pitch of the chain, Pitch = (First digit x 1/8). For example, the number 3 in the #35 chain tells us that the pitch is 3/8″
Similarly, #40,41, 420 have a pitch of 4/8″ and #50 have a 5/8″ pitch.
To measure the pitch, you need to use a 3/8″ and a 1/2″ wrench or any other tool from which you can measure the distance between the tips of 2 teeth.
To tell a #40 apart from the 41 and 420 chains, you'll have to measure the distance between the inner plates.
And finally, to tell a #41 and #420 apart, you'll need to measure the pin diameter (420 chains have a slightly bigger pin diameter).