The 6 Best Go-Kart Tracks in Southern California
Go-karting's history is strongly attached to Southern California. The first Go-Kart ever made was in Los Angeles by Art Ingels and the first official racing took place in Pasadena. This sport has now been popular for 3 generations throughout the world, and people are still in love with Go-karting and I don't think that love will fade away any time soon!
Southern California has multiple Indoor Kart racing tracks, a few outdoor tracks, and amusement parks that have go-karts in almost every big city. We won't include any amusement Parks on our list (that doesn't mean Amusement park's karts aren't fun!)
The best Go-Kart Racing Tracks in Southern California:
Calspeed Karting Center – Outdoor Track with Rental karts
Adams Motor Sports Park – Outdoor Track for Kart Owners in
Apex Kart Racing – Outdoor Track for Kart Owners in Perris
K1 Speed – Indoor Karting
MB2 Raceway – Indoor Karting in
SB Raceway – Indoor Track in San Bernardino
Karting Clubs/Championships in Southern California:
LA Karting Championship
TRI-C Karters
1. CalSpeed Karting Center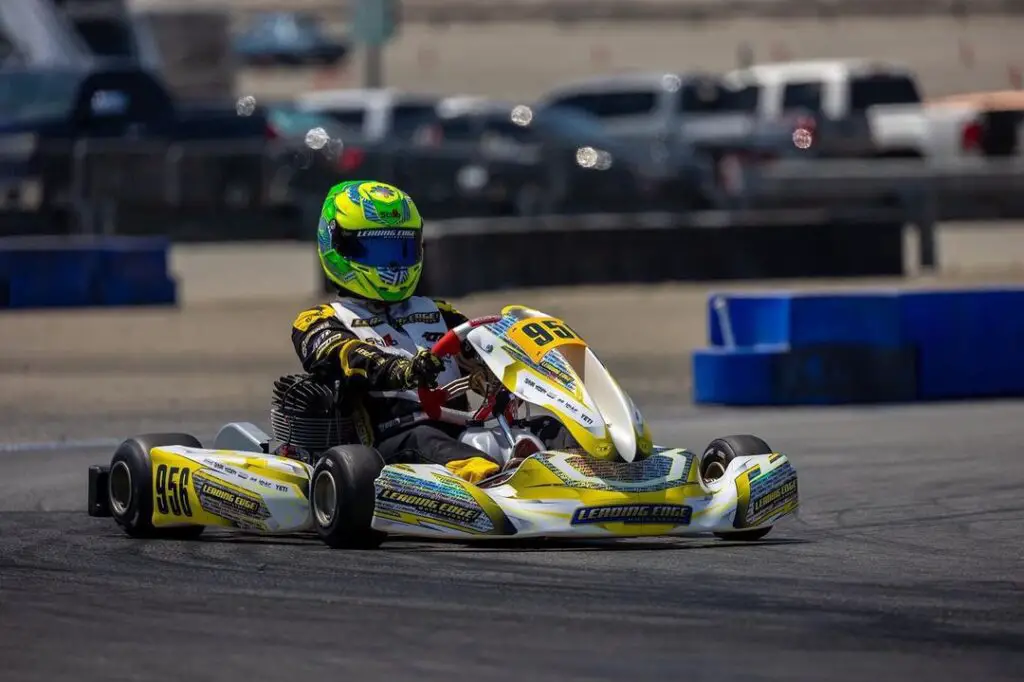 Min Requirement:
12 Years+ (for rental karts)
5 Year+ (for kart owners)

Pricing:
$45 for a 12-minute session (Helmet and gloves rental included with price)
$55 for a full-day pass if booked online (kart owners only)
$75 for a full-day pass onsite (kart owners only)



Check their Website for Up-to-date pricing, opening-hours, and Online Booking
CalSpeed Karting Center located in Fortana is the best go-Karting track in SoCal for both kart owners and rental karting.
Their rental karts are as fast as any other place's rental karts, their normal karts can hit 50 mph! They also have faster racing karts that can be rented if the driver is experienced.
Kart owners can get a day pass for practice. All the safety gear can be rented on the spot or you can take your own kit.
Their racing series are held throughout the year for different classes in which they allow a "arrive and drive" type of racing series.
If you're part of a karting club, they will most likely schedule a lot of their races here.
The track has got multiple courses of configurations up to .75 miles with 15 corners. Check the satellite image of the track in the link below.
2. Adams motorsports park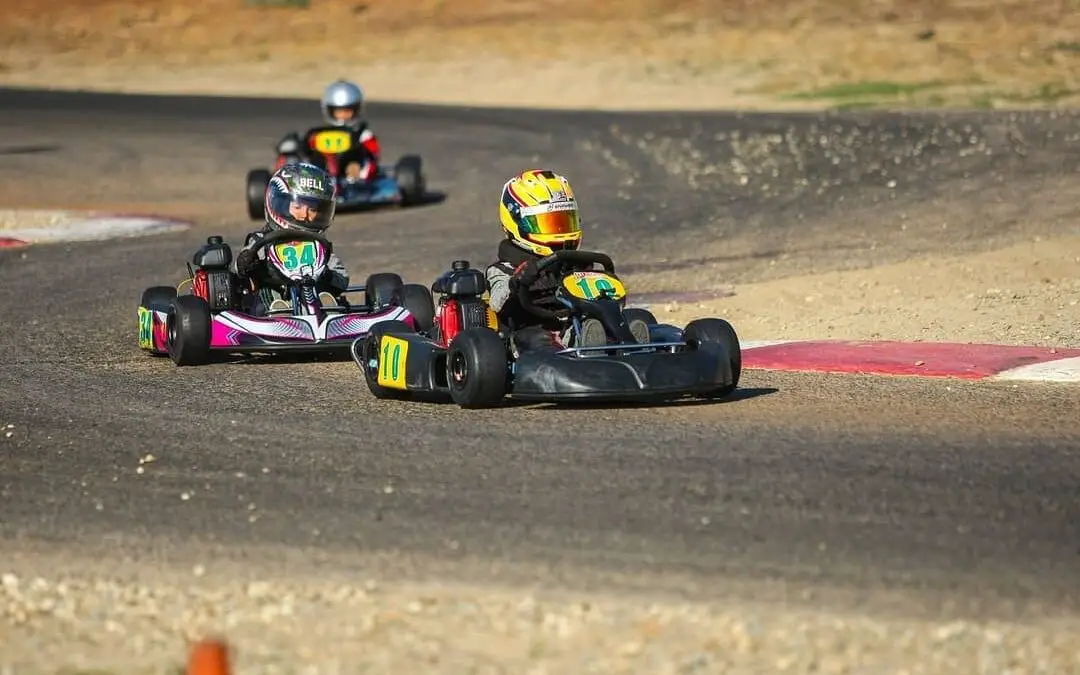 Min Requirement:
Must own a Go-kart that meets their rules
5 Year+ Age

Pricing:
$75.00 – Open Practice Days
$50 (For members or Online PReregistration)
Membership:
$99/Month

Visit their Website for Up-to-date pricing, opening-hours, and Online Booking
Adams motorsports park is a track for drift driving, minibikes, and supermoto bikes but is primarily used for go-karting.
They do not have rental karting facility. They are open only for kart owners. Their schedule has multiple open practice days for which you can pre-book a slot on their website or buy tickets on the spot.
Karting clubs and trainers regularly use this track for practice and races. If you're going to visit regularly, they sell membership that can save you some money.
Track rental is also an option, which also means that they are closed to the public from time to time due to private events. Make sure to check their schedule before you make a visit.
Track: 3/4 of a mile, 14 turns paved race circuit. Satellite view can be seen from the link below.
3. Apex Racing Center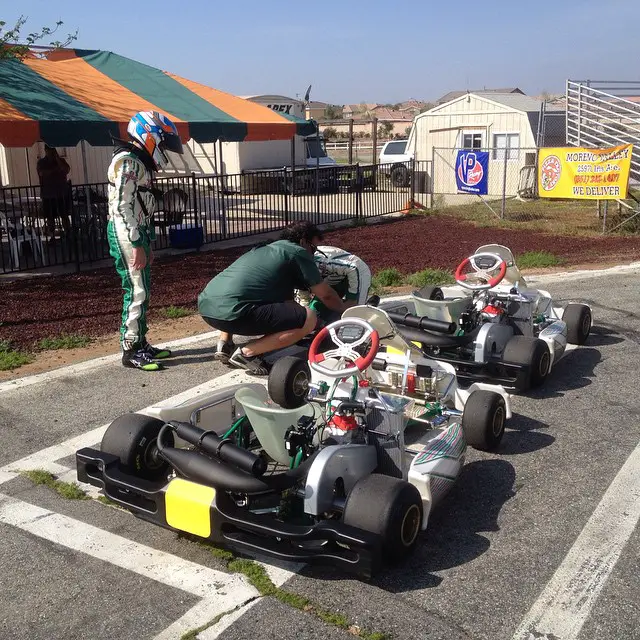 Pricing :
For Go-kart Varies between $20-45
Contact them for the exact pricing on the day

An outdoor track for Kart owners located in Perris. They are usually open on Sundays, Wednesdays, Fridays, and Saturdays.
They too host private events and can stay closed on those days. Make sure to check their calendar before visiting.
Tri-C Karters hosts their PAK series on this track.
Track: 9/10 miles long and has multiple configurations. Check the satellite image of the track below.
4. K1 Speed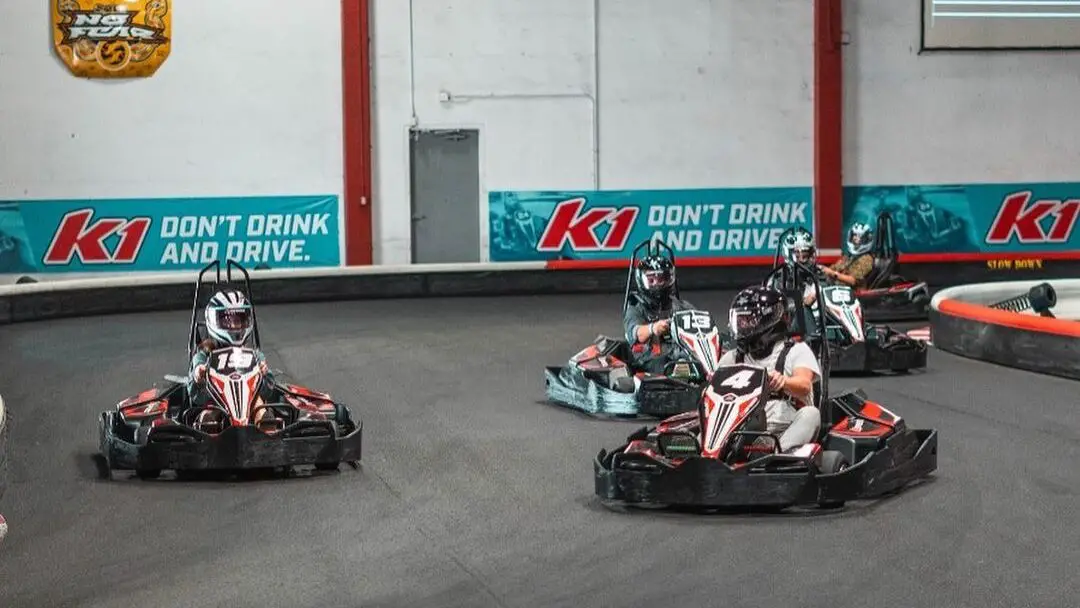 Get Direction:
Multiple Locations
Min Requirement:
48″ (Juniors)
58″ (Adults)
Pricing (Rental Karts):
1 Race – $25.95
2 Races – $46.95
3 Races – $59.95
(+ $8 Annual Membership required)

Each race is 7-10 minutes long.

Visit their Website for Up-to-date pricing, opening-hours, and Online Booking
K1 speed are an Indoor Kart racing operator, with centers in multiple locations in the SoCal region. Their rental karts are all-electric, with a top speed of 45 mph!
Indoor karting centers are popular for kids/teen birthday parties. The same is true with K1, you can host birthday parties at any of their centers. They provide party rooms for any event.
K1 Speed centers are a good place to start competitive go-karting if Calspeed is too far away from you. K1 hosts leagues for both adult class and junior class.
You can use K1's karting leagues as a way to know if you're interested in the sport before spending loads of money on buying your own go-kart.
Track layouts of all their tracks can be found on their website.
5. Mb2 Raceway – Sylmar & Thousand Oaks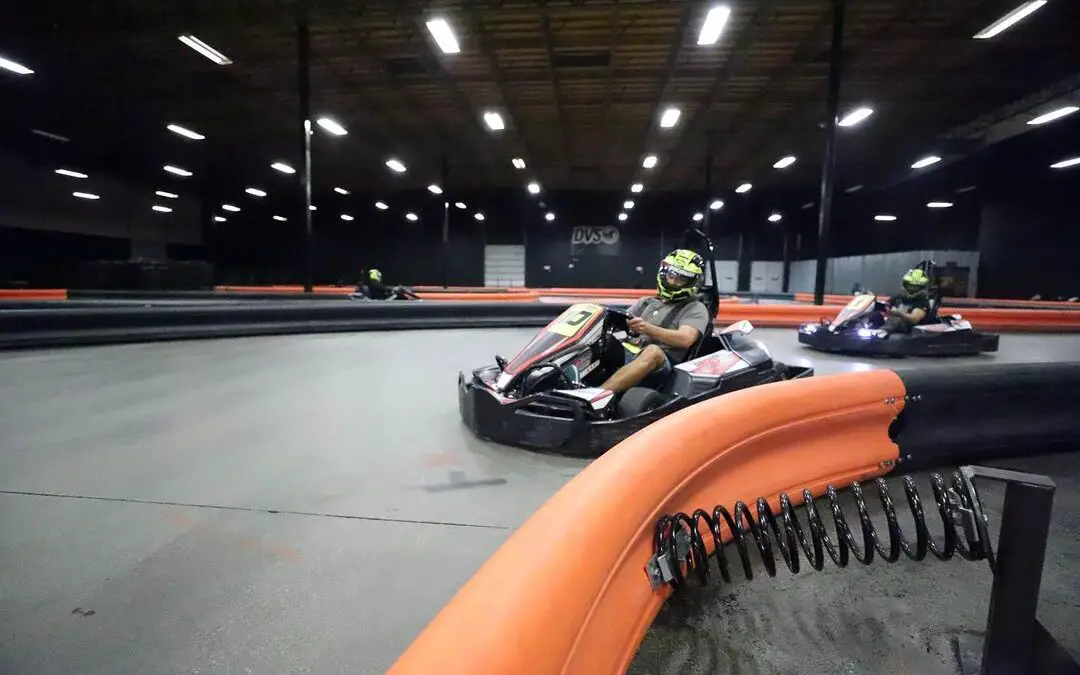 Min Requirement:
48″ (Junior Kart)
57″ and Age: 12+ (Adult Kart)

Pricing:
$23: Adult (Includes 14 Laps)
$20: Junior (Includes 9 Laps)

$5 Discount for track pass members
MB2 Raceway is an indoor go-karting facility located in 3 locations in California, out of which 2 are in SoCal in Sylmar & Thousand Oaks.
They too allow for birthday parties or any other corporate parties or even bigger events with more than 60 people. You can book their entire Facility for some period of time if you wish to.
The Go-Karts in the MB2 raceway can go as fast as 45 mph! You can keep track of the timings of your laps with your position being displayed on their big screen.
New drivers can also join their "Sunday kids karting Kamp program" and improve their karting skills.
6. SB Raceway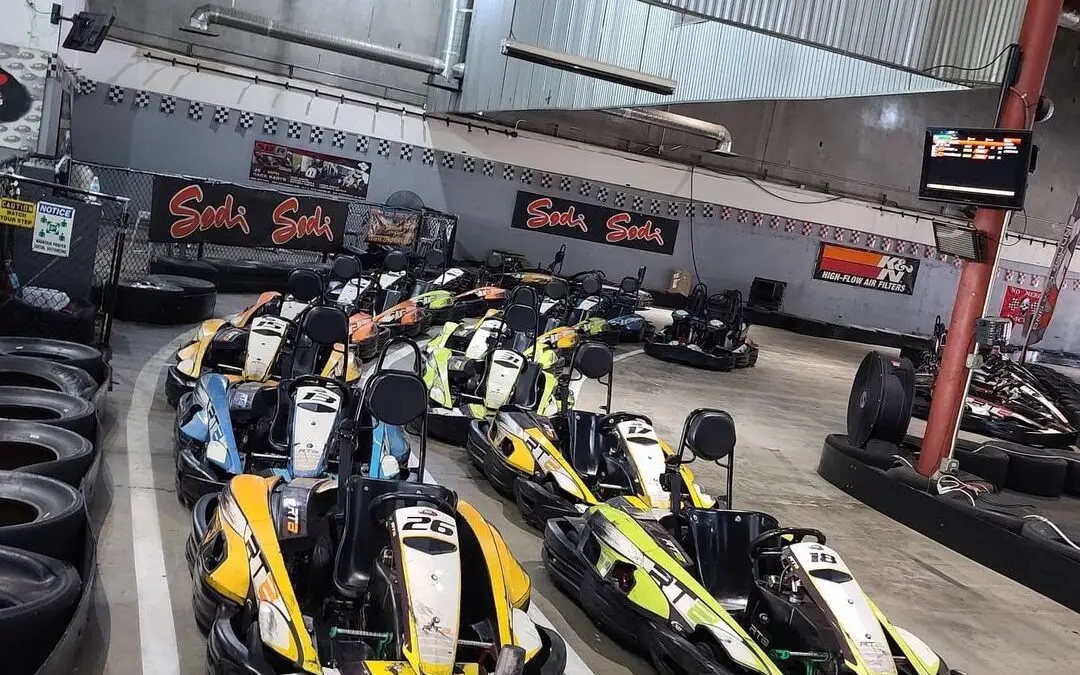 Min Requirement:
56″ and 10 year-olds
Pricing (Rental Karts):
$21 – 1 Race
$15-18 – 1 Race (For Members)
Membership Cost:
$49
Each Race 17-20 Laps
Check their Website for Birthday Party/Corporate Events Packages

Visit their Website for Up-to-date pricing, opening-hours, and Online Booking
SB Raceway is an Indoor Karting facility in San Bernardino. Karts can be rented from their center along with other safety equipment such as head socks, helmets, etc.
Their go-karts are gas-powered unlike K1, and they can go at 40 mph. If we compare gas-powered to Electric karts, gas-powered karts don't take off as quickly as electric.
SB Raceway's Party packages cost $55/guest and include 2 races and an hour in their lounge or their other package costs $70/guest for 3 races and 2 hours in the lounge.
Membership in SB raceway costs $49 and allows members to practice on racing go-karts with 9.5 hp power. If you're a regular visitor, membership can come in handy.
They also teach kart driving basics to juniors in their "Race School".
Karting Clubs
If you're planning to take it a step further from rental karts, the best way to do that is by joining a local karting club. But keep in mind, you'll need to own your own Go-kart and they are really expensive to buy and maintain (especially 125cc karts).
It's best to start with rental karts, then visit your local club and talk with other drivers and experts. (If you're lucky, you might be able to test out some racing karts before you buy them).
Southern California has 2 karting clubs and a few other racing trainers. Here I will mention the 2 clubs that you can check out
1.  Los Angeles Karting Championship (LAKC)
LAKC hosts racing series for sprint karts throughout the year. They utilize the Calspeed track for all their racing events and practices. Their membership costs about $75.
Members have to accumulate points on their normal races to be able to race on their season racing, which takes place from February to October.
Age Classes include everyone from 5 years up. Engine classes include 50cc honda for kid karts, 60cc mini for cadet class, 100cc and 125cc for teens Juniors, and Senior Classes. 125cc includes TaG karts and Shifters. They also have IAME 175cc and KZ classes. No classes for LO206.
2. Tri C-Karters
Tri C-Karters is a karting club that hosts 3 major series throughout the year. They mostly use Adams Motorsports Park and Apex Racing tracks for their races.
Their Engine class includes every 2 stroke engine except 125cc. They do however have classes for the 4-stroke LO206.