Best Upgrades for Coleman CT200U and CT200U-EX
Coleman Mini-bikes are extremely popular. You can easily get one from Tractor Supply or Walmart and although they are pretty good as they come, there are some upgradable parts available in the market that you should definitely know about if you own or are planning to own a CT200U or a CT200U-EX.
As you might know, CT200U and CT200U-EX aren't the same in terms of appearance. Their frames are very different and the CT200U-EX even has a headlight but they use similar engines (Honda GX200 Clone), tires, and transmission systems so we don't need to make 2 separate guides about their modifications. This will be an all-in-one guide about performance upgrades of Coleman CT200U and CT200U-EX.
Here's a quick summary list of the parts and the performance gain you can expect. Note – The top speed of Coleman CT200 is 20 mph in the stock condition.
Performance Part/
Stage Kit
Description &
Expected Top Speed
Torque Converter/
CVT
A replacement for the centrifugal clutch that the Coleman CT200 comes with. You can gear the mini bike higher with a torque converter.

Top Speed: 30-35mph
3/4″ Crankshaft – IPARTS (Amazon Best Seller)

5/8″ Crankshaft – EASYBERG

Note – Measure your crankshaft size before ordering.
Governor Removal
The engine is limited to 3600 rpm due to a mechanical governor inside the engine, removing it will change the limit to ~5000 rpm. This step is a must to see any gain in top speed.

Top Speed (without CVT): 30 mph
Top Speed (with CVT): 40 mph
Doesn't require any part. Check our guide on Governor removal.
Stage 1 Kit
The stage 1 kit will allow more air and fuel to enter the combustion chamber. You can expect a gain in power and torque with a stage 1 kit but the rpm will still be limited to 5500 rpm due to valve float.

Top Speed (without CVT): 30-35 mph
Top Speed (with CVT): 40-45 mph
OMBWarehouse
Carburetor
A carburetor with 22mm venturi will take your mini bike to the next level in terms of torque and power along with the Stage 1 kit. The general rule of thumb is to choose a carb with venturi 1-2 mm less than the intake valve (25mm).

Top Speed: Same as Stage 1 kit
Mikuni VM22
Stage 2
Depending on the supplier the parts vary, the OMBwarehouse stage 2 kit consists of heavier valve springs in addition to the carburetor and stage 1 kit. You don't need to buy this kit separately.

You can buy the stage 1 kit + Mikuni VM22 and 2×18 lb Valve springs to replicate this kit.
Heavier Valve springs remove the 5500 rpm limit, which also means you'll need to get a billet rod and flywheel to withstand those high rpm.

Top Speed (without CVT): 40-45 mph
Top Speed (with CVT): 50-55 mph
OMBwarehouse
Billet Rod and Flywheel
Stage 3
Stage 3 kit is Stage 2 + Camshaft with higher lifts and longer duration.

Top Speed (without CVT): 45 mph
Top Speed (with CVT): 55 mph
OMBWarehouse
Additional Mods
There are lots of other stuff you can do, like installing a bigger intake valve, heavier springs, bigger cams, etc. But it's important to pair the parts correctly to see the maximum increase in performance. You can check our Predator 212 mods guide in which we have covered each part in more detail
Torque Converter
The first change that we recommend to every CT200 owner is to swap out the centrifugal clutch for a 30 series Torque Converter.
This will instantly increase the top speed of the mini-bike from 20 mph to 30-35 mph. The exact top speed will vary depending on the weight of the driver.
Torque Converters provide the mini-bike with variable gearing instead of a fixed gearing that a clutch offers.
A Coleman minibike with a Torque Converter will have low gearing when the mini bike is slow and high gearing at high speed. Making them ideal not just for higher top speed but also for off-road riding or hill climbing. They have other advantages over clutches.
Check our comparison between these 2 transmission systems for mini-bikes.
Best Torque Converter for Coleman CT200
Please note: Some Coleman CT200U and CT200U-EX mini bikes come with a 3/4″ engine crankshaft while others come with a 5/8″ engine Crankshaft.
Most of the 30 series torque converters in the market are for a 3/4″ shaft. If your CT200 came with a 5/8″ crankshaft, you'll have to get a 5/8″ adapter sleeve that will change the 5/8″ shaft size to 3/4″ along with the torque converter.
Removing Governor and Throttle Limit Screw
A Coleman CT200U and EX both come with a throttle limit and a Governor. The purpose of both is to limit the rpm of the engine which slows down your minibike.
A throttle screw can easily be unscrewed or ground with a Dremel, this will give you a small boost of 2-3 mph.
Removing/Disabling the Governor is a little more complicated than just removing a screw but we recommend doing it because the governor gear can fall apart in high rpm and destroy your engine. The process is very similar to the governor removal of Predator 212, we have a guide about governor removal that you can check out.
We also recommend replacing your stock flywheel and connecting rod with a billet flywheel and a billet rod.
Even though most people don't replace the rod and flywheel when removing the governor, we recommend it, and if your engine fails running with the stock rod and flywheel, we are not responsible for the damages.
Stage 1 Kit
From here on we do a deep dive inside the Engine! Looking through the modifications that can be made to the stock engine.
Stage 1 kit comes with an upgrade for air intake and exhaust which will allow your engine to breathe better.
It also includes a larger main-jet which will help the carburetor to take in more fuel. If you buy OMBWarehouse's kit, they also send a better spark plug.
Overall, this kit will give you a nice boost in power and is very easy to install. The only downside is that your minibike will make a lot of noise due to the new exhaust pipe.
Installation tutorials can be found on Youtube.
Stage 2 Kit
Stage 2 kit has everything from stage 1 + a Non-EPA style carburetor and two 18lb Valve springs.
The heavier Valve springs remove the rpm limit set due to valve float. You can go above 5500 rpm with heavier springs.
Non-EPA carbs are bigger and better than the stock carbs, they help in making more power.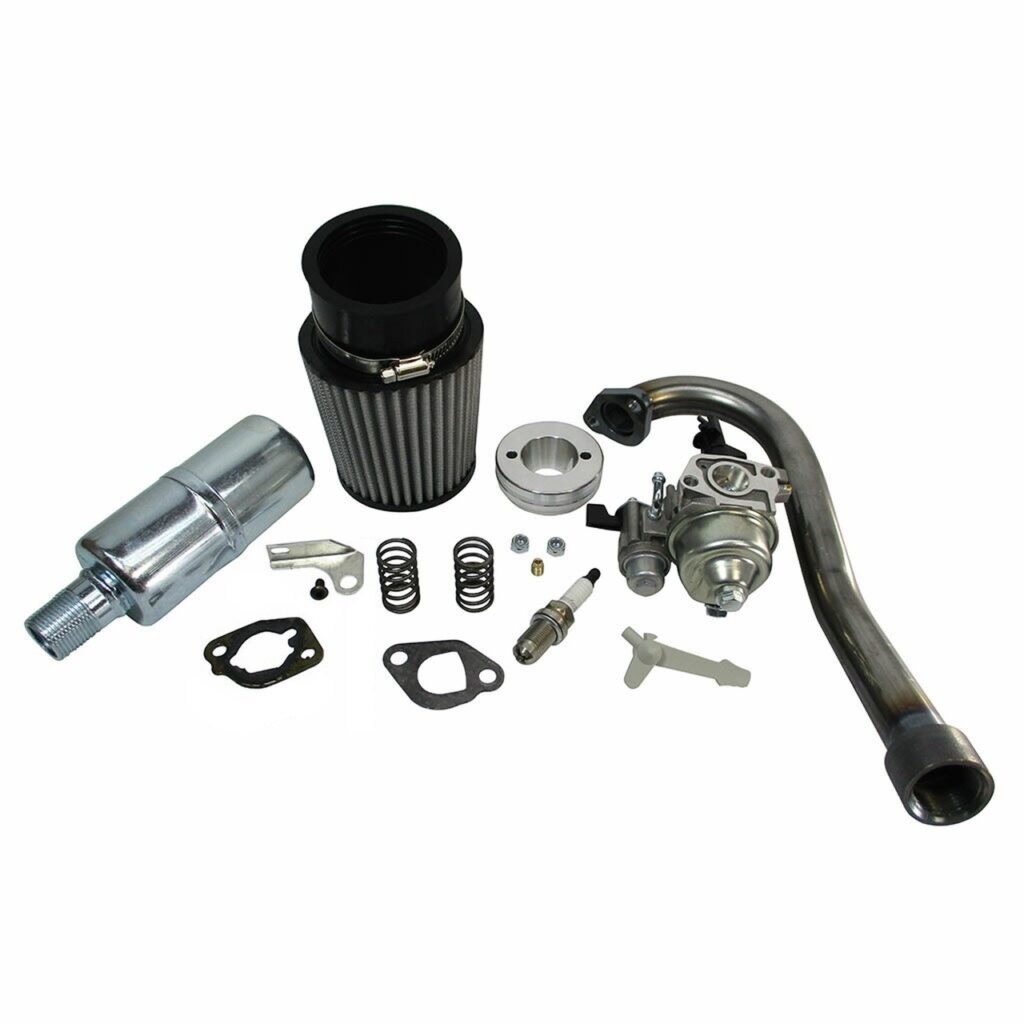 OMBWarehouse's Stage 2 Kit
Everything from Stage 1 Kit +
Non-EPA style Carb
2 x 18lb Valvesprings
Stage 3 Kit
Stage 3 kit has everything from stage 2 + a camshaft with a bigger lift and longer duration + a PVL flywheel and a Billet Rod (which is recommended to be used as soon as you remove the governor).
Your Coleman mini bike can hit 7000 rpm with these upgrades, to give an estimate in mph, a Coleman mini bike with stage 3 can go at 40 mph with a clutch setup and 66 mph with a torque converter according to our speed calculator. Yes, 66 mph!
Other Modifications for Performance
I know, 66 mph and 7000 rpm sound crazy. But that's not the limit of these honda clone engines. Here are some more mods that can be made:
Valve Springs Heavier than 18 lb
Cams with even higher lift and longer duration
Porting for better air flow
longer connecting rods for more compression
Bigger rocker ratio
You can read in more details about these parts in our Predator 212 mods guide
Please Note: You'll probably never need to go to such high speeds. It can be extremely dangerous.
If this is your first mini bike, we highly recommend just installing a Torque converter and removing the Throttle limit screw. That is more than enough.
Once you're comfortable with a CVT and still want more speed, then you should move on to other modifications.
Engine Upgrade
Coleman CT200U and Ct200U-EX come with a clone of Honda GX200. Honda GX200 are small engines used on pressure washers, generators, and other similar applications.
Since GX200 clones are very popular, their upgrade/replacement parts are also easily available. However, if you don't want to modify the engine yourself, you can simply buy a performance engine instead.
Our choice for the best performance engine to put on a mini bike is a Tillotson 212. It makes 9hp power with no modifications and can be modified into a monster!