10 tooth vs 12 tooth clutch
The number of teeth in the clutch sprocket determines the gear ratio for the go-kart/mini-bike.
Gear Ratio = Teeth on Axle Sprocket / Teeth on Clutch
The Gear ratio in turn will determine the top speed of your kart or mini bike, it will also be an important factor in determining how big of a tire you can use and how heavy your go-kart can be.
Whats the difference in 10t and 12t clutch?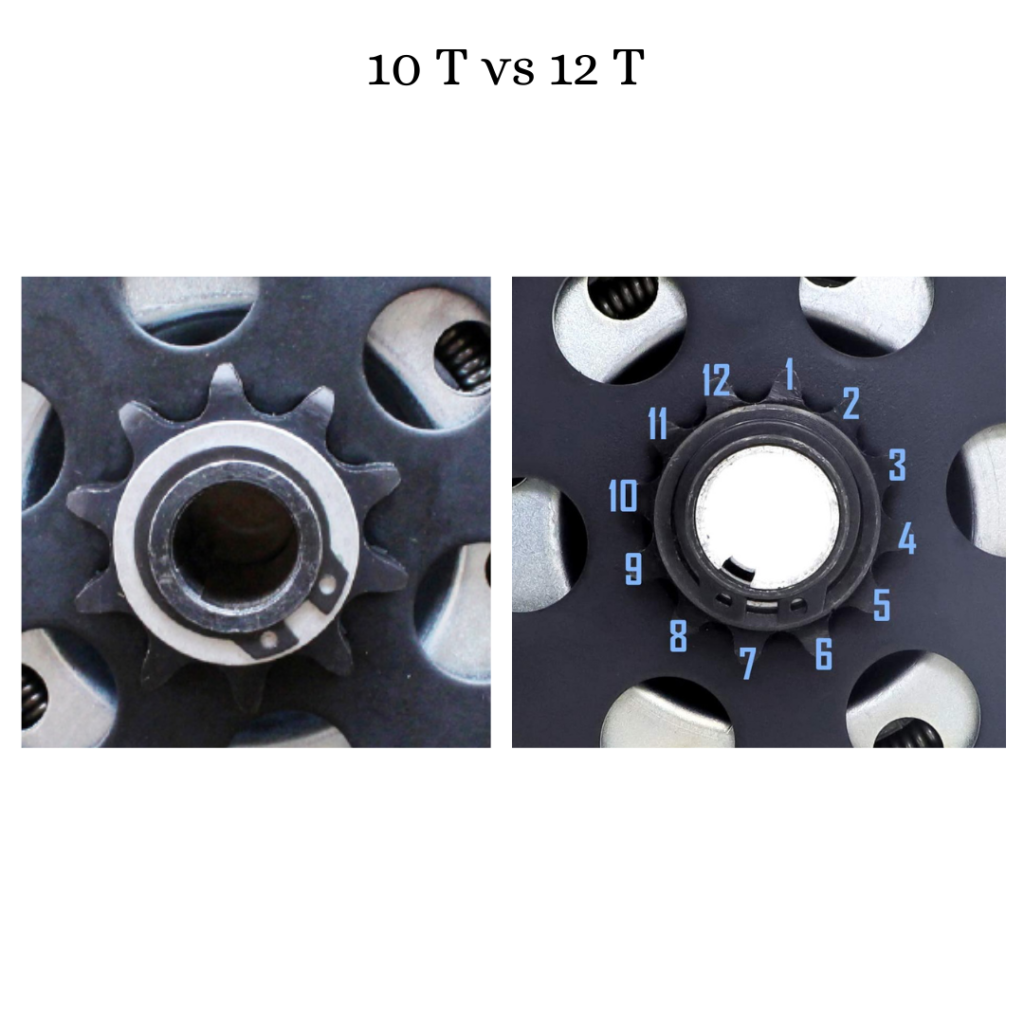 12T clutches have 12 teeth while the 10T has 10 teeth in the clutch sprocket, if you use the same axle sprocket on 2 different go-karts with a 12T and a 10T, the go-kart with 12T clutch will have a lower gear ratio.
For example, if you use a 60T Axle sprocket with a 10T clutch the gear ratio is
60:10 = 6:1
If you were to use a 12T clutch sprocket, then the gear ratio will be:
60:12 = 5:1
So, what will be the difference between the 2 situations?
The Go-kart with a 10T clutch and 6:1 gearing will provide more torque for the wheels and help in off-road go-karts, heavy go-karts, and go-karts with big tires.
A go-kart with a 12T clutch with a 60T Axle sprocket on the other hand will have a higher top speed but won't provide the wheels with a lot of torque and can cause your clutch to fail on heavy go-karts or go-karts with big tires.
Which is Better 10t or 12t?
This really depends on the purpose of your Go-kart, the number of teeth in your axle sprocket, and the tire size. If you have big tires (more than 13″) in your go-kart then it will be better to use a 10T clutch, if your go-kart is built for racing purposes then you can choose the 12T.
But it really is impossible to tell which one to use without knowing the number of teeth in the Axle sprocket of your go-kart because the only major difference between the 2 types of clutches is the gear ratio. Check our guide for the best gear ratio for Go-karts to know exactly which one you should get.